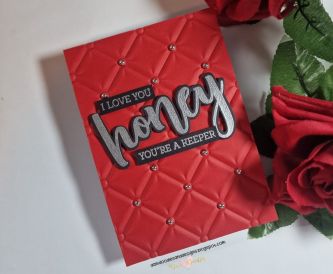 Posted on 31st January 2023 by Danielle Bigland
Filed under All Papercraft Tutorials, Seasonal Crafts, Valentines Day Crafts, Projects And Cards By Type, Anniversary Card Ideas, Papercraft Disciplines And Techniques, Die Cutting Techniques, Design Team
Hello everyone. I hope you're all well!
I'm sharing with you today ANOTHER card made using this embossing folder. I have to admit, I have an unhealthy relationship with this embossing folder as I seem to be using it in too many of my projects of late. Truth is, it's so versatile and portrays such luxury.
Without further ado, let's go through this card....