Berol Pens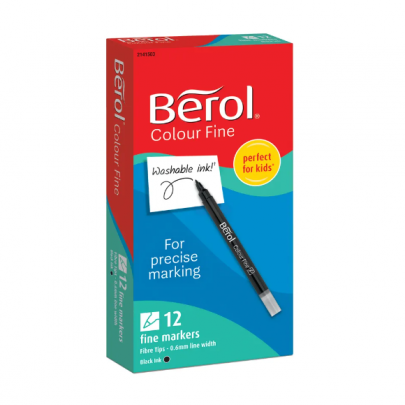 Price: £5.45
Papermilldirect sell Berol pens in a variety of colours to make sure that your projects are being backed up by some of the most trusted equipment on the market. Berol first appeared in the UK around the 1960s, and is now established as one of the favourite companies within schools around the country, beloved by teachers and children alike.
Berol fine-tipped fibre pens are perfect for creating coloured illustrations with layered tones or detailed line drawings, and they're precise enough to be used for writing tasks too. Inversely, the broad-tipped fibre pens are ideal for blocking out large areas of colour.
All Berol pens are highly practical, with long-lasting inks that safeguard against pen tops being left off for as long as two weeks, so they're ideal mainstays to keep around.
Shop with Papermilldirect for your Berol Pens
With Papermilldirect, you can order your Berol pens from a company that is dedicated to fantastic customer service, as well as sustainable and environmentally-friendly products. Got any questions about our Berol fine and broad fibre tipped pens? Feel free to get in touch with us by calling 01539 735252 or submitting our simple contact form.
Running a little short of creative ideas? Why not browse through our blog and tutorials pages to get some tips from our creative design team? You can also follow us on Twitter and Facebook to see what we've been chatting about recently. Who knows, it may inspire you to start your next project!