Thank You For Being Part Of My Journey
0
Posted on 27th January 2023 by Danielle Bigland
Filed under Card Making Ideas, All Papercraft Tutorials, Seasonal Crafts, Valentines Day Crafts, Projects And Cards By Type, Anniversary Card Ideas, Design Team
The first step was to cut some books out of Ruby Red Plain Card 240gsm. I wasn't sure which books I'd be using so I cut them all with the intention of saving what I didn't use for another project.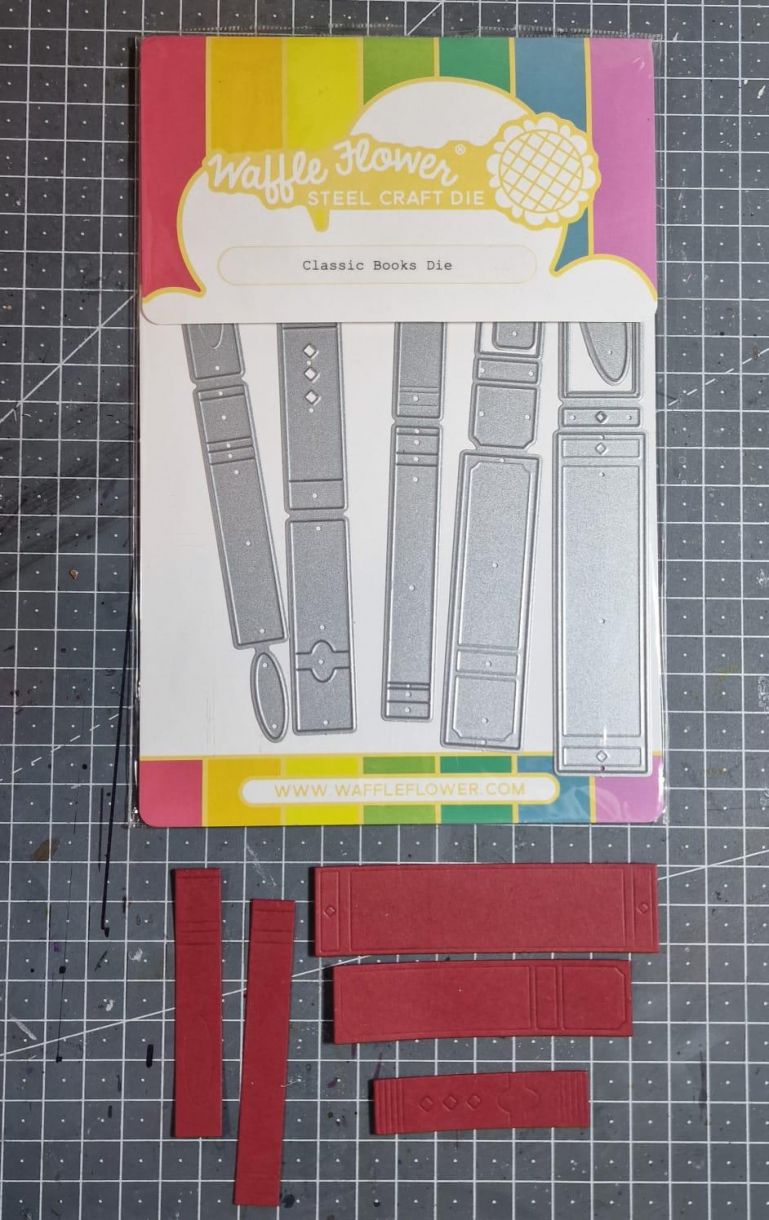 The next step was where the indecisiveness began! I wasn't sure if I wanted white card on a brown background, or brown on a white background. Or even brown on brown. So, I trimmed both options (Buff Smooth 260gsm and white Super Smooth 250gsm) down to several mm smaller round each edge than a UK A6 card black and went in with a black border using a marker and ruler. This gives some black on the project to tie in with the black sentiment to come later. Usually, I'd use some black card bigger than the card I'm working on and place it behind, but I was being frugal.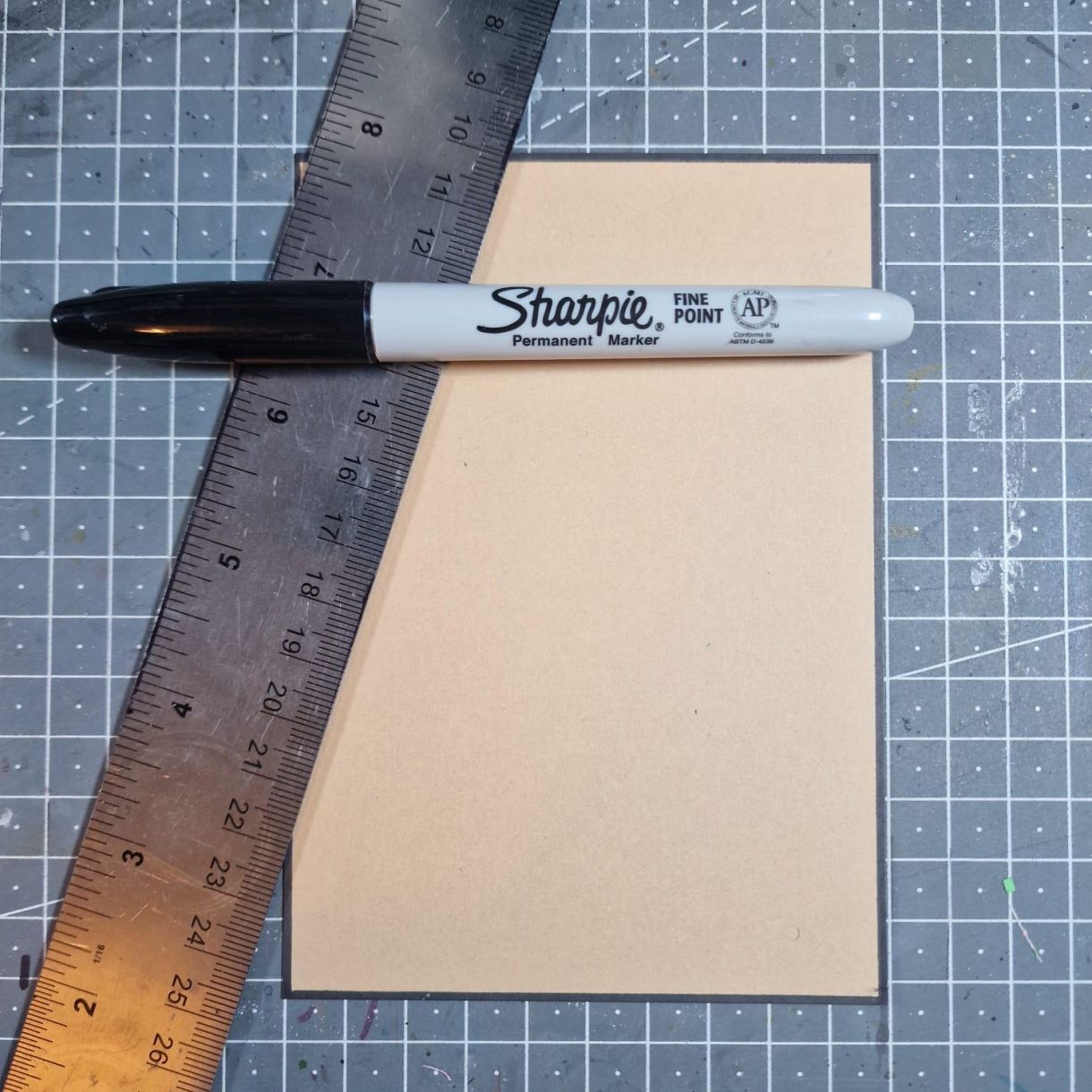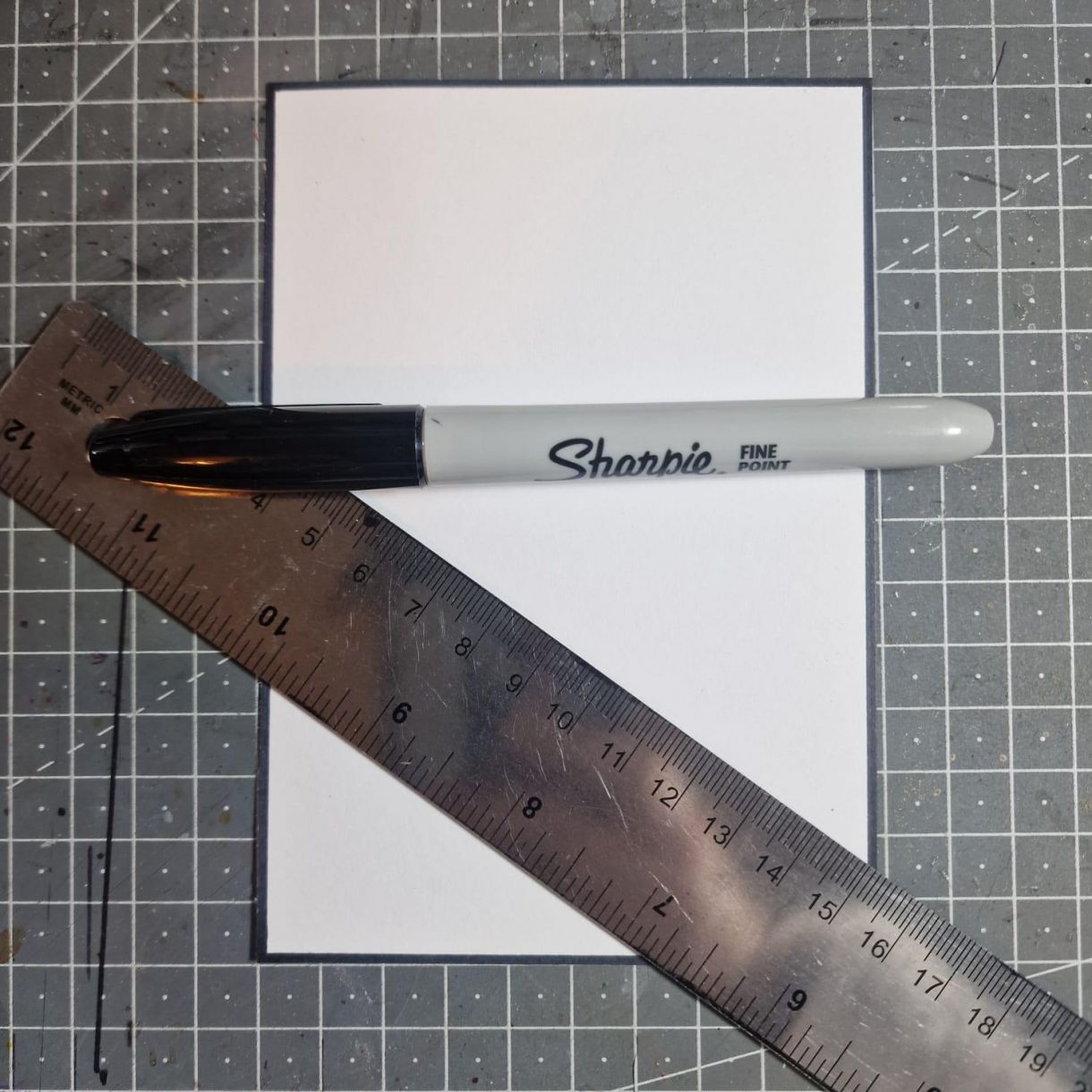 To give the books a more vintage feel, I went round the edges of each with some Aged Mahogany and Vintage Photo Distress Oxide.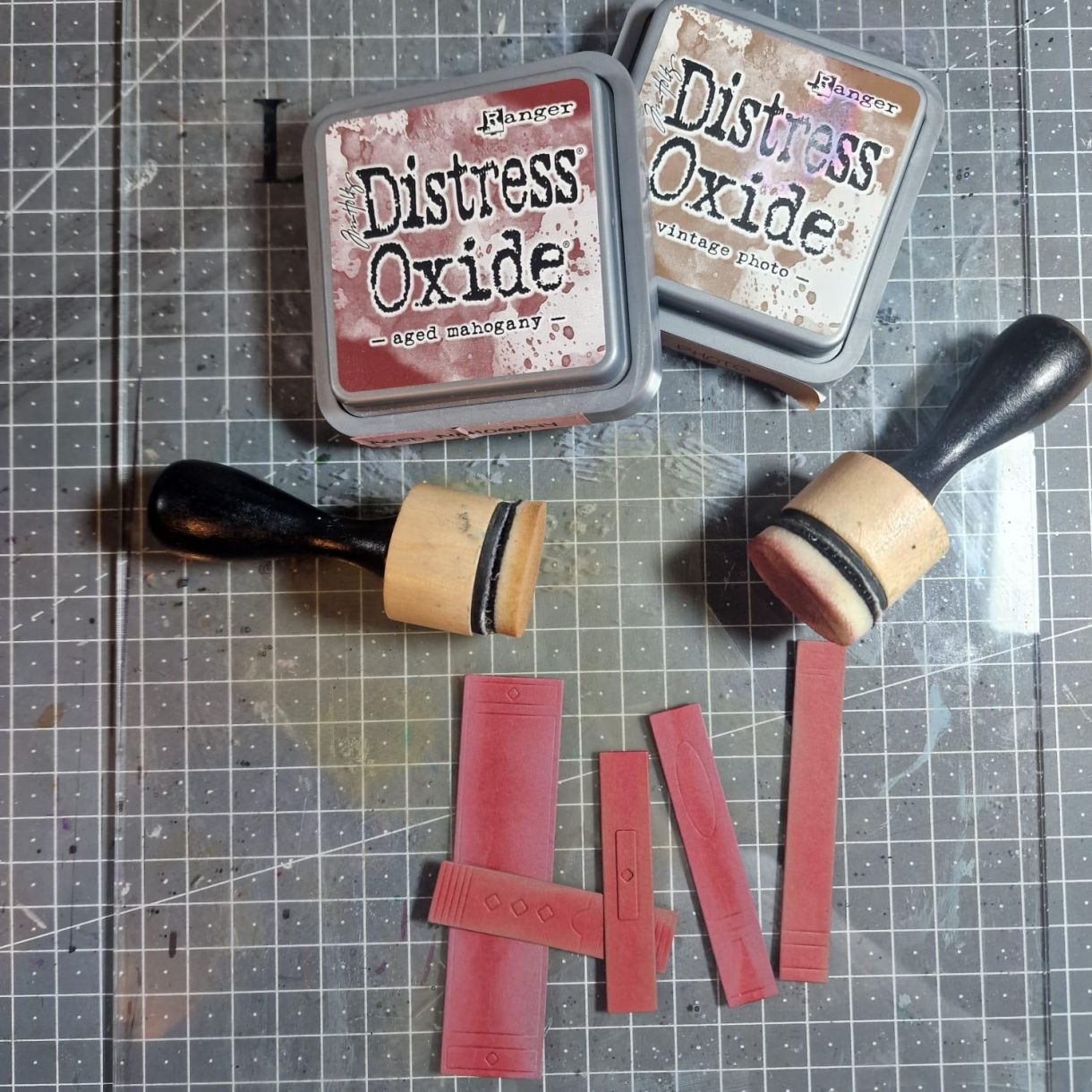 I cut a shelf for my books from Mocha Brown 240gsm card.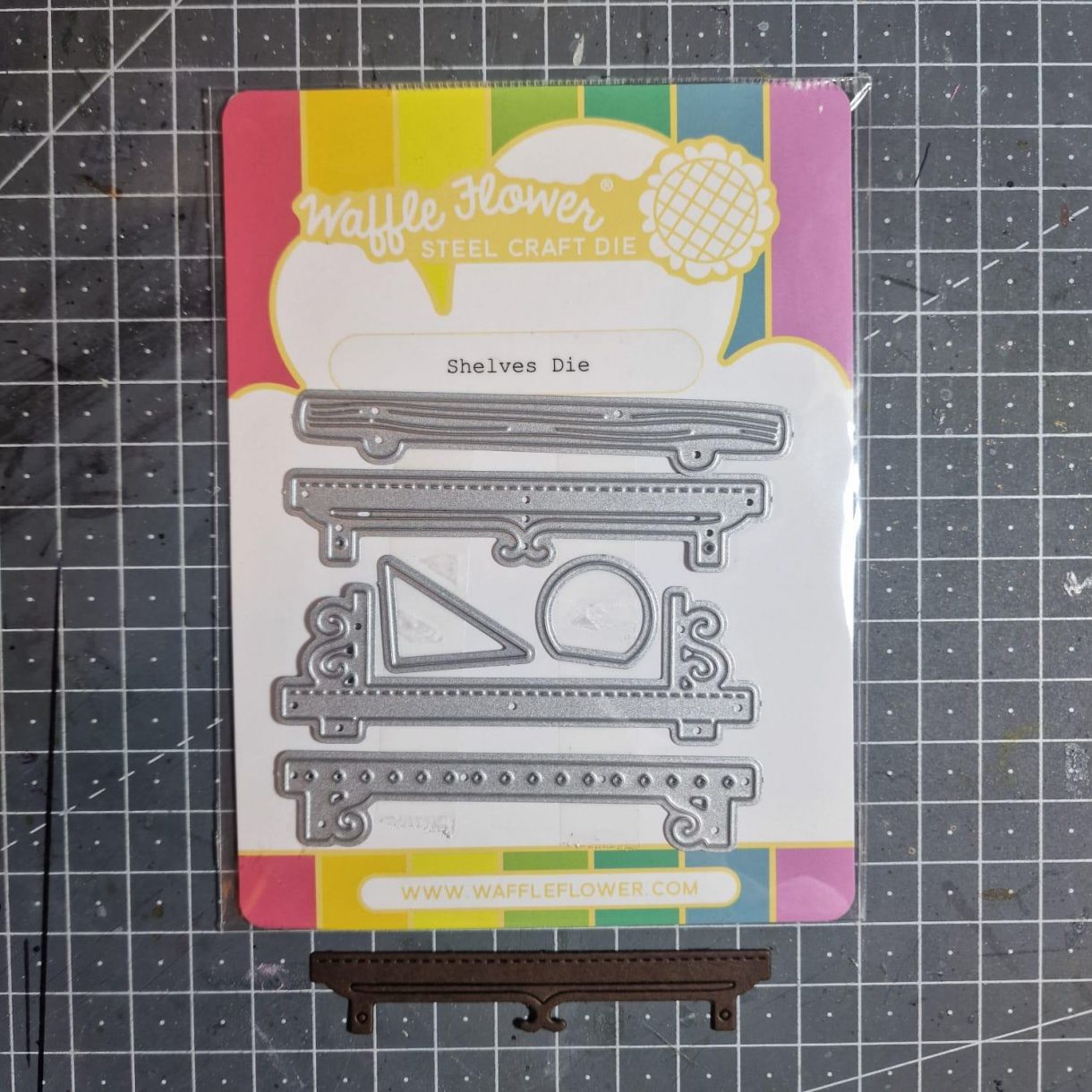 I then stamped one of the books with 'Once Upon A Time'. How cute!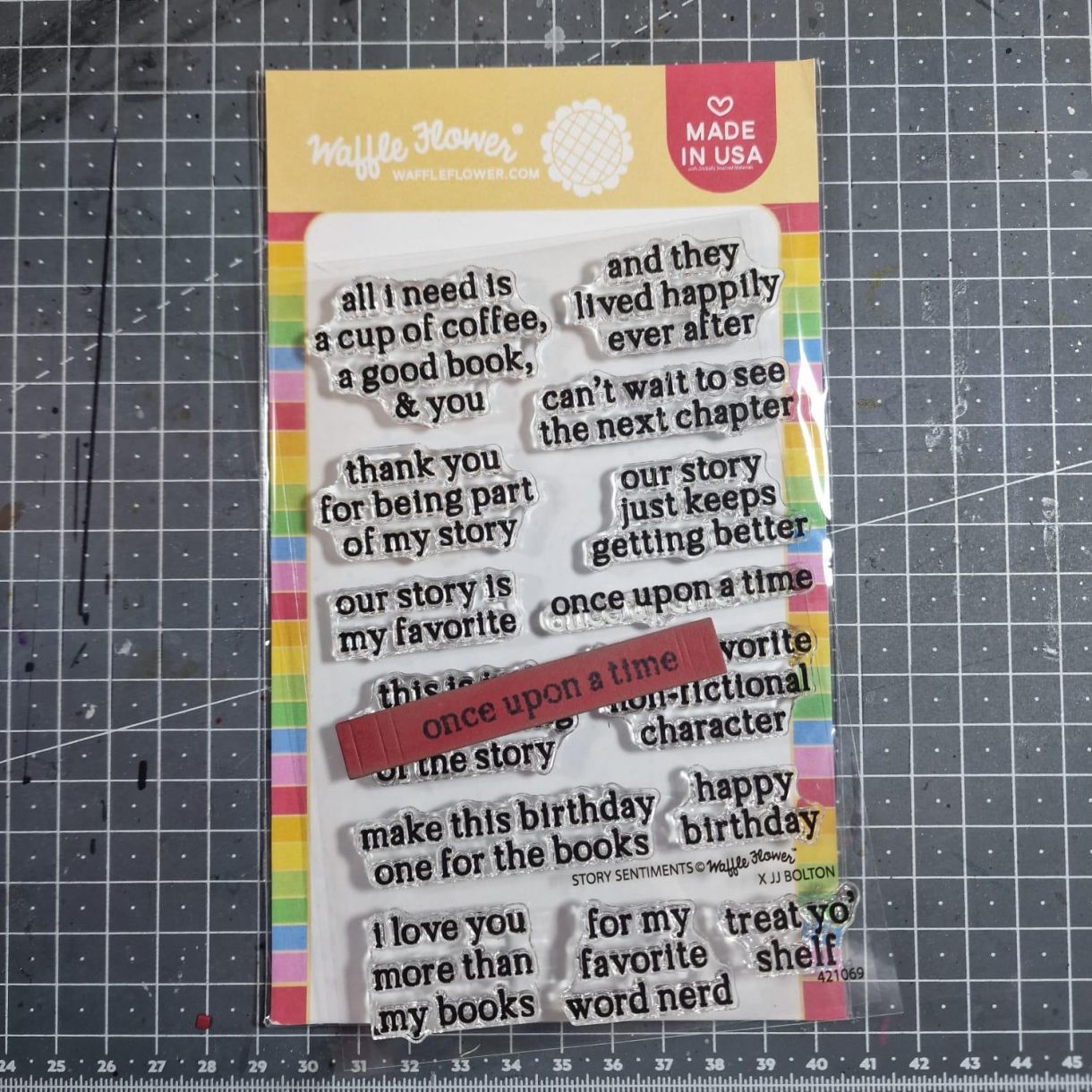 I decided at this point to go with the Bruno Sirio 290gsm as my background colour. So, I started lining all my books up. I didn't want them to look too 'staged' so these were ordered randomly. When I was happy with their position, I stuck them down to my card.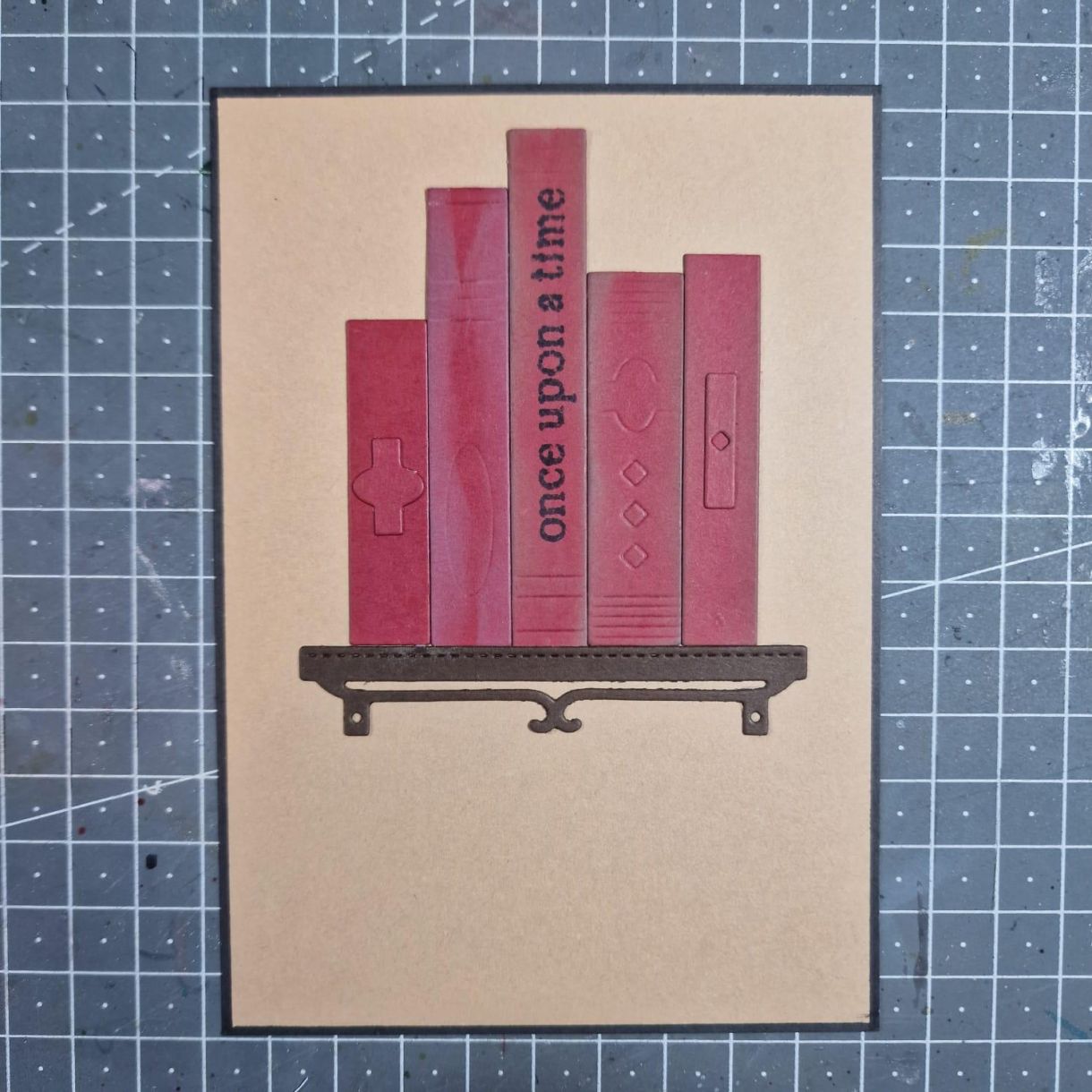 Here came a big oopsie!
I dropped my ink pad onto the corner of my card. I stared at it for about 20 minutes trying to decide how to rectify it or cover it up, before realising I couldn't. These things happen in card making so I just left it be....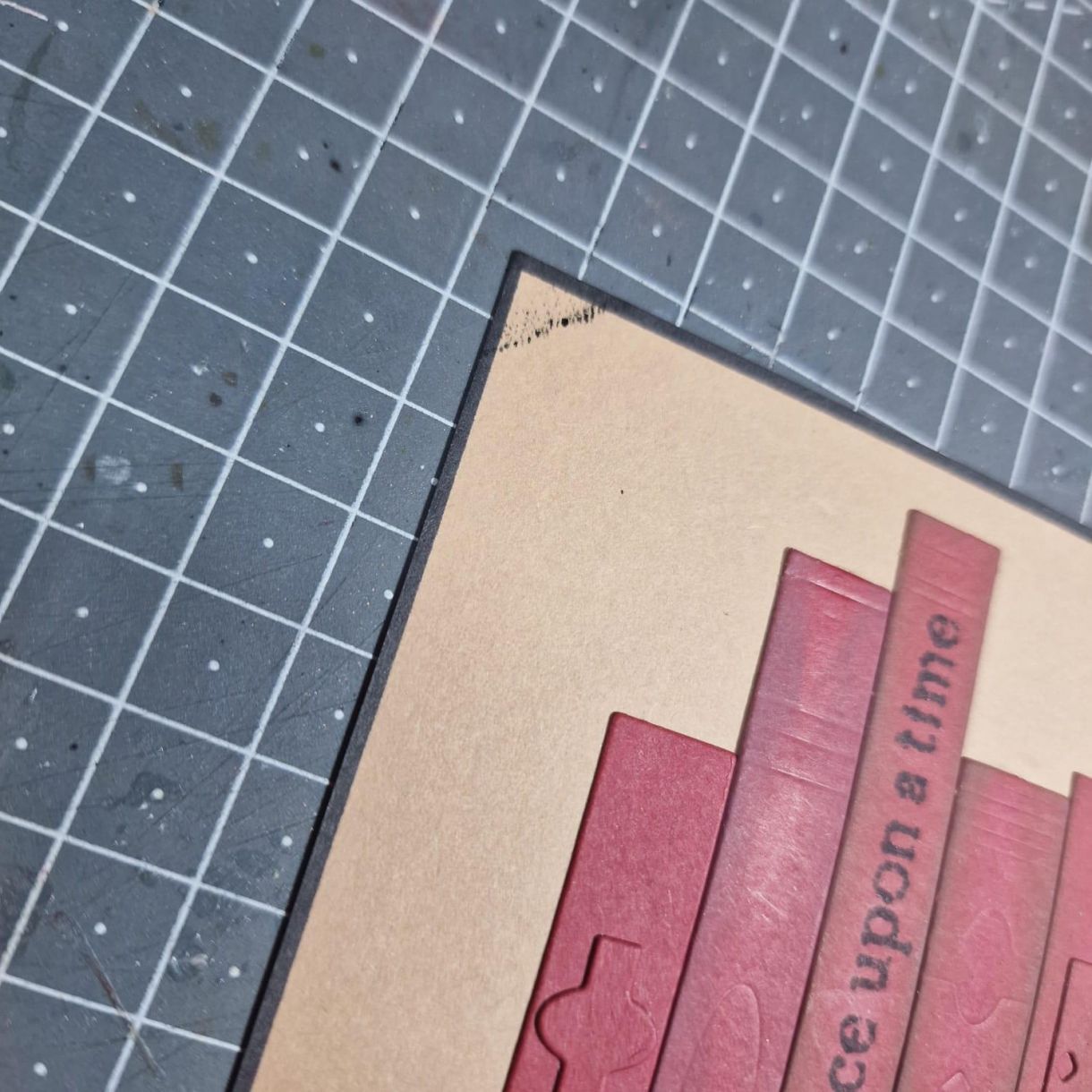 Once I'd come to terms with my catastrophe, I stamped my sentiment.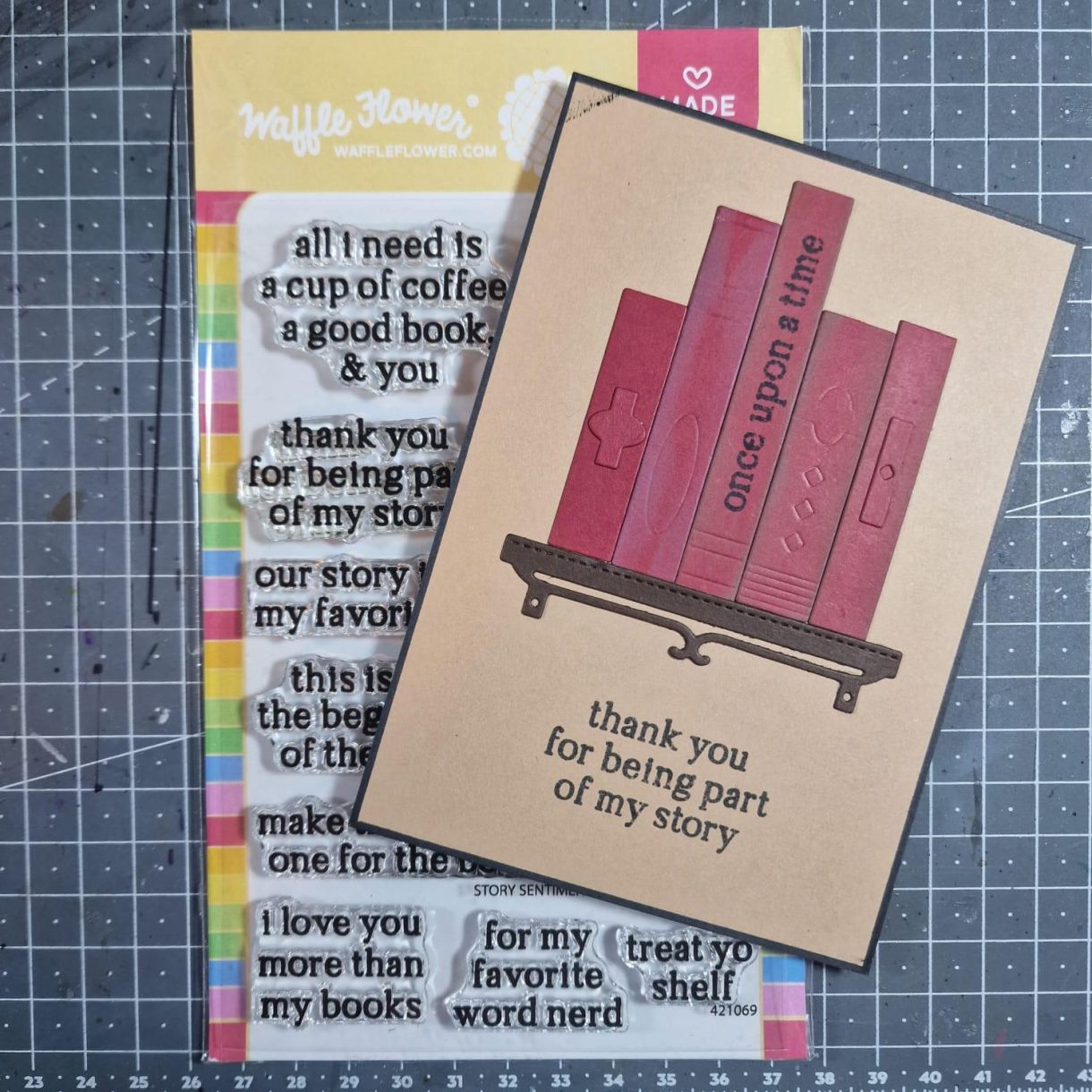 At this point l, I now decided I wanted the background to look a little bit more rustic so I splatted some metallic watercolour over the card. But, everything was stuck down and I'd stamped my sentiment! So I roughly cut some copier paper to cover these areas and splatted away!
Another error that occurred at this point was the splats going over the black border. If this was all done correctly, this border would have remained untouched. Alas, it is what it is.
The metallic splats actually give a beautiful appearance. The finished look is very magical and wizardry - it reminded me of a certain Potter 😉 ill show you a different angle at the end of this blog where you can see all the Lustre.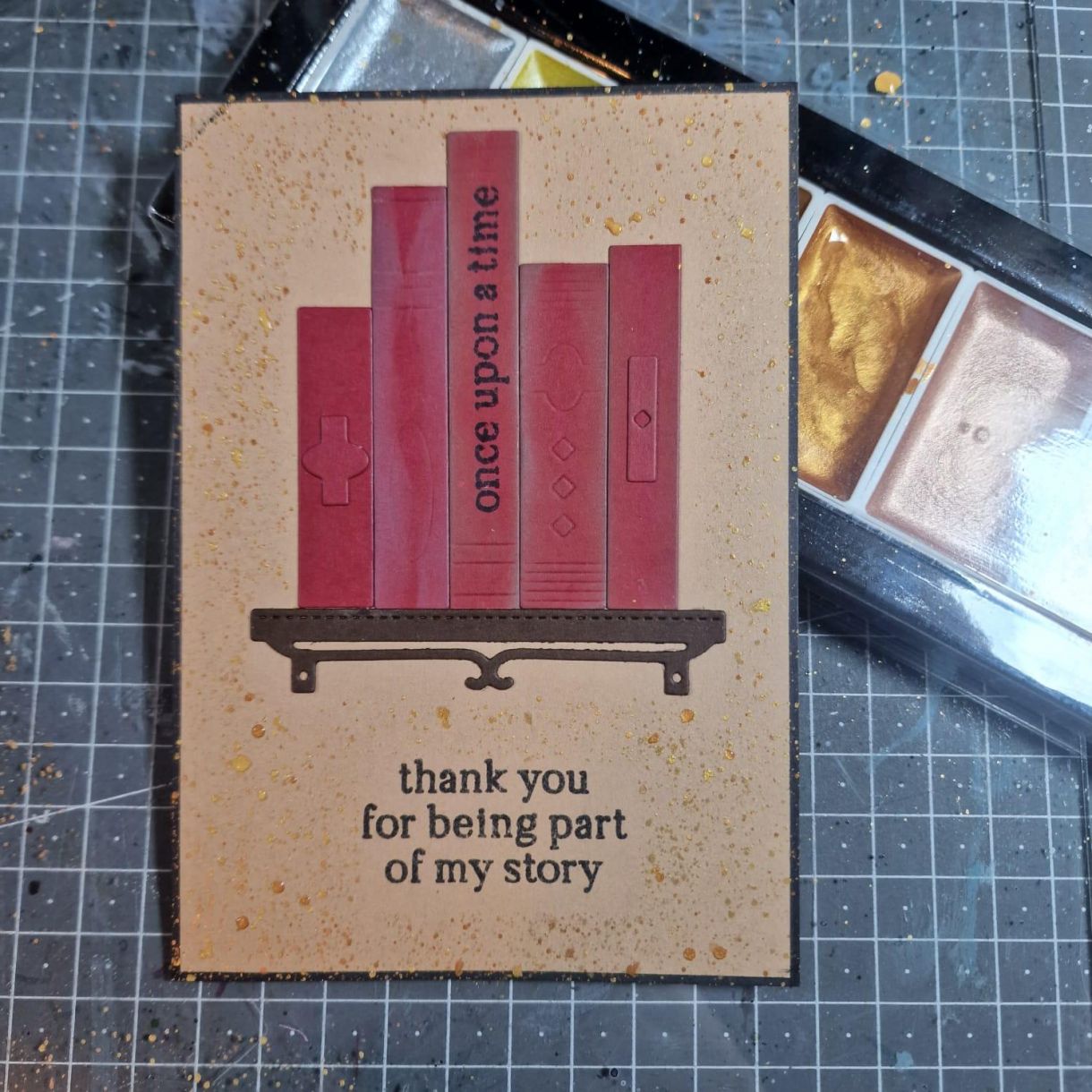 I finished by mounting this card onto my UK A6 card blank using foam tape.
I was planning on adding some gold flat back cabochons to this finished project....but I forgot!!
In the image below, you can see the Lustre ❤️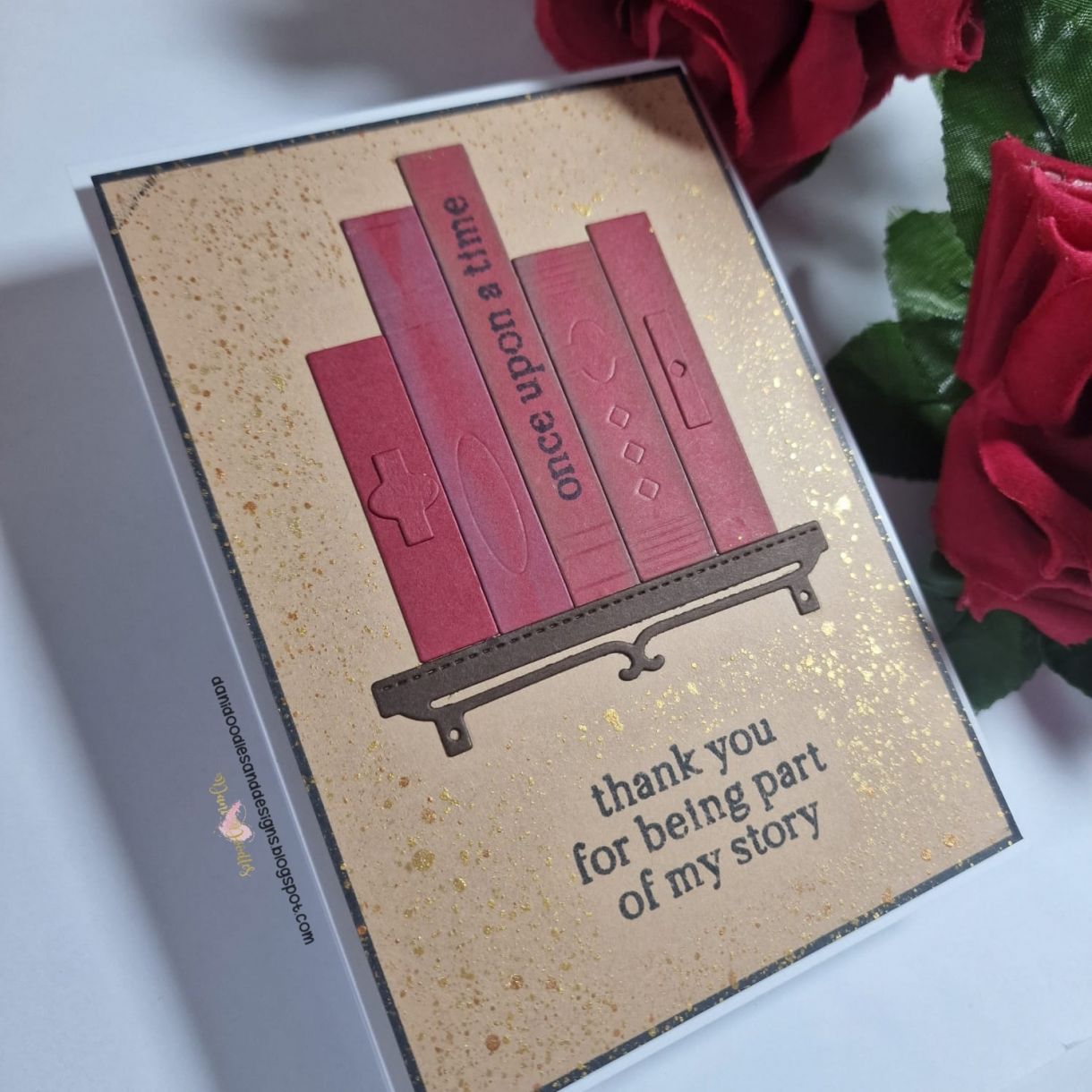 So, there we have it, finished card warts an' all!
I'll see you again soon.
Until next time, care care.
Dani xx