The Pros and Cons of Selling on a Handmade Marketplace
14
Posted on 23rd July 2012 by Papermilldirect
Filed under How To Sell Handmade Cards
Selling Cards on a Handmade Marketplace
This is the first part in our 'How to sell handmade cards' series. This week we're looking at the pros and cons of handmade market places. A handmade market place is a site where you can open a shop and sell your handmade cards - you don't need a webhost or to understand complicated code and all the e-commerce side is taken care of, in many cases you simply need a paypal account. Orders are emailed through to you and you send out the goods within a specified time. With most sites you can quickly change into 'vacation' mode for when you are away or if you are selling products at a fair and don't want to risk double selling.
What are the pros of selling on an online handmade marketplace?
Online handmade market places are a great place to test the waters before you spend time and money setting up a website.
The sites market themselves to attract lovers of handmade goods, so unlike Ebay and Amazon people expect to pay a little more because they know the items are not all mass produced.
The sites have communities where you can network with fellow craftsmen and encourage people to share your work on their blogs
People who sell on handmade market places are also often the people who buy, so you can network with sellers for direct sales too.
Sites which have a joining fee will often include marketing in the price (can be pricey but saves your precious time spent promoting)
Smaller sites often have a very niche market
Press and bloggers often search these market places for new designers to feature.
The collective promotional power of all the sellers helps to drive general traffic to the online market places.
People can browse the work of many designer makers in one place, just as if they were at a real craft fair.
The sites are constantly developing new features and competing for a share of the market, which is beneficial to sellers.
Support - most of these sites are enormously supportive of their sellers and have great community atmospheres!
What are the cons of selling on an online handmade marketplace?
The shop is not yours and so can be closed at any time, you could lose all the feedback and links you have built up
Competition - Customers who find your shop or products online through searches may end up buying from another seller on the site
Customers may not remember your shop, just the name of the website, people tend to say "I bought it on Etsy" rather than "I bought it from 'Papermill Cards' on Etsy"
Fees (listing, commission and paypal) - you need to balance out these with the pro's above and the costs of running a website. Some sites have really high joining fees and you need to be fully commited to your fledgling business to avoid wasting your money.
Being noticed amongst the crowd can be tough on the bigger sites (we've got lots of tips to come on getting spotted online!)
Where to Sell Handmade Items in the UK? - Etsy or Folksy?
Etsy and Folksy are the two biggest handmade market places in the UK. Both are excellent market places to open up shop on so we thought we'd do a little round up to see what they both offer a designer-maker looking to sell handmade cards.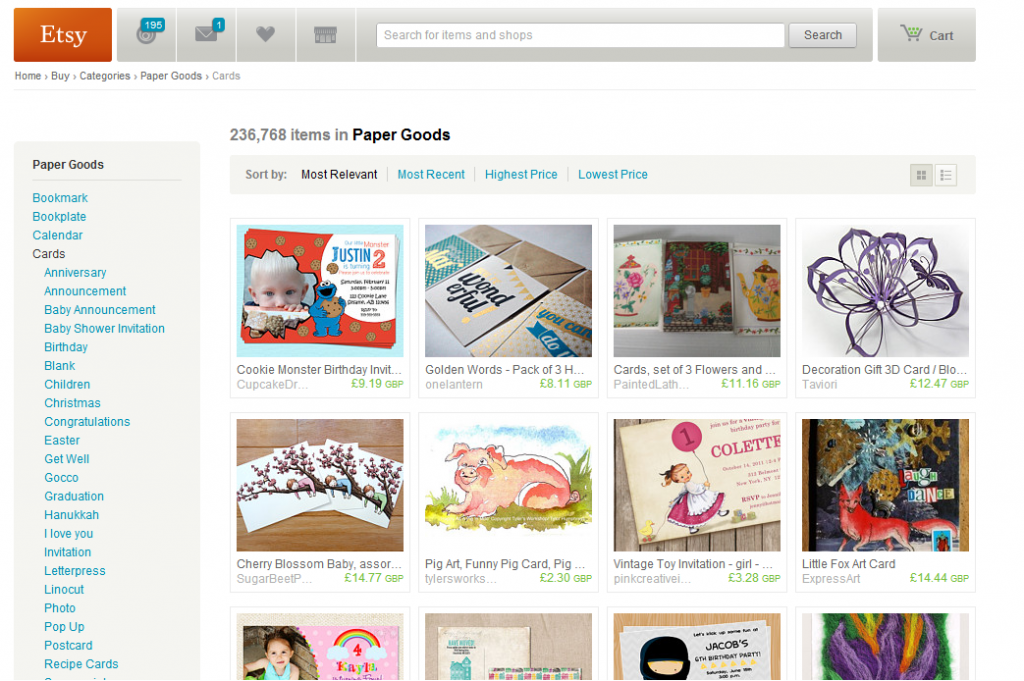 Selling on Etsy
Etsy is one of the most well know handmade market places. It's an American company but it has a British following too. The handmade cards section on Etsy (linked to from the navigation list as 'Paper Goods') has a whopping 237,000 items in it - that's in July - figures for November and December must be much higher. Competition is clearly stiff with this many handmade greetings cards for sale, however the site is well known ( 1.23 Billion page views for June 2012) and there are many ways for people to find your handmade cards if they are browsing Etsy.
Buyers from the UK can choose to browse only shops from the UK or from their immediate locality and also buyers can choose which currency they prefer. You can join seller teams on Etsy to help with promotion and get advice from sellers in your niche. Also you can create or be featured in Etsy 'treasuries' (collections of themed items) this a great way for your work to get noticed and for you to connect with fellow sellers - these treasuries can also be featured on the front page, which will skyrocket views to your shop. It costs $0.20 to list an item on Etsy which is around 13p - Etsy will also take a commission of 3.5% of the sale price.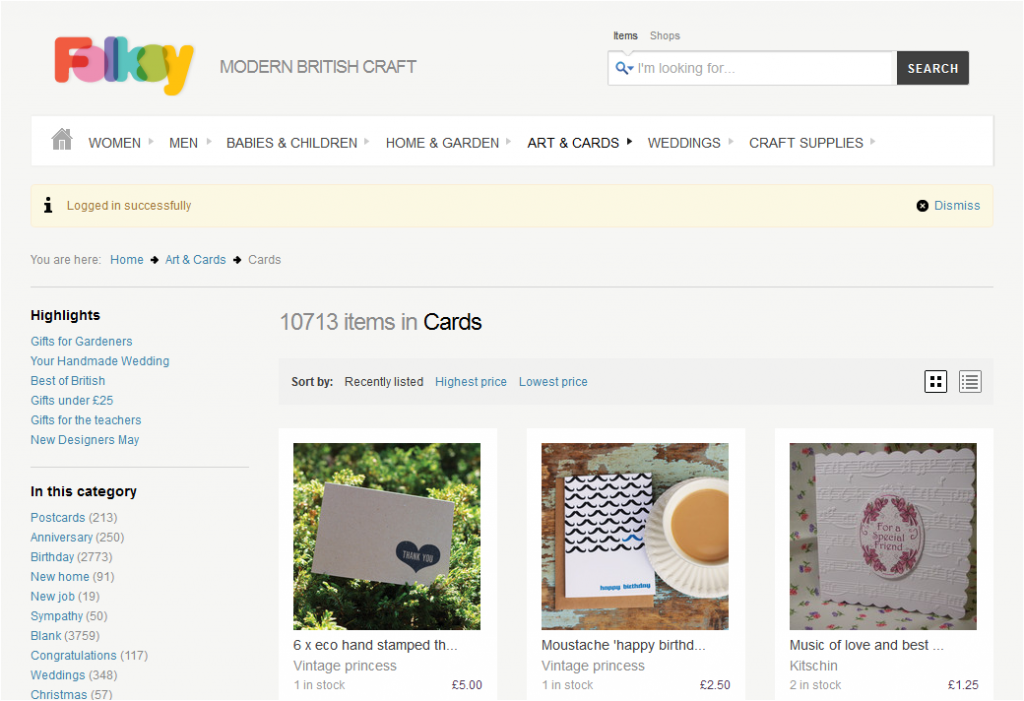 Selling on Folksy
Folksy has a link to 'Art and Cards' on it's home page and has clearly defined categories of cards available as a drop down list. The site is busy with well over 10,000 cards listed and 3.5 million page views reported for May 2012. If you want to get into selling on Folksy, you must come from the UK, this is a positive for the sellers as it means they are not competing with European or American crafters and yet they can still sell to buyers from overseas. Buyers can choose which currency they view prices in. Folksy has friendly and supportive forums where you can network with sellers and get advice and selling tips. The site charges £0.15 per listing and takes 6% commission +VAT, listings last 4 months. Recently Folksy introduced a new optional pricing plan which allows designer makers to pay one annual listing fee of £45 - equivalent to over 300 listings.
Curated Handmade Marketplaces
Once you have dipped your toes into the water with 'pay as you go' style sites like Folksy, Etsy, Misi, Zibbet, Artfire you could look to curated sites like 'Not on the High Street', 'Seek and Adore', 'Things British', 'Not Mass Produced' and many more springing up on a weekly basis - we may be in a recession but the handmade market is growing! These venues offer their designer makers a more personal service - but at a cost usually by way of a joining fee and higher commission percentages. The sites usually hand pick their sellers ensuring a good spread of craft types and high quality. We are really interested to hear your feedback about any handmade market places you have sold on (or tried to!) Next week we're looking at how you should price your handmade cards...