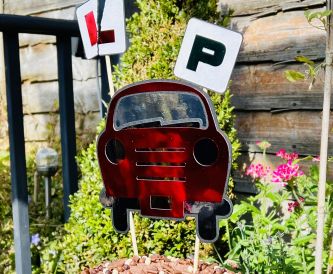 Posted on 15th October 2022 by Samantha Burrow
Filed under Handmade Cake Toppers
Handmade cake toppers are hugely popular and it's really not that complicated to create your own. My inspiration for this topper comes as my eldest son just passed his driving test, his new car is red so I've gone with a cute red motor design.
This topper looks amazing in the Papermill Direct range of shiny metallics, and with a great choice of colours you can customise the car as you like.
You'll also need some long wooden rods or bbq skewers to fix the topper to your cake.