How to sell handmade cards - Social Media Marketing
2
Posted on 13th August 2012 by Papermilldirect
Filed under How To Sell Handmade Cards
Using Social Media for a Craft Business
In last weeks installment of our 'How to sell handmade cards' series we looked at how writing a blog can help bring traffic to your on line greetings card shop. This week we our focussing our attention on other forms of social media marketing and the best approach to selling products on social media.
Brand Message
The point of using social media for craft businesses is to engage with your target market and add depth and a unique voice to your brand. Networks like Twitter and Facebook, Pinterest and Google+, allow your handmade stationery business to connect directly with your market and customers, in a more fun and informal way than with traditional marketing through advertising. The conversations need to be two way. Your activity on any social network should always be about engagement - what can you share that will maximise response from your networks and help to grow and build up fans and followers through 'word of mouth', albeit online. The information, images, articles and messages you share on your networks should always support your brand message. Branding is about so much more than banners and logos when it comes to networking. It's about finding the right tone and style to your updates.
Scheduling
Great time management is vital for a successful online social marketing campaign for a craft business. A Facebook page and Twitter account that see sporadic bursts of activity will not grow and increase your brands reach nearly as quickly as an account that is actively managed in a careful and structured way. With Facebook in particular the importance of maintaining a presence, through regular posts cannot be underestimated. Create a plan from our handmade marketing ideas and incorporate your social networking into your daily/weekly stationery and card making activity. Facebook allows you to schedule your posts and using social media management tools like Hootsuite or Tweetdeck. If you do schedule posts in advance remember it's still crucial to actively network with your fans and potential fans and check and respond to responses to your post. Scheduling and planning post types and post content will also help you to shape your brands overall message. It will allow you to make time for extra promotion depending on seasonal offers and save time spent scratching your head, wondering what to post about. Aim for at least one hour per week of brainstorming posts across all you social media channels, along with 15-30 minutes per day devoted to checking for any responses and actively socialising and building new contacts.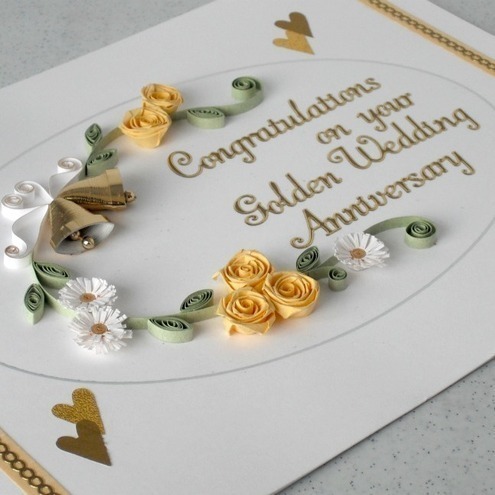 Wedding Anniversary Card by Paper Daisy Card Design
Engagement when Selling Products on Social Media
Engaging your audience is the goal of marketing through social media. Aim to create a hub of activity around your product that attracts further interest, likes, comments, retweets and repins. Ask questions, share beautiful or inspiring images and seek out people to chat to. Be brave about interacting on social networking sites, don't feel scared to start conversations with people or companies that are popular. Follower and fan numbers aren't how you will be judged, it's what you say that is important. Before you click send or publish on an update or comment, think about how you want the reader to engage with your message and how it will be received by your target audience.
How do you Find the People to Network with on Social Media for a Craft Business?
Networking is a case of following a trail of messages and contacts and positioning yourself in amongst a certain set. If you want to be liked or followed by a certain market, you need to find the influential people and start conversations with them, interact with their updates, write comments on their blog posts. The aim is to be seen by their networks through these public conversations, be sincere and think of genuinely interesting remarks to avoid looking remotely spammy. A good way to start is to look at Twitter Lists. Often an influential person will have been placed on a number of niche lists. These lists are full of all the people you need to be networking with, so just by identifying a few people you can quickly discover more people to follow and interact with. For example, take a look at the blog Emmaline Bride's twitter account. She has been listed by other Twitter users over 200 times, many of these lists are specifically wedding bloggers. Within a few clicks you will find lots of new wedding bloggers to network with. Networking with bloggers is always a great idea as they are constantly on the lookout for new and interesting people and products to write about. Even if Twitter is not your preferred network, you can still use it as a search tool as most influential bloggers or designers will have accounts on many networks.
Quality not Quantity
Selling products on social media is now always direct. Bombarding people with 20 of your latest greeting cards listings in a row will soon see people reaching for the 'unlike' or 'unfollow' button. Instead share interesting info about your products and inspirations that will pique the interest of your target market. Ensure that your account profiles include your web shop link or blog link so people can quickly look at your work. Talk about your work and upcoming designs, share sneak peeks of cards you are currently making through photos. People love to learn more about your process and inspiration, to hear the story behind your stationery designs. Your network should be a place where customers feel they are gaining a special insight into your handmade work, a behind the scenes glimpse of the designer.
Fun
Updates that make people smile are more likely to get shared, liked or retweeted. Inject some fun into your updates - people are online catching up with friends and family on Facebook, they want fun/inspiring/fascinating stuff to share with their own networks and you can be the source of these images and links. Image sites like Pinterest are great for finding content to share really quickly, search for keywords around your topic. Ensure you always credit the original source and always think twice about your brand message before hitting publish/send - does it fit your image and style?
Help! Where do I Start with Social Media for my Craft Business?
Follow these helpful links for details on how to set up and get started with the following social networks. Facebook Basics Twitter Basics Pinterest Basics Google+ Basics Next time we're going to be looking specifically at ways you can use the photo sharing network 'Pinterest' to further your craft business and build up a new following. Please leave a comment letting us know what you struggle with when it comes to social media and I'll try and answer any of your questions - and do come and find us on all of our social networks!