Displaying Cards at a Craft Fair
2
Posted on 27th August 2012 by Papermilldirect
Filed under How To Sell Handmade Cards
How to Display Greeting Cards at a Craft Fair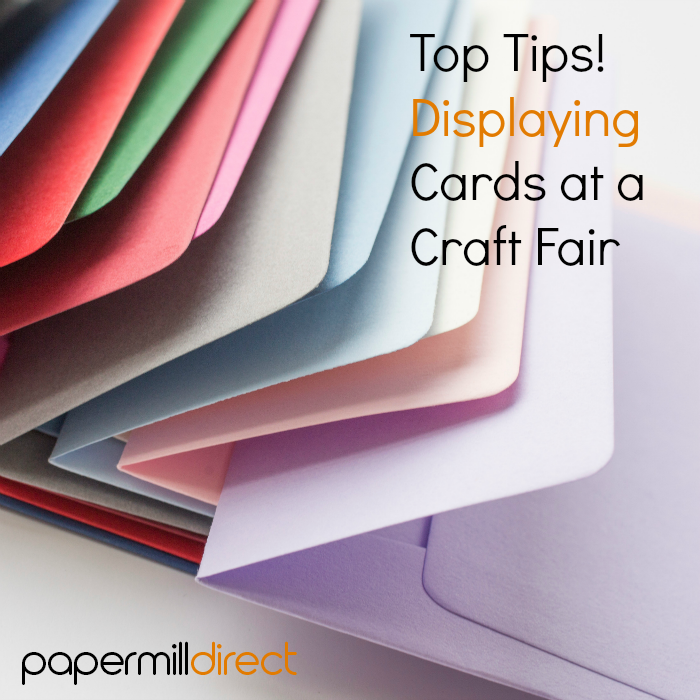 In this part of our series 'Selling Handmade Cards' we look at engaging card display ideas for craft shows.
Selling face to face at a craft market is a great thrill. Having someone pick up one of your handmade cards and being able to explain to them exactly how it was made and your inspiration, is something that is very dificult to recapture with an online sale. One of the difficulties of selling 2d objects is how to display them and also how to photograph them! We'll be looking at photographing cards in a few weeks, today we're focussing on the best ways to display your handmade cards at a craft fair.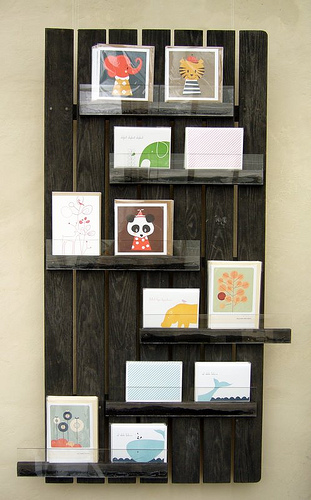 Recycled Card display - Karin Eriksson
People should be able to easily pick up a card to take a closer look, think of ways to prevent them from having to lean across a table. Not just for their comfort but also so you don't spend the day rearranging your display! The ideal solution, is the way cards are displayed often in shops on a free standing floor spinner, but these can be pricey bought new. Hunt around on ebay!
Cardboard display stands can be purchased online, they are not too expensive and should last you some time if cared for properly. These stands can add height to your display and enable more of your cards to be seen.

We found this one on amazon for £8.99

Consider having 'display models' if your cards are not all one of a kind, keeping your stock of cards to sell in pristine condition in cello wrap, but allowing customers to feel the quality and texture of the card you use.
The colour scheme of your display should complement your cards and not detract from them - sites like www.design-seeds.com have amazing ideas for complementary colour schemes (useful for your card designs too!)
It needs to be immediately clear you are selling handmade cards, so don't go over the top on props, your cards should be the star attraction.
Greeting Card Display Ideas from El Jay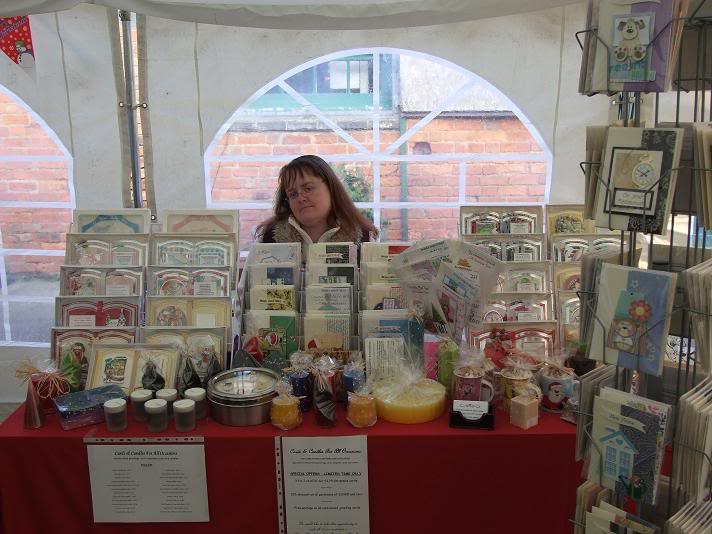 This is handmade card designer 'El Jay' with her stand that gives customers lots to browse through, all easily accessible.
Lighting is important and can add interest to your display as well as allowing people to clearly see the designs and colours pop. Wires look ugly and can be a trip hazard so plan in advance how you will keep these out of the way and ask the organiser if there will be a socket nearby for you to plug in.
Think Seasonal - Greeting card displays should be tailored to suit the season, you can have lots of fun at Christmas, using card trees, or hanging cards across the front of your display table in garlands.
How to Display Greeting Cards for Sale
We found this interesting forum thread over on crafts forum - 'Help with displaying cards at craft fairs' which you may find useful too. Have you struggled with your card display in the past? Or do you have some great tips or images of your displays to share - we'd love to hear from you - leave a comment below.