Winter Wedding Card Ideas
0
Posted on 1st November 2016 by Sylvia Ames
Filed under Projects And Cards By Type, Wedding Stationery, Design Team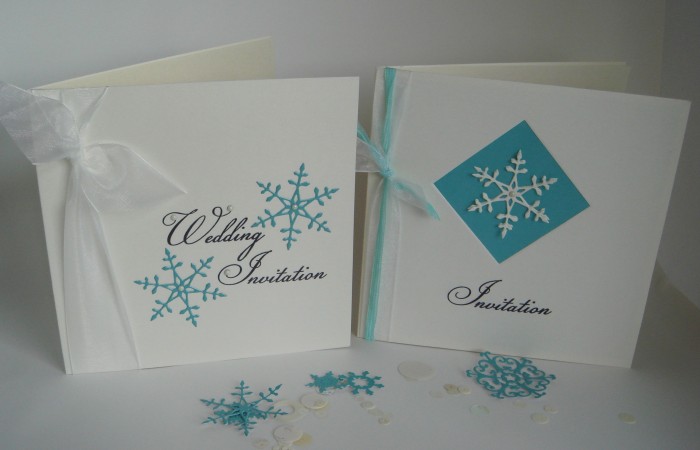 Hi everyone Sylvia here with two Winter wedding invitations and a lined envelope using natural white pearlised card and the new lustre print silver sea blue card and paper.  These two cards are quick and simple to make using just a few stamps and dies.  I cut two A4 sheets of natural white pearlised card to make the 15cm x 15cm card blanks.
The new pearlised colours are fabulous and I particularly like the blue used here, especially for Winter or Christmas themed cards.  Ther choice of colours in the range is great and is available in both card and matching paper making it ideal for wedding invitations, I am sure there is a colour to match most wedding colour schemes.
For this card the wordinging was stamped in black ink, adding two die cut snowflakes, a ribbon and white pearl domes.  An insert was added and an envelope lined with the pearlised sea blue paper.
The aperture in this card was cut using a square die which was rotated to give the diamond shape.  The inside front of the card was lined with the pearlised sea blue paper, the  wording was stamped in black ink and two die cut snowflakes added to the center of the aperture.  An insert was added and a ribbon tied round to finish.
Materials I used:
If you are making wedding invitations for next year check out the beautiful colours available in the new pearlised cards and papers.