Selling Handmade Cards - Using Twitter
6
Posted on 28th September 2012 by Papermilldirect
Filed under How To Sell Handmade Cards, Social Media Marketing Tips
Using Twitter for Marketing your Craft Business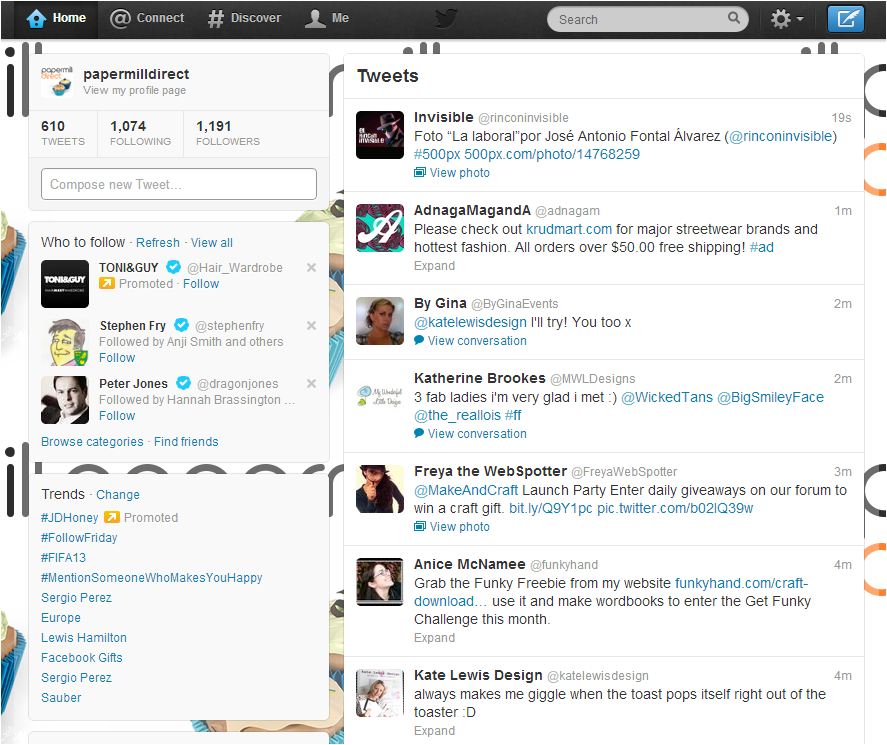 Twitter is not just a way for celebrities to let us know what they're eating for breakfast, it can be an exceptionally useful tool for building up awareness of an online business and networking with useful contacts. Twitter is a social network where you can connect with other people and businesses by 'following' their tweets.
A tweet contains no more than 140 characters and can include a link to a webpage. The tweets aren't just one way, you can direct your tweets at one or more individuals by mentioning their Twitter names. Just as with any online social network (like Facebook or Myspace) there are opportunities for you to share news about your brand and also connect with potential customers and also people and businesses who are influential in the papercraft industry. Don't worry about numbers, everyone has to start off with zero followers.
If you follow these tips your twitter following will soon build up. Your first experience of Twitter can be completely daunting and put you off - there are probably millions of accounts with just one tweet where someone has got completely confused about Twitter and never come back! Stick with it and follow a few of these tips to help you get into the swing of it. Once you get a gist of the basics it can actually be a lot of fun too. Reading through the Twitter basics on Twitter's own help pages is a good way to start if you are a complete beginner and just need to work out how to find everything, it really is a helpful resource.
Getting to grips with using Twitter for marketing
Opening an account is straightforward, head to www.twitter.com and you simply need an email address and a twitter name to get started. Take care choosing your Twitter 'handle' - ours is @papermilldirect - simple for people to remember! If your business is brand new or not even started yet you may not already have a name, choose carefully and keep it professional. If your business name is too long you can have an alternative twitter name, for example Lets Make cards magazine - they've chosen the much shorter Twitter handle of @cardshq , yet other users will still see their full name on tweets. Bear in mind that people will have to type this name on some occasions so try and make it simple to spell correctly.
Your Profile
Fill out your profile in full, if you don't have a webpage add in your facebook fan page or any other link to a profile. Your profile gets seen by the people you follow so use it to advertise what an interesting person you are! Also use keywords to describe your interests as people searching for like minded twitter users will then be able to find you. It should be fairly obvious from our profile that we are a well established papermill, but we're also quite fun and crafty.
We've followed lost of people who mention card making or handmade wedding stationery in their profile - it makes sense as these are the people who will be interested in our blog posts and products and also they usually follow us back! Add an avatar (a profile picture) even if you don't have an official logo or your logo doesn't fit, add a picture, your smiling face is usually best but any picture that represents you will do! People are not keen to follow back if you haven't bothered to add a profile picture, it puts them off, so never leave it blank!
Following
When you follow someone on twitter it means that you then see their tweets on your home 'twitter feed' - The image at the top of the post is our feed (looks a bit confusing doesn't it!). The feed is just a list of tweets with the most recent at the top, you can scroll down through the tweets looking at all the peoples updates and replying or sharing their updates to your own followers or simply visiting the links they are sharing. If you have just started you probably wont have many followers - this is no reason to be silent!
Your tweets, conversations and follows will all lead to people beginning to follow you - if you already have a network elswhere (on or offline) make sure they know you are now on twitter too, you may find a few of them have already joined and you'll have an instant little group of friends.
Twitter Lists
If your feed becomes to busy you can create lists of twitter users so that you only see your favourites, also use them if you want to just see card making magazines or just wedding planners for example. You will have a list of all your lists and it's then easy to make your time on twitter more productive and see just the tweets you are really interested in. Twitter lists can really help in stopping you getting distracted. You can also follow other peoples lists -this is a link to our paper crafting magazines list http://twitter.com/papermilldirect/paper-craft-magazines - a great way for us to quickly keep up to date with the latest card making news.
Retweeting
In the first tweet shown above the magazine has asked for people to retweet their tweet (RT is short for retweet) to be in with a chance of winning a prize. As you can see they managed to have the tweet retweeted a whopping 373 times, which means that 373 twitter accounts shared this post with their own followers. If each of them has 100 followers on average, this tweet could have potentially been seen by 37,300 people. Competions like this are a really effective way for a company to build followers - they are getting their name seen by lots of new people by offering a reward. Often people will simply retweet something because they think it's interesting and will be enjoyed by their followers. This is why sharing interesting tweets is important. When you hear of things 'going viral' it's when thousands of people are retweeting and sharing a link
.

@mentions and conversation
In the above tweets Julie has replied to the tweet before entering the competion by retweeting the original tweet. She will have either seen the tweet in her news stream from Cardshq or a friend that may have shared the tweet or she will have deliberately gone to look at Lets make cards magazines twitter page. Every account has a url - ours is http://twitter.com/papermilldirect people can visit us to see all of our latest news and tweets in one place. It's easy to reply to a tweet, there are links under the tweets which you can click to bring up a new box with their twitter handle in ready to write your message. They will then be notified of the mention of their name and that's how conversations can begin.

@cardshq has mentioned two people, both the winner of the competition and Joanna Sheen. Both of these people will now see this in the mentions area of Twitter and be able to engage in the conversation if they wish by replying to the tweet. They could also share the tweet to their followers by clicking on 'Retweet'.
Hash tags #
You may have seen tv programmes broadcasting the hash tag to 'join in the conversation on twitter'. If you add a # symbol before a single word on twitter it becomes a link to every other tweet that also has that tag. It's a way of being able to bring together in one news stream, one topic of interest. So in this case @cardshq have used #comp because anyone looking for a comp to enter may search for this tag to see which companies are offering freebies - and so easy to win, just a click in most cases. On Fridays people recommend others to follow by using the hash tag #followfriday or #ff - this is just a fun way to thank people whose tweets you enjoy, by recommending them to your followers.
Search - Find some familiar faces and chat to them!
Twitter will suggest people to follow, but they are often celebrities and it's best to ignore most of these! You want to network with people in your industry, card makers and papercrafting publications and suppliers. Make really good use of the search tool to find and follow people talking about the subject you enjoy and follow them. They will get a notification with a link to your profile, but only if they have this notification swithched on, it's also a good idea to actually send them a tweet too, so they notice you.
Twitter is public so don't be afraid to reply to people and get chatting to businesses, bloggers and other paper crafters - this kind of interaction will bring you new followers. You can then share your news and link with these people, and hopefully they'll retweet them to their followers! You can see how easily your network will begin to grow, the best approach is not to be overly 'salesy' - too many links to your items for sale and people will soon unfollow. Focus on chatting and replying to peoples questions and tweets!
Many people make the mistake of just tweeting and not engaging, they follow lots of people and wonder why no one follows them back - if you looked at someones tweets and saw only adverts to their shops you probably wouldn't want to follow them - so be sociable and tweet about interesting subjects!
Getting started with how to use Twitter for business
This is by no means a complete guide to twitter but it should be enough to get you started! Once you are up and running you may find that a Twitter client like 'Tweetdeck' is useful as it enables you to see lots of streams of info on the same screen. Please share your twitter links in comments below - we'd love to chat with you on twitter!