New Swatch Books
0
Posted on 21st June 2019 by Vicki Poulton
Filed under
Good Morning.
I love looking through all the lovely card that Papermilldirect has and now we have 4 brand new swatch books. If you are not sure what a swatch book is then basically its a little book of all the different card and colours Papermilldirect has.
Why do I need a swatch book?
I honestly live by my swatch books when I am creating my projects. I can easily open the book and see what colours will work well together. They are also great for when you are unsure what card to use for your project. Sometimes when picking colours online you can't always see the details and these books are perfect for seeing the colours and textures.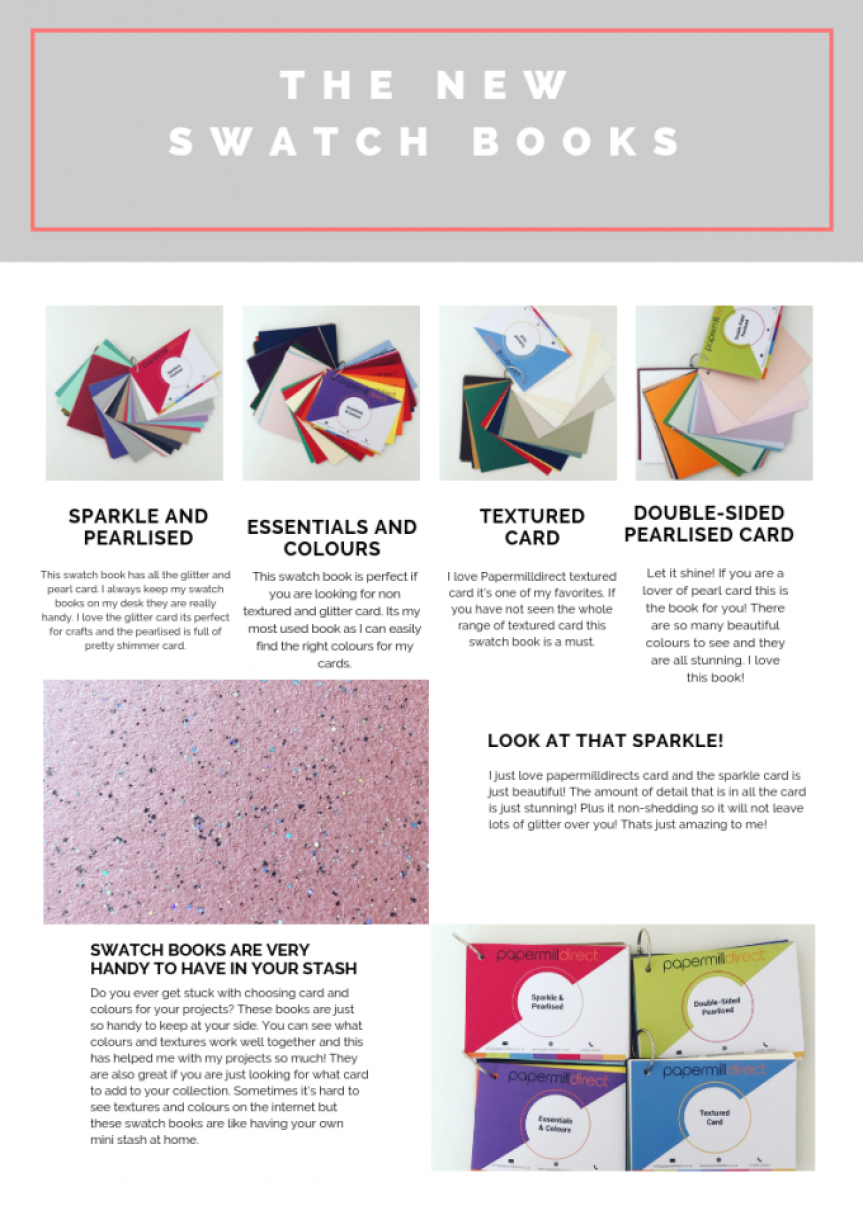 They come in 4 different categories:
Sparkle and Pearlised:
This book has all the glitter card and shimmer card. Its perfect for matching colours together. Its also great to have if you are unsure what card to buy next. You will be completely spoilt for choice. This swatch book is jam packed with everything that is sparkly or shimmery.
Textured Card:
One of my favourites! I love all the different textures that are available and this swatch book has every single texture card that Papermilldirect offer.
Essentials and Colours:
This one has every single colour of card that is not textured or glittery. It's definitely an essential to me as I use most of the colours on my projects. These are the colours that I stock up on as I know they will be used quickly and its great to have a look at some colours that I don't yet have.
Double-Sided Pearlised:
This is the ultimate in Pearlised card as its super thick and there are so many lovely colours too. Its also double sided and is just a fun card to work with. This will be great if you like making cards that have a bit of shimmer.
I hope that this was helpful to you and enjoy having a look through the swatch books they really are helpful.
Papermilldirect Swatch Books- Four Books is an essential for your crafts.