Selling Handmade Christmas Cards
8
Posted on 12th October 2016 by Papermilldirect
Filed under Seasonal Crafts, Christmas Craft Ideas, How To Sell Handmade Cards
Selling Christmas Cards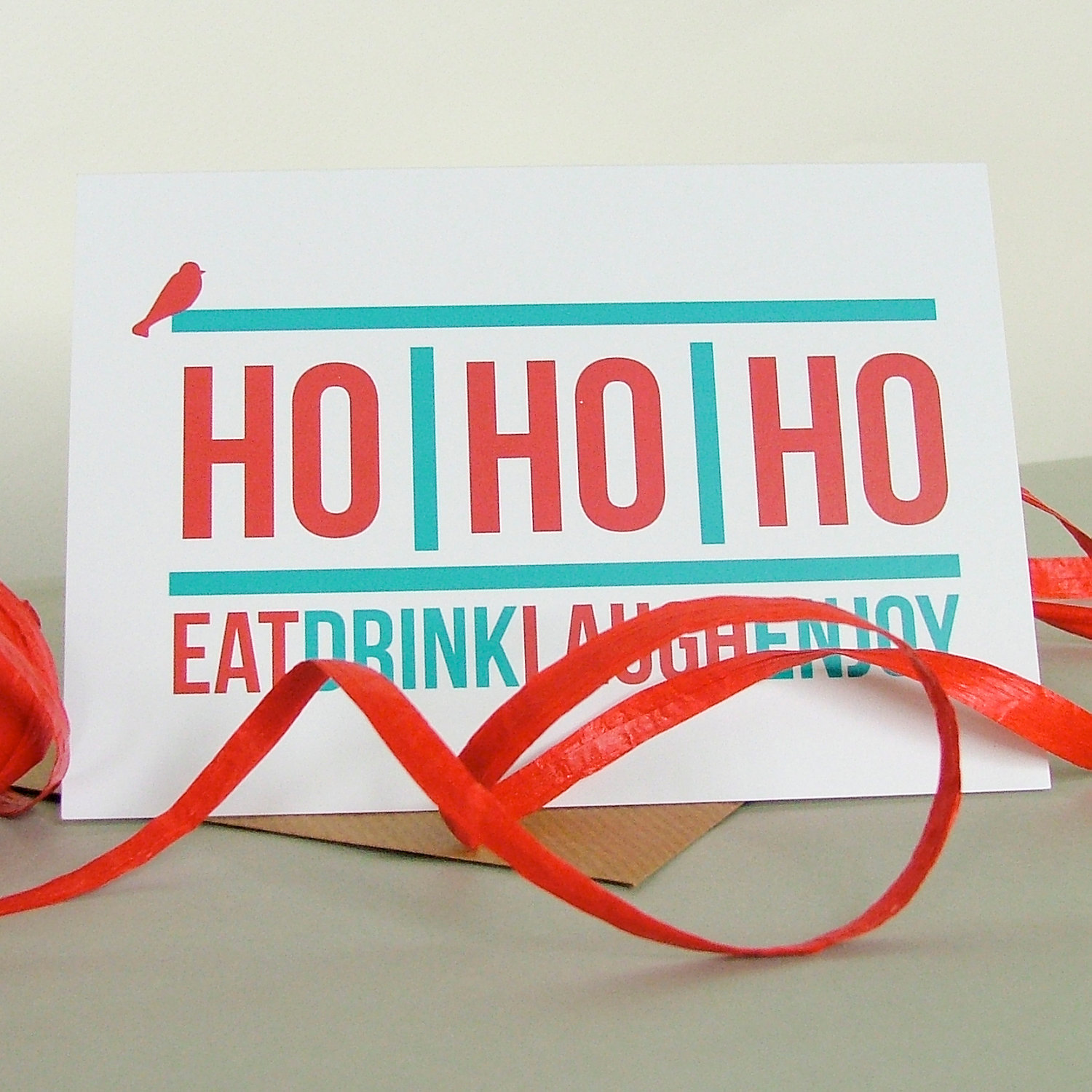 Ho Ho Ho Christmas Card - DoodleLove
Are you thinking about selling your handmade Christmas cards this year? If the answer is yes, then you need to get a move on and get organised! Whether you sell one off handmade cards designed to be given to special family and friends or bumper packs of printed cards, you need to ensure you have done a little homework! You can stock up on all the card and paper you need to make your cards here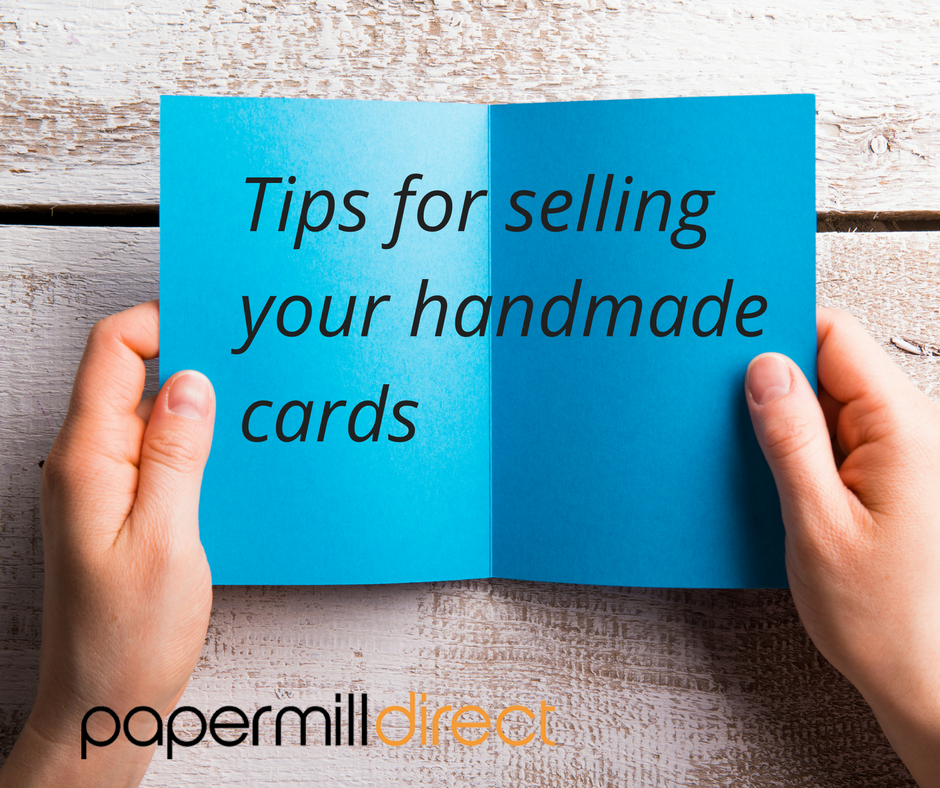 Are you actually going to make a profit from selling handmade Christmas cards?
Pricing your handmade cards is always really tricky. In our hearts we just want to make sales and sadly this can mean we end up barely breaking even because we lower prices too much. Think with your head, get the calculator out and start estimating your costs.

Be realistic about the time commitments involved in selling Christmas cards
You need the figures to work in order to make all your time and effort worth it.
How much stock do you need?
How long is a piece of string! - even giant stores like Tesco get it wrong, so don't beat yourself up about this one! It will depend whether you sell packs of cards or one off handmade cards and of course how many fairs you have booked. Estimate how much stock you need to have ready to make your display look full and to be able to restock half way through, so that you are not left in a flap manically making the day before a show. On the other hand, make too much and you may be left with cards.

Work out in advance a discount strategy for your unsold stock.
At what point in December will you cut your prices, what offers or deals could you employ to encourage sales. Or will you sell them in the January sales instead, or even simply just keep them for next Christmas?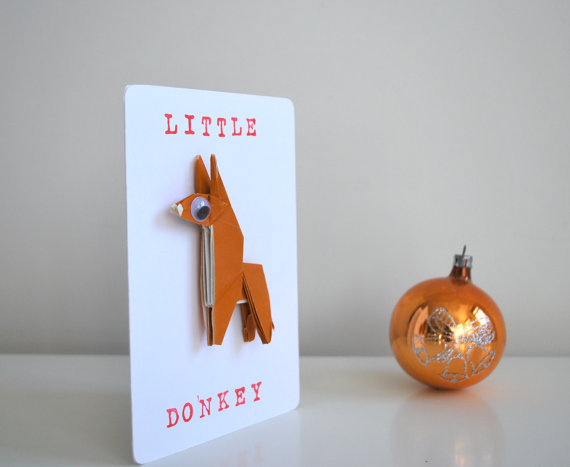 Little Donkey Origami Christmas Card
Fill up your Order Book
If your Christmas craft fairs are during November you could take orders for cards rather than making up unknown quantities of stock to sell on the day. Get yourself a really smart order book and ensure you have professional looking cards and receipts ready to give the customer, they need to trust you. The benefit of this is that you can fill up your craft fair display with lots of variety, to really show off your talents but you only need to make one display sample. Also ask your network of online fans / followers, customers, friends, family and colleagues whether they are interested in pre-ordering some cards.



Give people a fixed deadline to compel them to commit to buying your Christmas cards
Offer them an early bird or friends and family discount for orders during October for example. I often see popular sellers announcing mid November that their order books are full and they aren't taking any more orders until after Christmas. Take this commonsense approach and don't over estimate how many cards you'll have time to make up.



Quality Supplies = Quality Christmas Cards
Get your card making supplies bought well in advance (well we would say that wouldn't we!). There's nothing more embarrassing than having to tell a customer their cards will be late because you're waiting for supplies. Also keep an eye on quality, while some offers online can seem like a bargain, you may end up with an inferior product - early research will help maximise your profits, we have samples available if you want to test colour combos of cardstock and papers.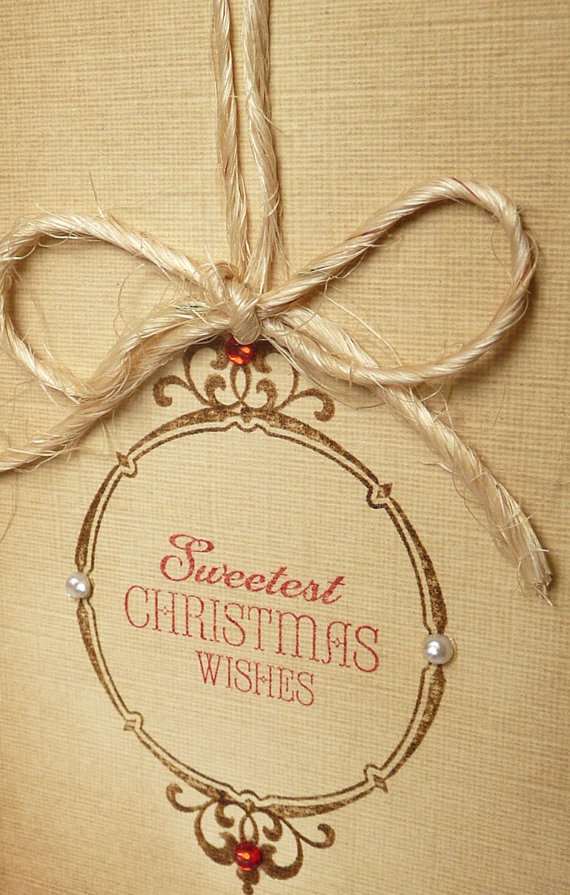 Christmas card detail from Amaretto
Pin down your Designs
Plan your designs well in advance. It can get hectic during the run up to Christmas and having designed your handmade cards well in advance, you can concentrate on promotion and making. Creating lots of prototypes that cannot be sold for one reason or another can get expensive. Even if your cards are all one offs, having a formula in mind or perhaps written down may help to speed up the making process. For example, 3 colours, bold central feature and coordinating ribbon. Not only will this help you with pre-ordering supplies, it will also help you find a design style which can give your work a branded look.

Remember to check Angel Policies if you use stamps or other ready made designs, we have a guide - What is an Angel Policy


Great Photography sells Christmas cards!
It's really hard to get this right but I guarantee you the only way is through sheer determination, lots of research into your cameras functions and masses of work on perfecting the lighting and composition.

Make the most of online marketplaces when selling handmade Christmas cards
On handmade marketplaces like Folksy.com for example, you get 5 photos to upload per card. Too often I see sellers take just a 'face on' shot of the card lying down flat on a surface - so boring and dull. Use every slot available to show customers your beautiful handmade cards and get in really close by using a macro setting (most digital cameras have them now). Include an image front on and then use all of the other 4 slots to focus in on the details of the card. Read up about macro photography - it will really help your card pop out and appear more 3 dimensional to the viewer. Try taking some lifestyle photos, if you have or know of someone with a pretty fireplace, set up some decorations and display the card in this Christmassy setting. Read our guide to selling cards on online marketplaces.
Find tips for photographing your card in this post in our selling handmade cards series - Is it possible to make a profit selling cards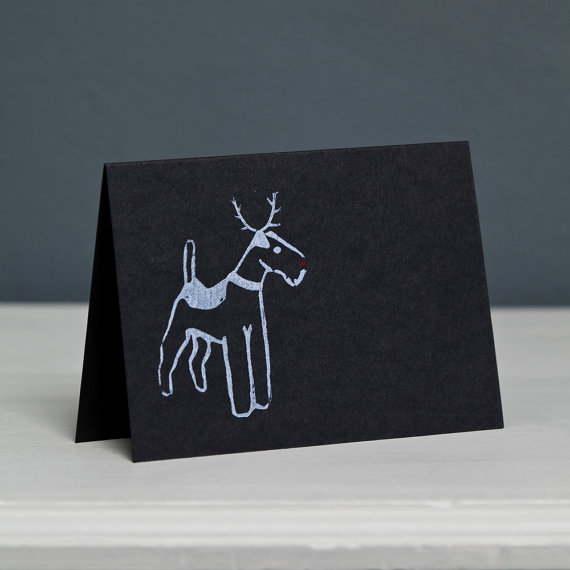 Rudolph the Fox Terrier - a Dog lovers Christmas card from ForeverFoxed
Admin Admin Admin!
I loathe admin, so I have to treat myself to beautiful pens and notebooks so I can get the job done, I highly recommend it! Work out a system for your online sales. Start from the beginning and work through every aspect of the sale. Buyer pays, you send acknowledgent, check money is received, discuss brief, settle on a design, make card, pack item, post item, send feedback reminder etc. If you are busy it's easy to overlook something so by using a book or a spreadsheet you can maximise your time, allowing you to instantly know at what stage you are with a clients order - it will be a lifesaver and ensure you don't have sleepless nights worrying about deadlines.
Promotion - Lots of it
Use social media to get your work seen online, we have a number of social media tutorials available on this blog and we'll be building on these, getting into the fine details of using Twitter, facebook, Pinterest and even Linked In to sell your work. However, don't turn into a spam machine! You will devalue your products and risk turning people off, if you paste adverts on every single facebook page you find and tweet links 30 times a day! Make them quality updates and do some market research on where your potential customers may be hanging out. I find making people smile is the best way to get people's attention and get your tweets and posts shared.
Tell people in your area about the craft fairs you will be attending. Ask the organiser to email you a pdf of the flyer to send to friends and print off, ask your local pub, corner shop or post office if you can display it. If you are selling at a school fair, make sure plenty of parents know you'll be there in advance and let them know about some of the offers you'll have on for that night only. If you have a little buzz of people visiting your stall, even if they aren't buying it can help to calm nerves as well as generating a little interest from all the visitors you don't know.
Read more tips in our How to Sell Handmade Cards series, we have so many useful articles!

Please ask if you have any topics on this subject you would like us to cover - just leave a comment below.