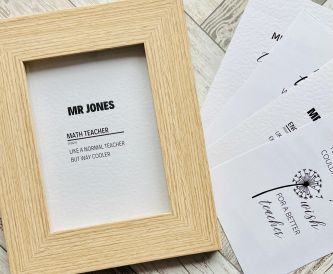 Posted on 7th December 2022 by Samantha Burrow
Filed under Projects And Cards By Type, Handmade Teachers Gift Ideas
It's that time of year, schools are wrapping up the summer term and those summer holidays are calling! It's also becoming more and more popular to gift those incredible people who've taught your children through the past year. But those gifts don't need to be expensive, it ultimately is the thought that counts and what nicer way to say thank you than a framed quote or print.
You can search online for trending quotes or maybe design some words of your own. Really get creative with many free photo and design apps available for your tablet or desktop. Then why stop at teachers, soon you'll be creating prints and wall art for your home and family too!