Jingle Bells Red and Gold Christmas Card
0
Posted on 21st December 2020 by Alison Pendlebury-Brown
Filed under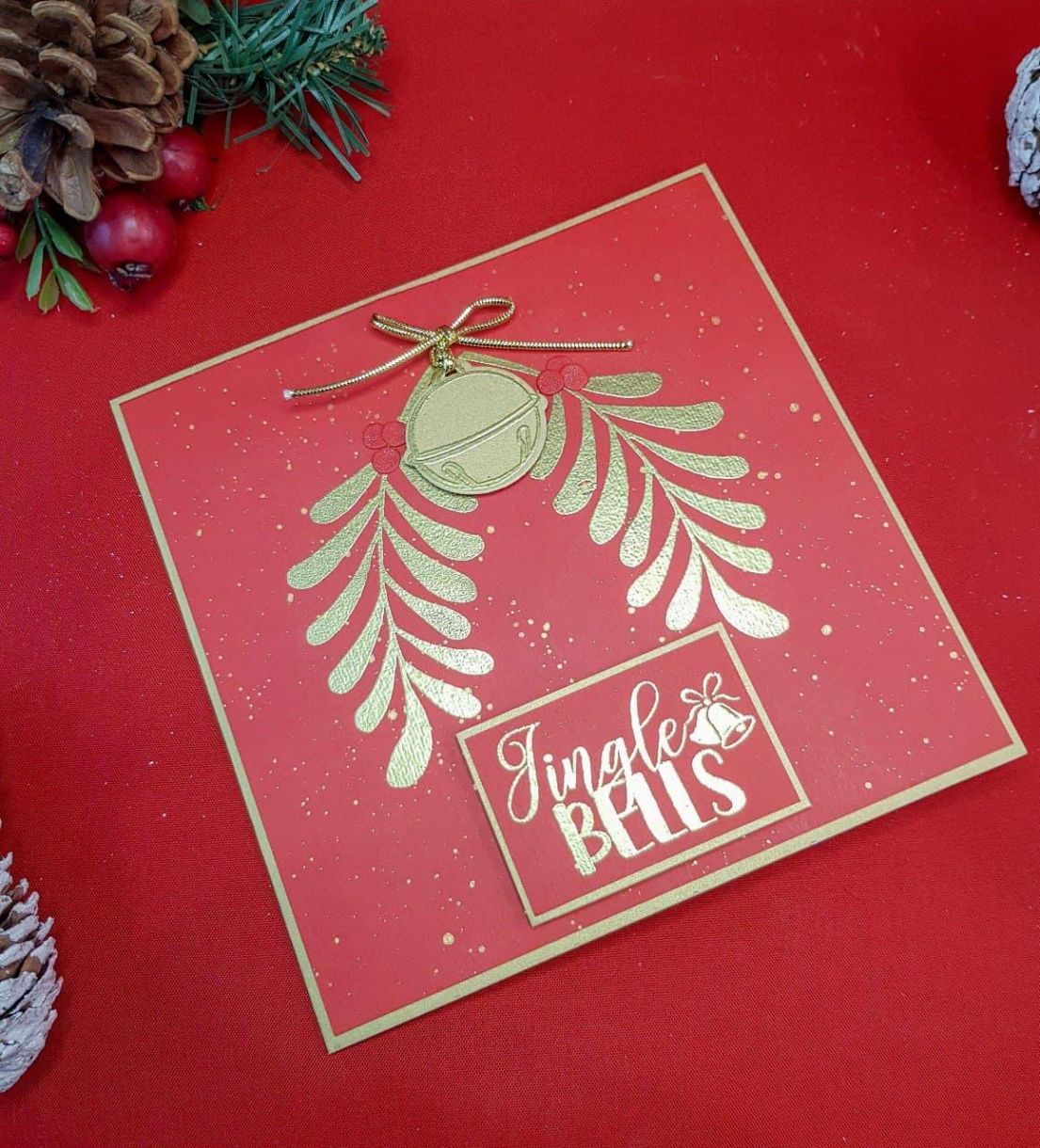 Let me start by saying how gorgeous the red linen effect cardstock is and how sparkly the harvest gold pearlised card is. I just can't take a photograph to do them both justice.
When I saw the Simply Cards & Papercraft magazine had a fabulous Altenew stamp and die set (Bells & Boughs) I just knew that the cardstock and the stamp set, with a little gold embossing, would look perfect together!
And the best thing about this card - you only need 1 sheet of A4 card in both colours!
To make this square card you will need:
You will also need:
Simply Cards & Papercraft Issue 210 wth the Bells and Boughs stamp and die set or similar
A Jingle Bells sentiment stamp or similar (optional)
A piece of gold string or ribbon
Versamark stamp pad
Gold Embossing powder
Gold paint to splatter (optional)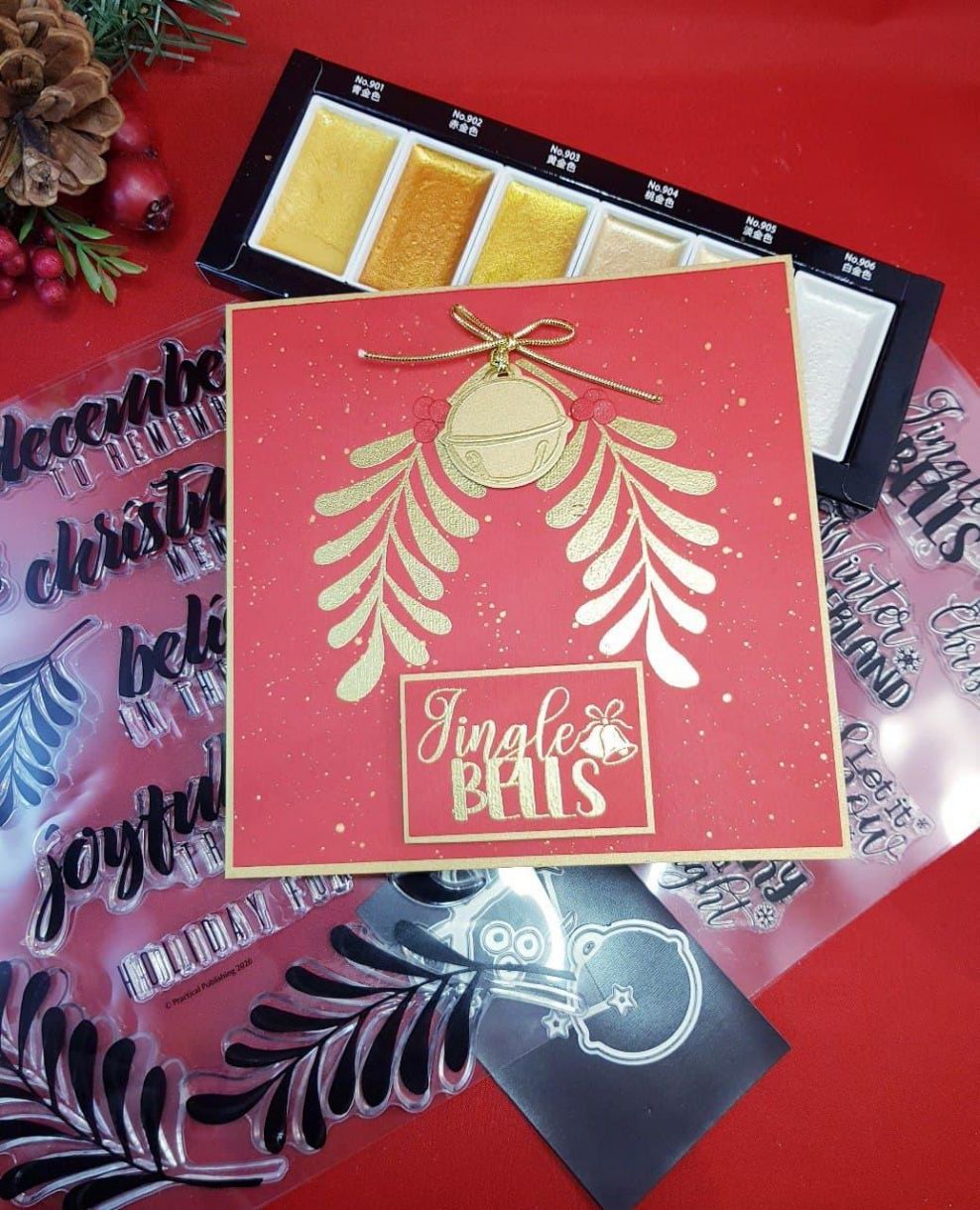 Instructions:
Cut 1 sheet of A4 gold cardstock to measure 5 3/4 inches along the length.
Score and fold in half, creating a square 5 3/4 x 5 3/4 inch card base.
Create 2 mats measuring 5 5/8 x 5 5/8 inch in the red cardstock.
Stamp the 2 largest foliage stamps onto one of these mats with Versamark ink, add gold embossing powder and heat set.
Splatter gold paint onto the red mat and allow to dry. (To protect my surfaces I use an old box as a splatter box).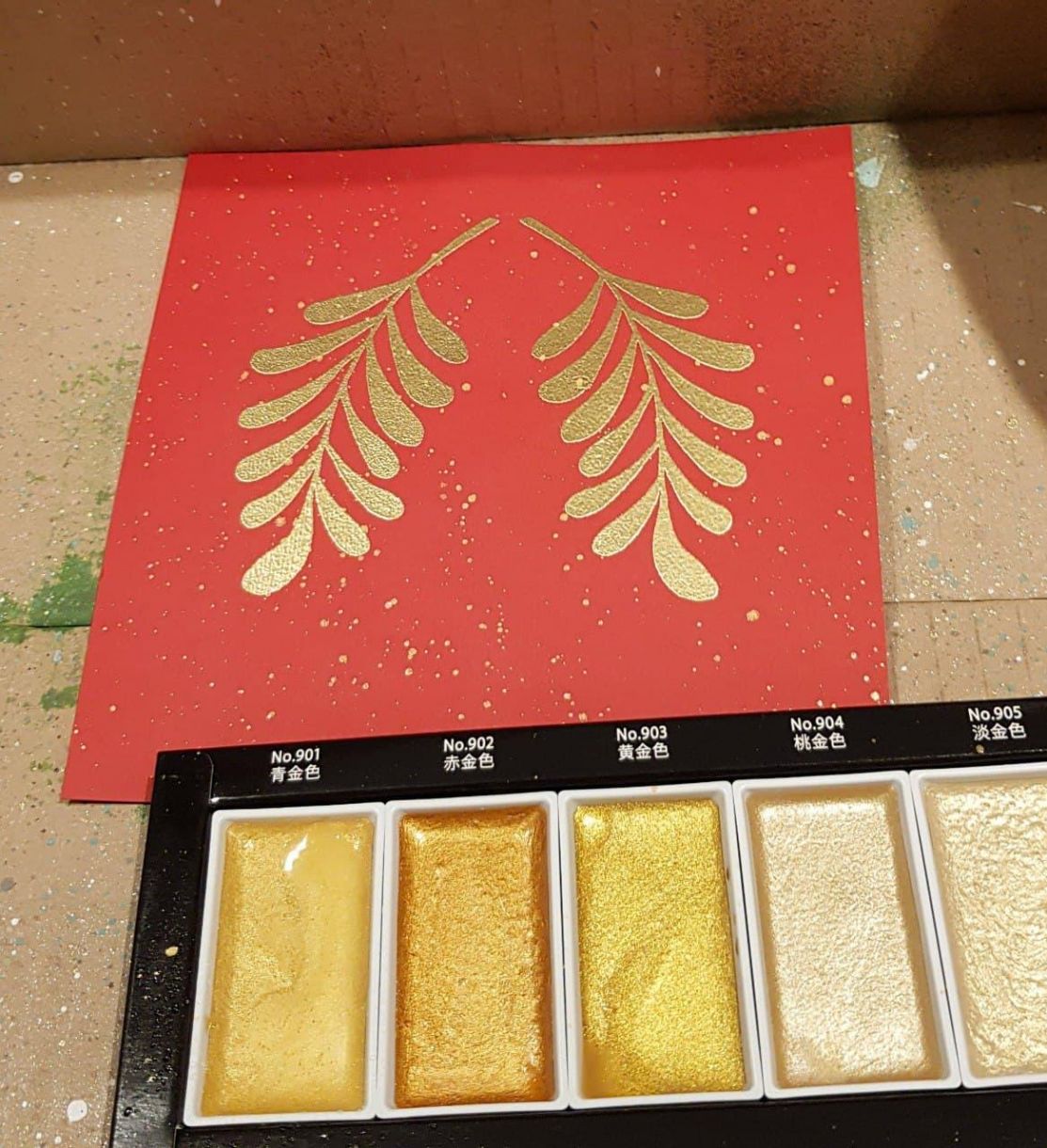 6. Stamp the bell on the leftover gold cardstock and cut out with the matching die.
7. Stamp a sentiment (I used 'Jingle Bells' from a stamp set I have in my stash) on some of the remaining red cardstock and heat emboss in gold. Trim into a square or rectangle.
8. Create a mat for it on a slightly larger piece of gold cardstock and glue together.
9. On the 2nd red mat stamp a sentiment in the centre and heat emboss in gold - I used 'believe in the magic' from the Altenew stamp set.
10. Cut out 6 berries from the red cardstock scraps and colour with a little shimmer - I used my Wink of Stella pen.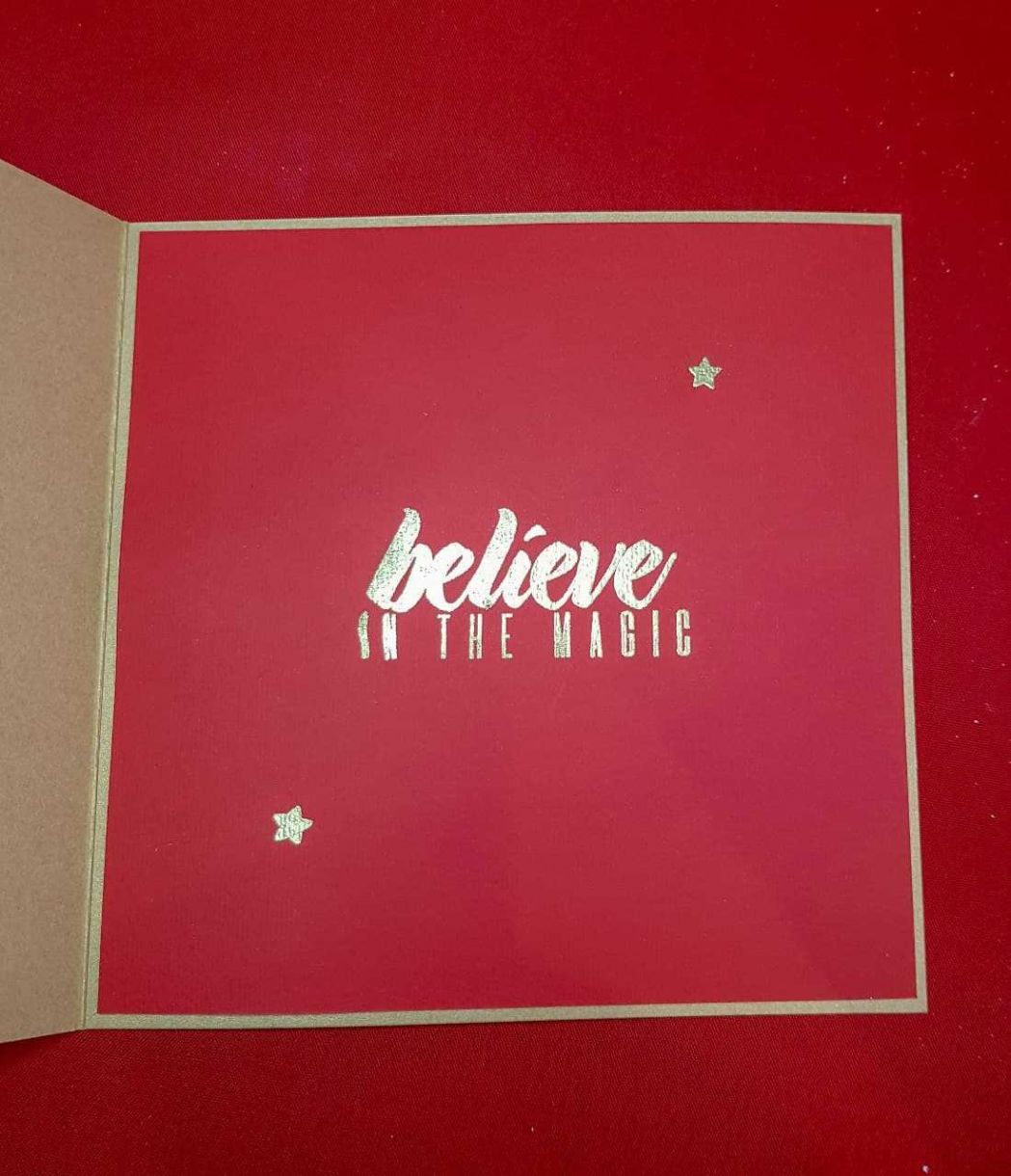 To assemble the card:
1. Glue the 1st red mat onto the front of the gold card base.
2. Layer up the 6 berries, 3 on either side of the gold embossed foliage.
3. Add the gold ribbon through the gold bell and tie in a bow.
4. Add foam tape to the bell and adhere to the card where the 2 foliage stems meet.
5. Mount the sentiment with foam tape and adhere to the bottom of the card in the centre.
6. Glue the 2nd red mat inside the gold cardbase - I used wet glue for both mats as you have a little wiggle room to get it straight.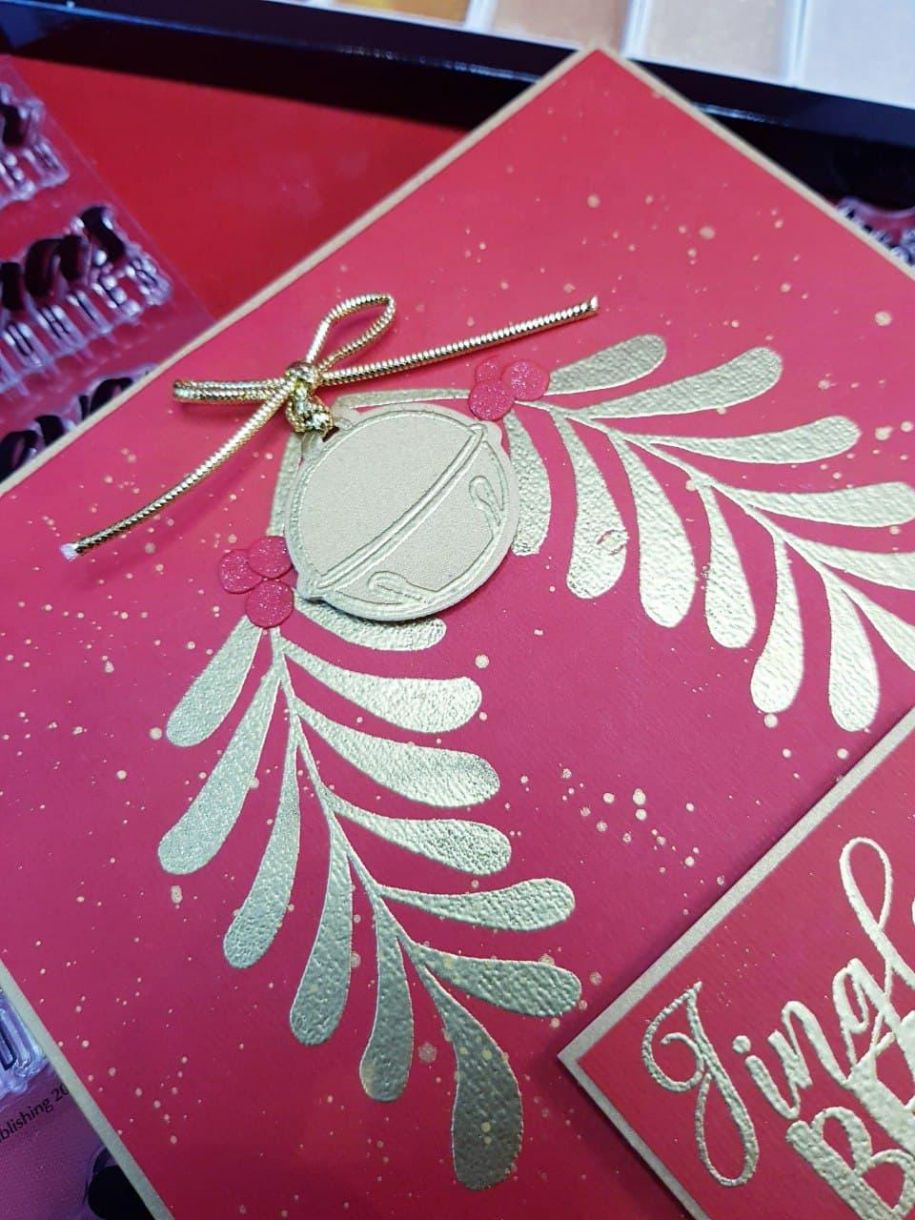 And here it is - this card will fit perfectly into a 6" x 6" envelope. I think the card looks so effective in just gold and red, with no other colour. It would look great with your personal message handwritten inside with a gold gel pen.
I hope you are well on your way with your Christmas cards if you send them. I'm perhaps not as far on as I should be - I've been procraftinating making more decorations for our home. I can't seem to stop the ideas coming through :)
I hope you enjoyed this tutorial and it provided some inspiration to create your own. Even if you don't have this stamp set you may have something in your stash similar that would work equally well.
We'd love to see your makes - simply tag us in your posts using hashtag #papermilldirect
Have a wonderful time, whatever holiday you celebrate.
Alison x