Christmas Wishes from Our Home to Yours
0
Posted on 19th December 2020 by Alison Pendlebury-Brown
Filed under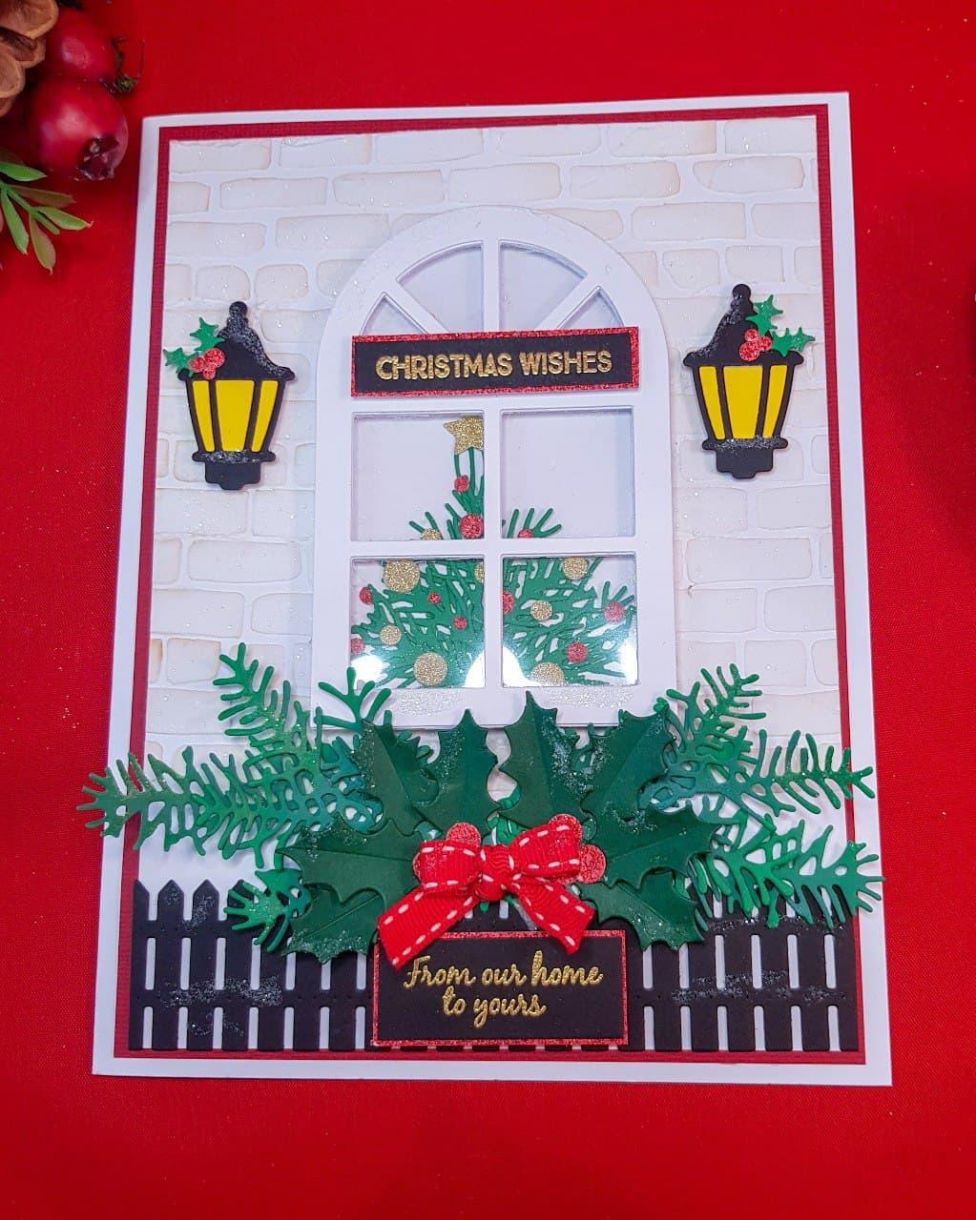 I had a lot of fun creating this beautiful Christmassy card, using lots of different medias and adding layers. To create your very own version of this Christmas card you will need:
Forest Green Cumbria Colour Card 270gsm
You will also need:
A brickwork stencil
White texture paste (I used Ranger Texture Paste opaque matte)
White glitter (I used Ranger distress dry glitter in colour clear rock candy)
A window die (I used Tonic Studios Domed Window Die)
A wall lamp or lamp post die (I used the lamp head from Tonic Studios's Carol Singer dies)
A small star and circle die or punch
Christmas foliage dies (I used some unbranded ones from my stash)
A sentiment stamp
Gold embossing powder
Wet glue - I used Cosmic Shimmer acrylic glue
A piece of acetate for the window
A piece of ribbon or a fabric bow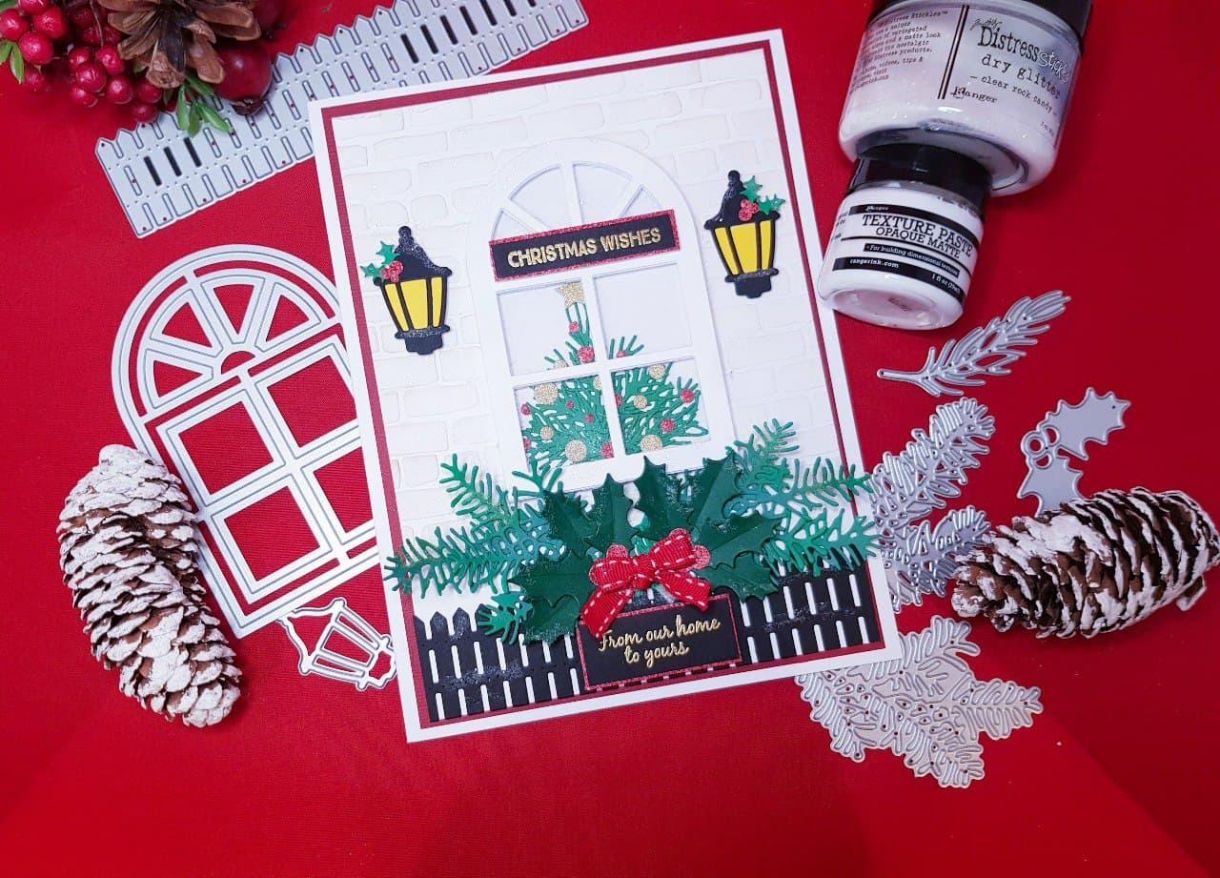 This is a long one, so get yourself a warm drink, maybe a snack and collect all of your supplies. Here we go ..
Step by step:
Create an A5 card blank by scoring and folding a piece of A4 card in half.
Using your texture paste and the brick stencil create the background for the house wall on thick white cardstock mat.
Sprinkle on white glitter whilst still wet and put to the side to dry.
Cut a mat in red card.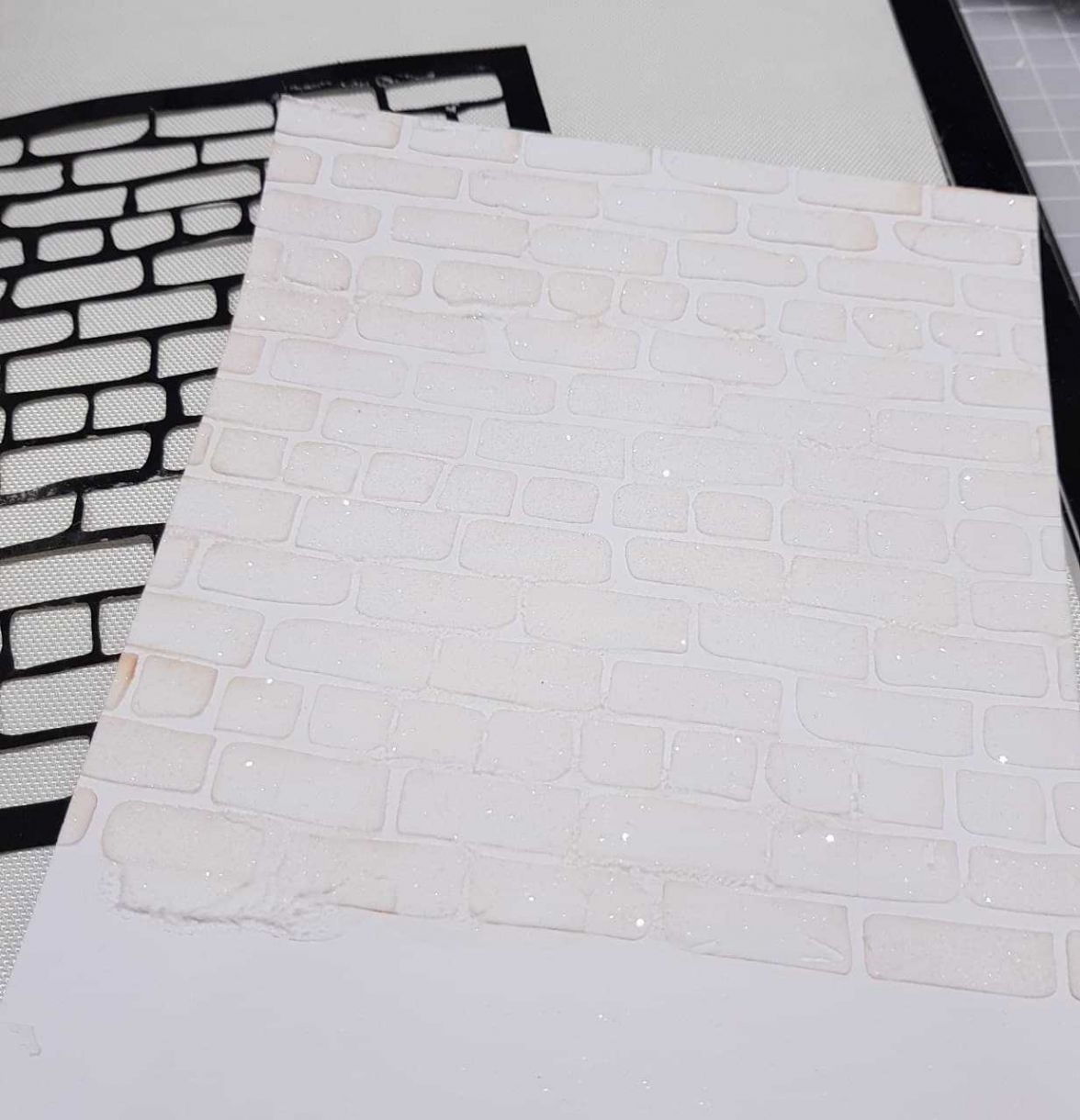 6. Die cut all of the pieces.
7. To create the Christmas tree in the window I used branches of the foliage and arranged into a Christmas tree shape.
8. Die cut 4 layers of the window frame in white card and glue together to create dimension.
9. Cut a piece of white card to fit behind the window frame using this piece to arrange and glue down the Christmas tree.
10. Cut a piece of acetate to fit the window frame to give the appearance of glass windows. Glue this to the back of the layered window frame and add foam tape between this and the card shape with the christmas tree. Adhere together.
11. Die cut a fence in black card.
12. Die cut 2 of the lamps in black and yellow and piece the lamp together to make it appear as if there is light flowing from the lamps.
13. Die cut small circles in red glitter and gold glitter to create baubles for the Christmas tree and holly berries for the holly.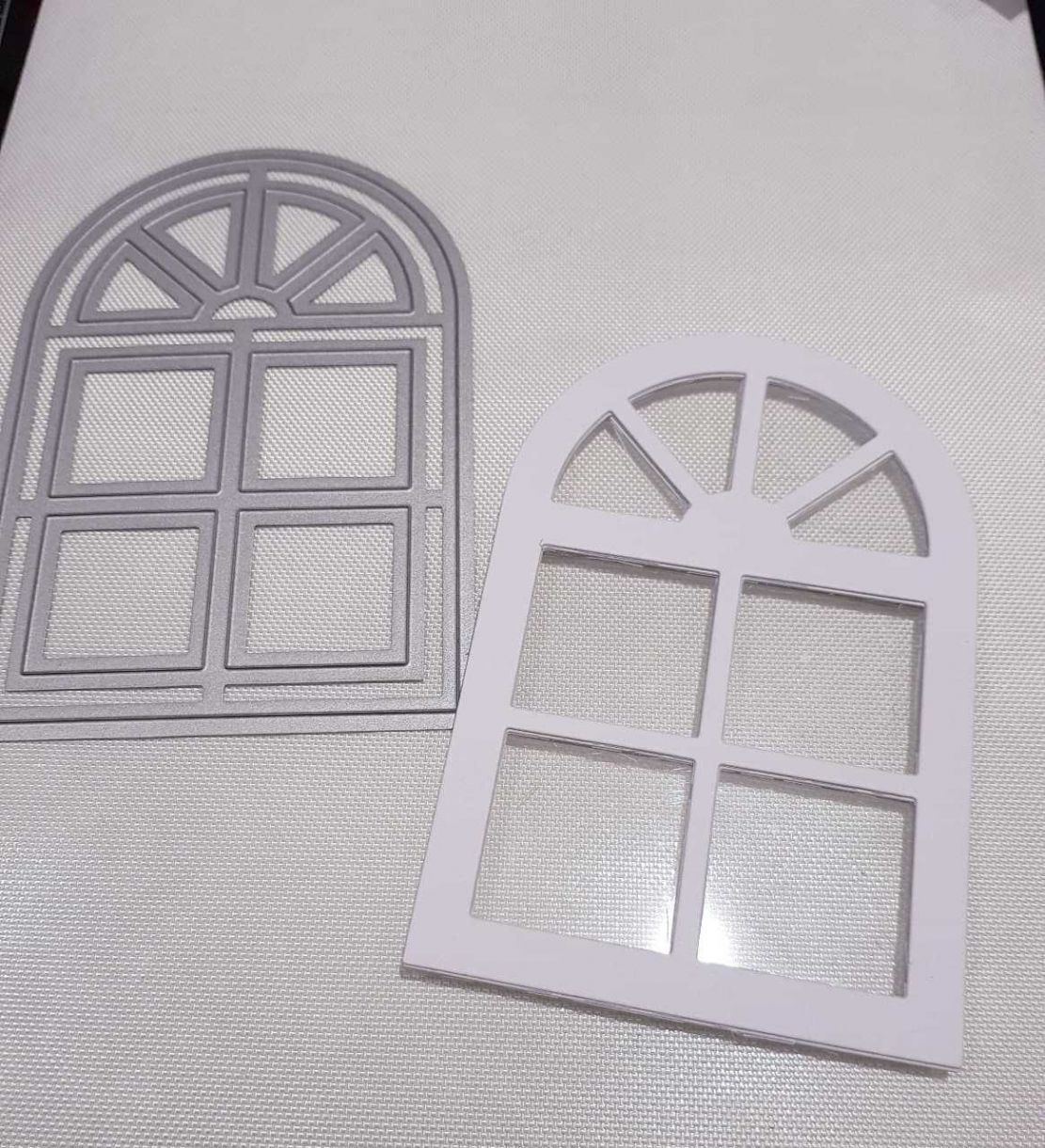 14. Cut out foliage in the green cardstock - I used fir tree branches and holly leaves.
15. Add little bits of clear glue to the tops of the lamps, leaves, top of the window frame and the fence. Sprinkle the white glitter over these parts and leave to dry.
16. Assemble all the parts to your house card base.
17. Create a sentiment strip using Versamark ink to stamp the sentiment stamps and heat set with the gold embossing powder. Add to your card with 3D foam strips.
18. Finally add the bow using sticky dots.
Below is a close up image showing the glitter -it looks like a shimmering layer of ice or a light layer of snow.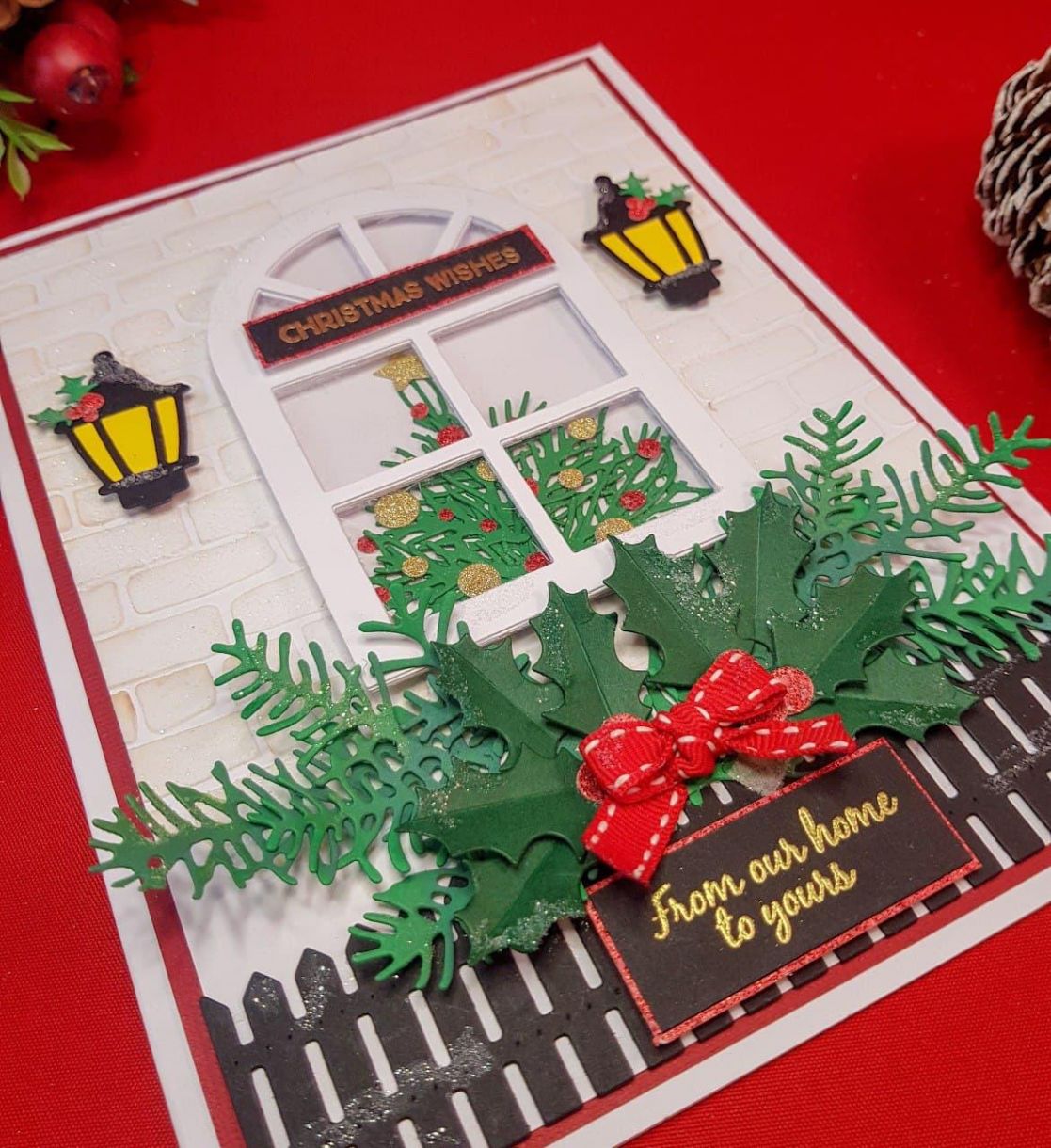 And that's it completed. Phew, that was long, but so, so worth it. The photographs just do not do it justice, it looks so sparkly and festive, but not over the top glittery - just how I like it. Of course if you are a glitter fan then glitter away to your hearts desire :)
I do hope that gave you some inspiration - enough to make you want to have a go yourself. If you do we'd love to see it - simpy tag us in on our social media channels using hashtag #papermilldirect
Take care,
Alison x