Hexagonal Roll-Up Watermelon Gift Box
1
Posted on 12th May 2020 by Louise Thompson
Filed under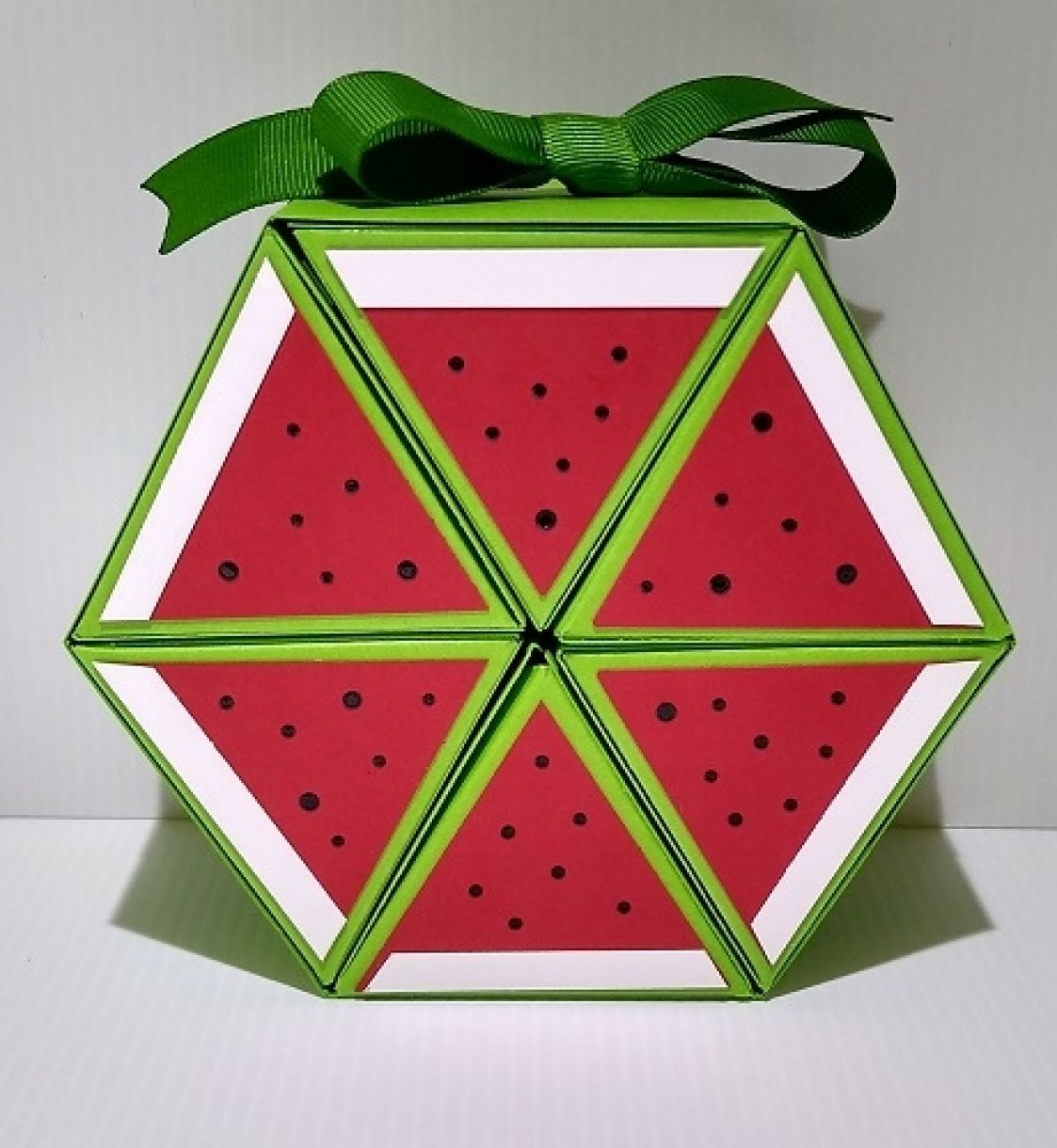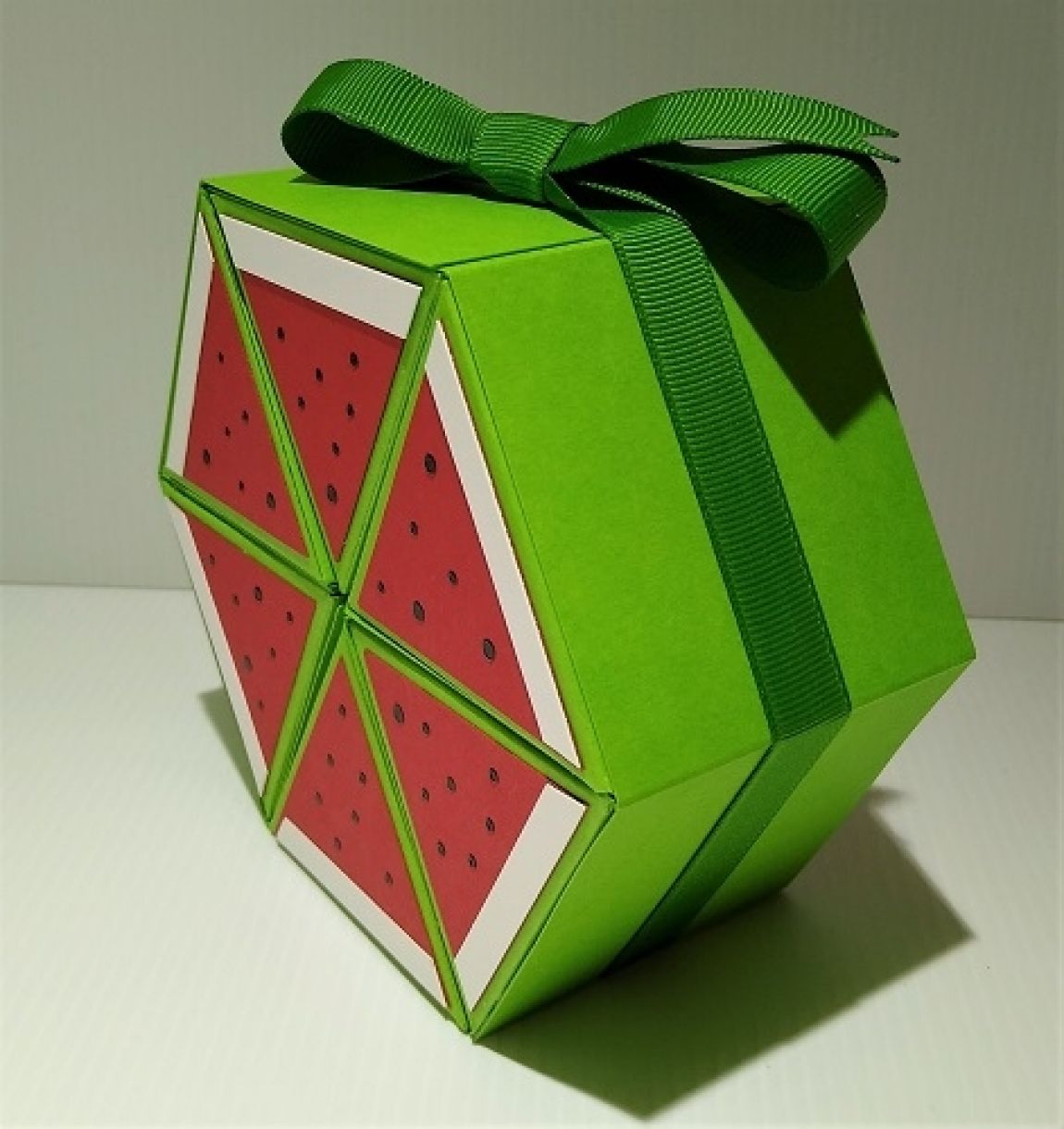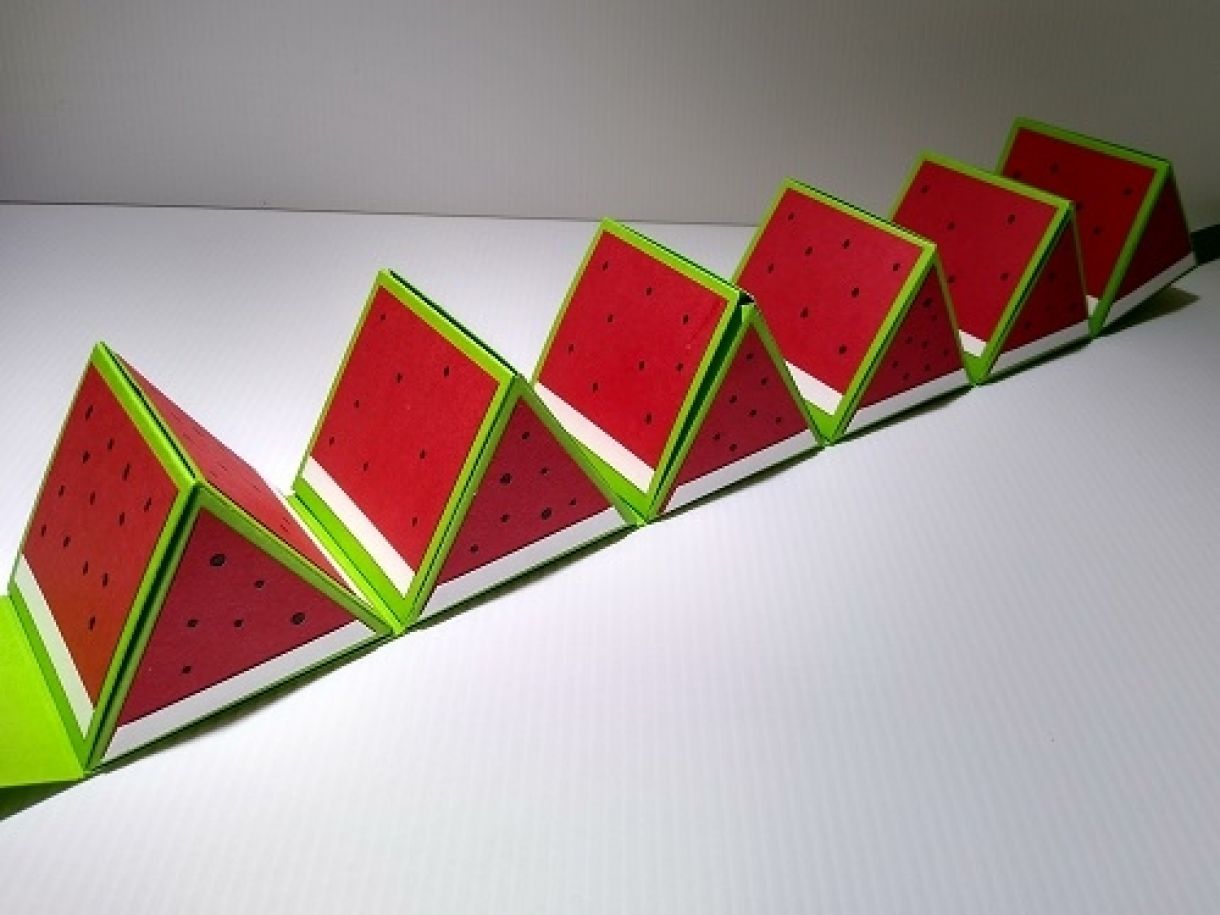 You will need the following craft paper:-
1) Cut out 6 pieces of Apple Green Card Plain 240gsm card that are 8" x 6 3/4".
2) Score at 2 1/2", 5" and 7 1/2" and make a mark top and bottom at 3 3/4" along the long sides.
3) Turn and score along short side at 2 1/8" and 4 5/8"
4) Score diagonal lines as shown on the template:-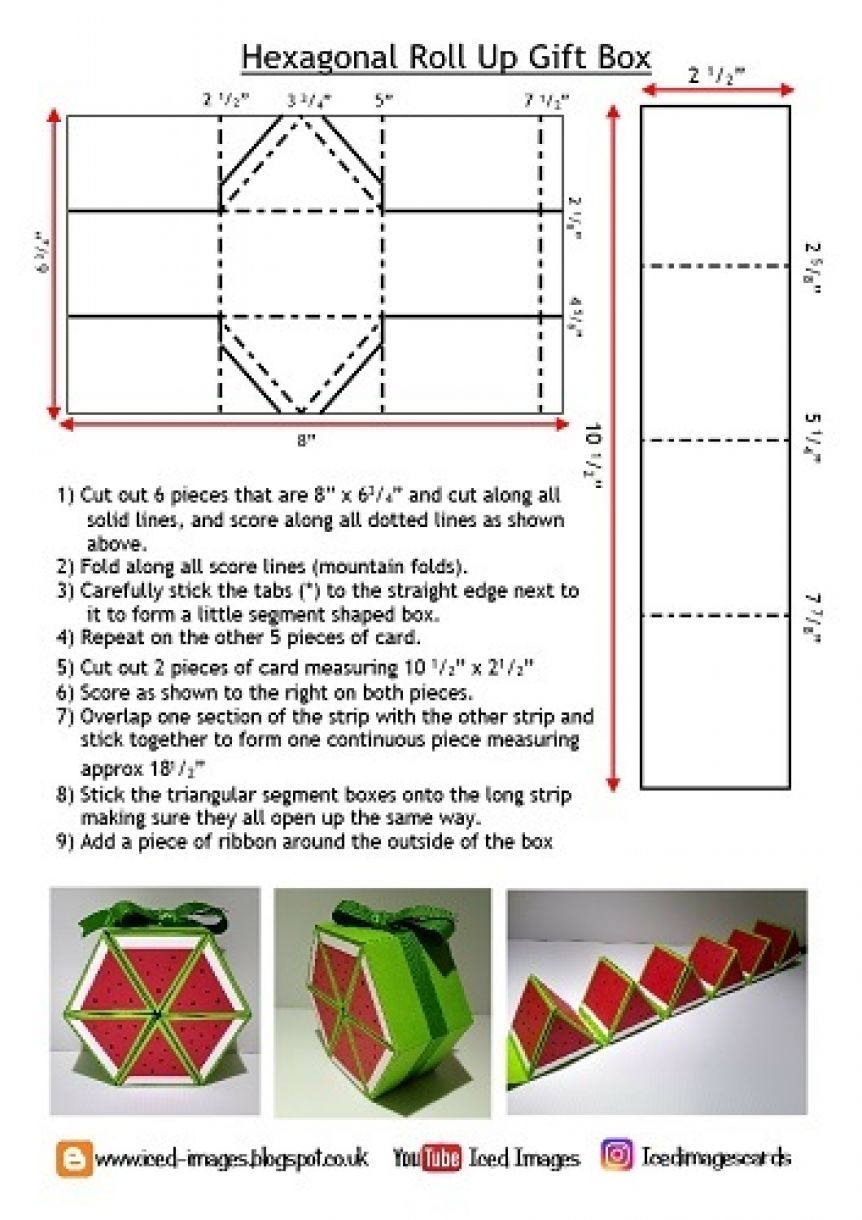 5) Cut along all solid lines.
6) Score along all dotted lines and mountain fold them.
7) Carefully stick the tabs on the side of the triangular section to the sides of the left hand section (the one without the end tab) to form a box - with the right hand side as the lid. Repeat steps 1 - 7 with all 6 pieces of green card.

8) Cut out 2 pieces of Apple Green Card Plain 240gsm measuring 10 1/2" x 2 1/2"
9) Score along the long edge at 2 5/8", 5 1/4" and 7 7/8" and fold as mountain folds. Repeat on the second piece.

10) Over lap the 2 end sections and stick together to form a long piece measuring approx 18 1/2" long.
11) Carefully stick the segment boxes into place on the long strip - making sure that they all open up the same way round.

12) Cut out 12 triangles from Christmas Red Plain Card 240gsm to fit inside the triangular segment sections on the boxes and stick them in place.

13) Cut out 12 rectangular pieces of Christmas Red Plain Card 240gsm to fit and stick those in place.

14) Cut strips of White Card Plain 250gsm that are 1/4" thick and cut them to fit the tops of the red triangles. Stick into place.
15) Using a black marker pen, make black dots on the red card to look like watermelon seeds.
16) Add the green ribbon to the outside and stick into place - leaving enough slack to tie a bow on top.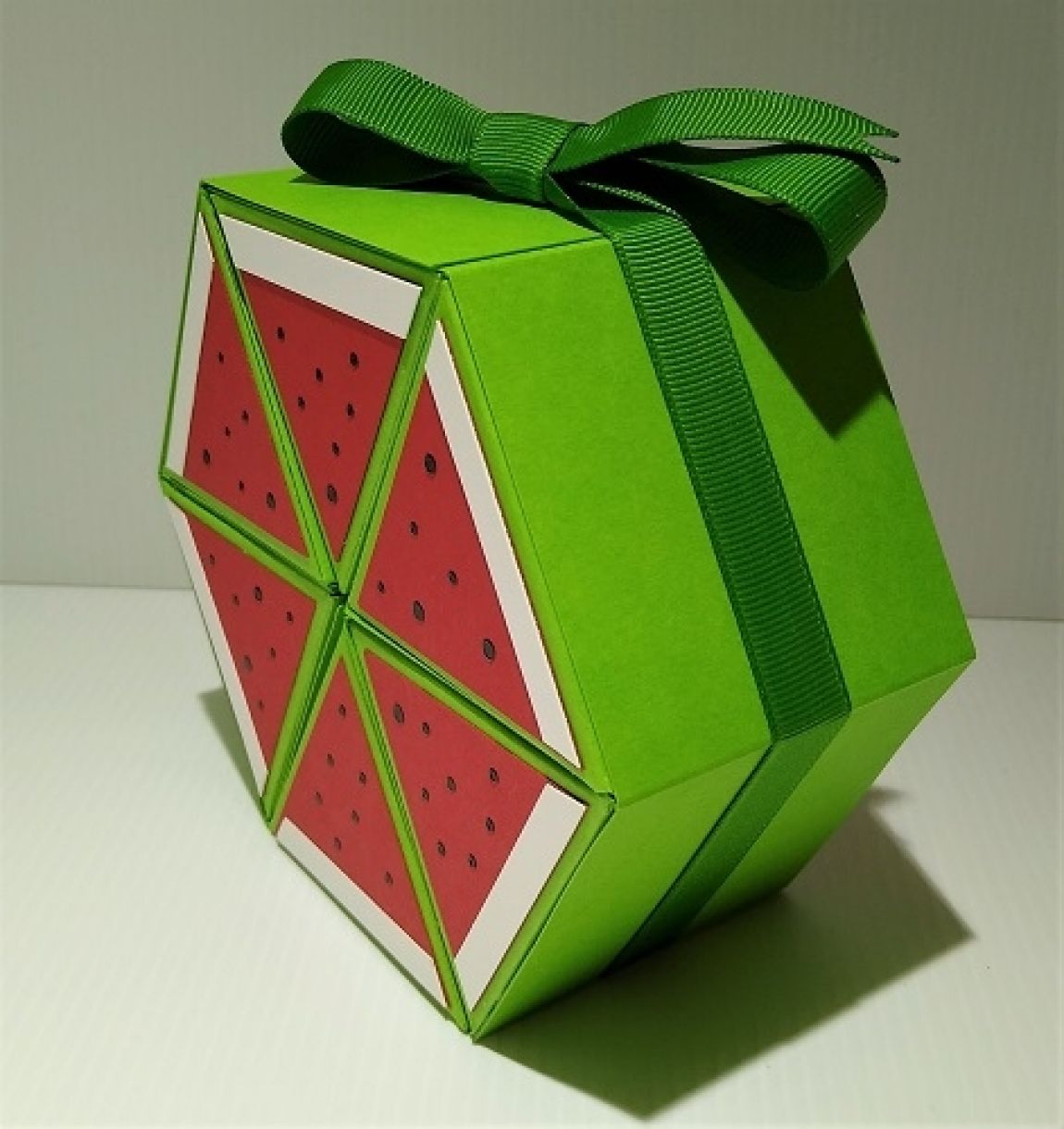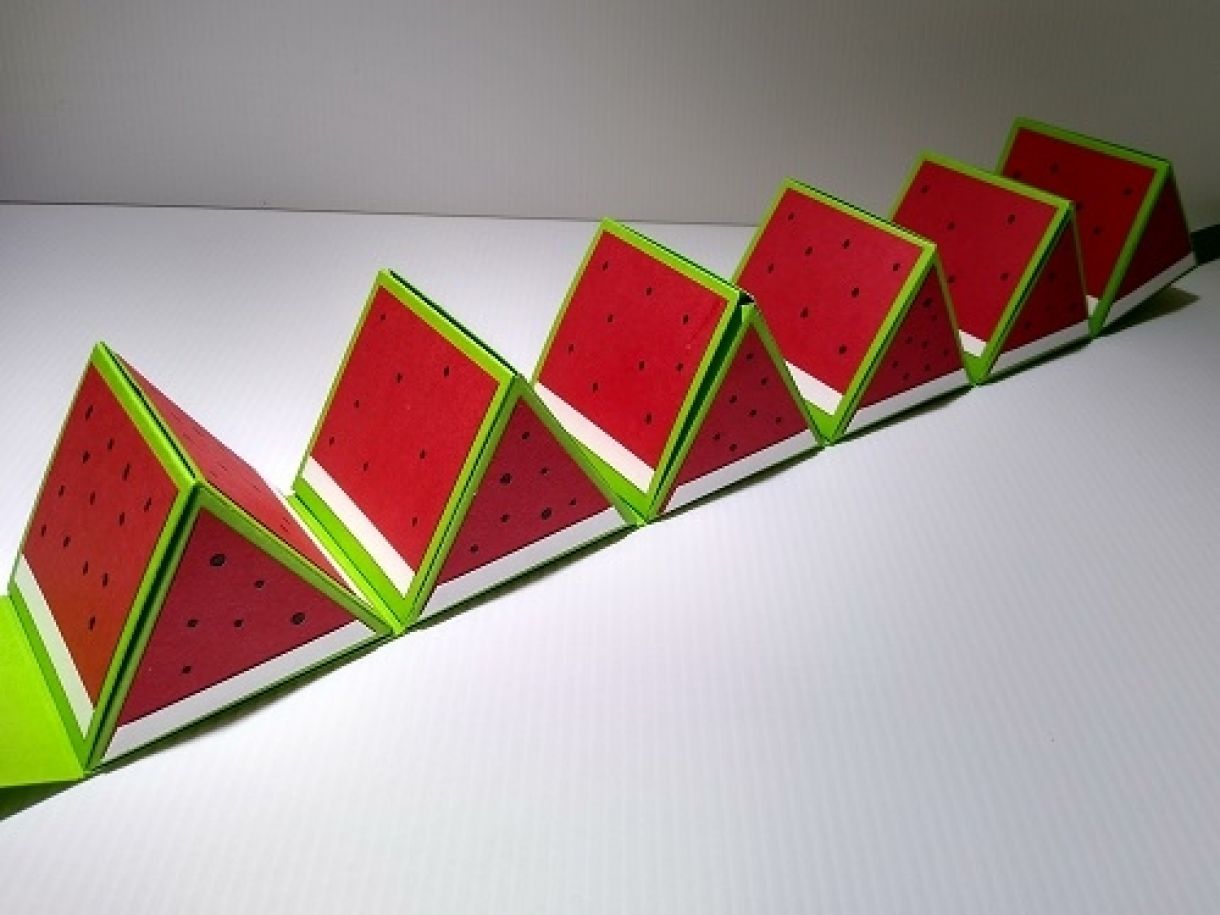 I hope you'll have a go at making one of these fabulous boxes! You could even make them in the shape of an Orange, Lemon, or Lime! The possibilities are endless!!