DIY Project Life
4
Posted on 28th August 2013 by Sharon Nettleship
Filed under Papercraft Disciplines And Techniques, Scrapbooking And Journalling, Design Team
Hi Shary here and today I'd like to show you how Papermill Direct helped me with my new addiction! My new addiction? Project Life!! Project Life is a really simple, easy way for you to scrapbook your pictures. You have an album, photo pocket page protectors, a core kit and your favourite photos. Here's my first pages that I put together. For this one I used a Becky Higgins core kit called Honey.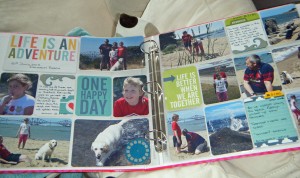 And then I had the idea of making my own cards as I couldn't find one that was associated with kite flying. Pretty simple really, all you need is some Papermill Direct card and a die cutting machine, or if you want something really simple you could cut the shapes yourself or use ready made shapes. The cards come in two sizes 6x4 or 3x4. So first I cut out 2, 6x4 cards on my Silhouette Cameo. A plain one using the cream linen and the kite one using the Maroon card. I also cut out the kite die with the same Maroon card.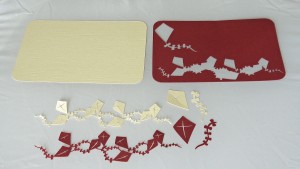 The title letters were cut in three layers with the same cream and maroon card on my Cameo . I then used a glue pen to layer them all up.
I've then put the title card all together. I added a little white highlighting with a white pen.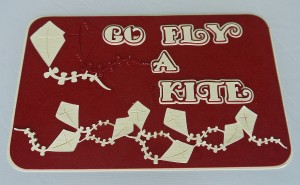 Next I've cut out 3 layers of card for the journalling card, the largest one being 6x4 ins. I then cut out the kite shape in maroon.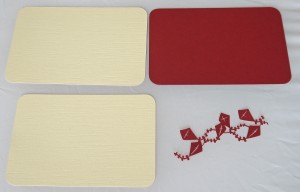 Layer up the card and then add the kite shape down the left hand side. This card is for you to journal on. Don't forget to add the date and location.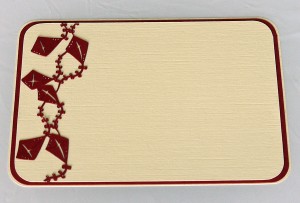 Next I wanted some embellishments for the actual photos as they had some quite big plain areas. I cut out some different shaped kites in layers and then an arrow.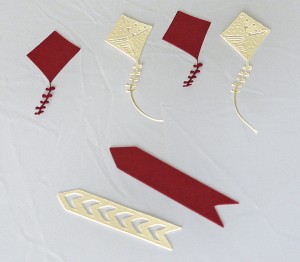 I placed the title and journalling card in the first and last pockets and then placed my photos. Where I thought it looked a bit bare I glued my kite embellishments. Because I wanted my arrow on several photos I glued it to the actual photo pockets. Here's the finished page.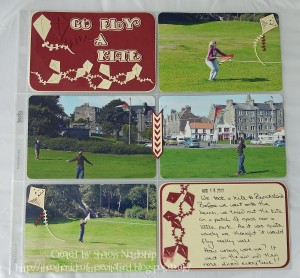 Shary x