Daffodil Bouquet
0
Posted on 2nd March 2023 by Papermill Direct
Filed under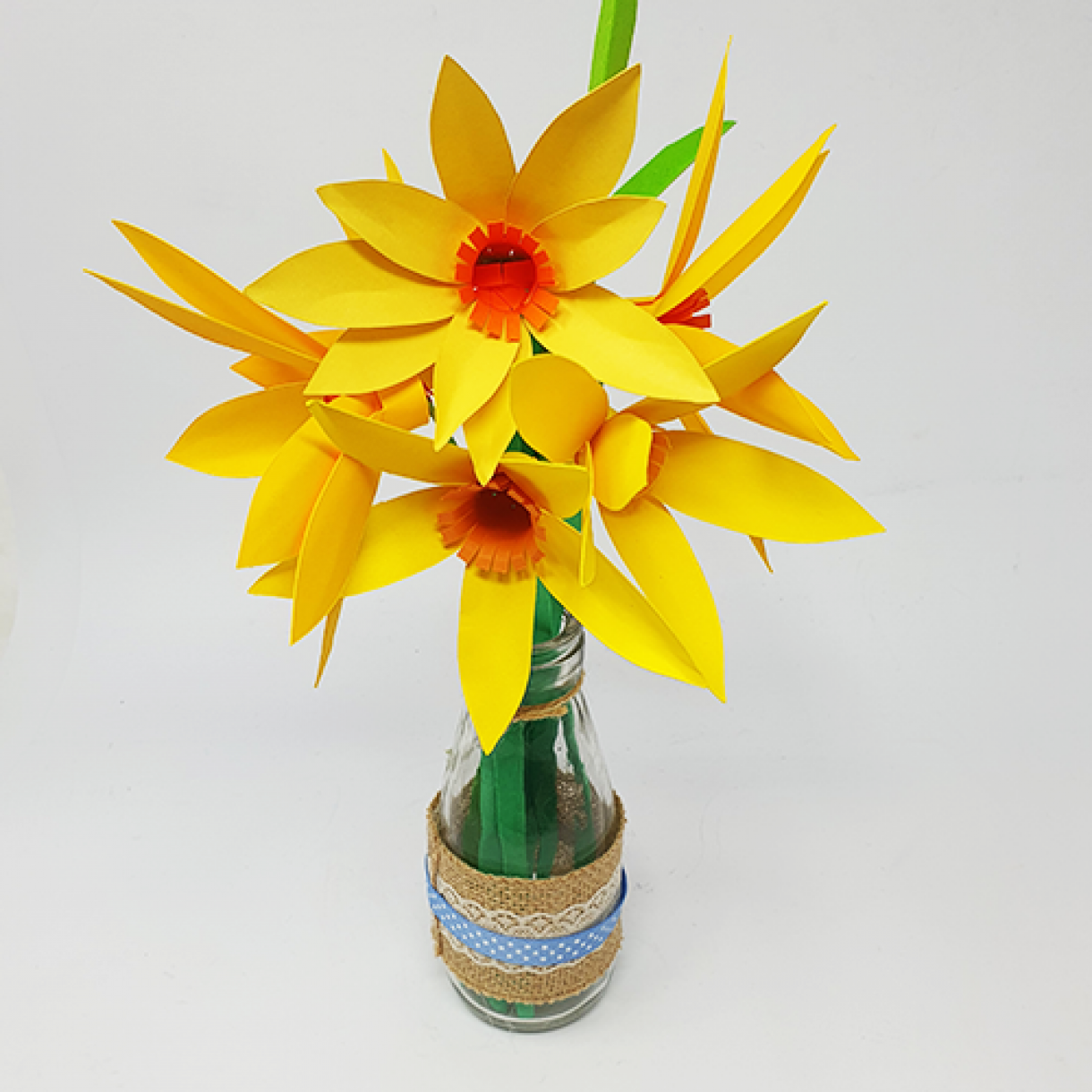 Hello everyone!

So I've been wanting to explore paper flower making for ages and which of Papermilldirect's paper I think is the best suited for curling, cutting, sticking, and moulding. We're going to jump straight in with my Mum's favourite flower and the inspiration for this blog, Daffodils!
If you're based in the UK, like we are, you'll know Mother's Day is coming up on the 19th of March so there's no time like the present to get crafting.
So what do you need?
First, you'll need to pick the best paper for your flowers, we've tested out 6 papers with our daffodils today.
Woodstock Giallo 110GSM: This is the lightest paper we used and folds and moulds the easiest of the paper I tried. The Petals move easily and replicate a real daffodil quite well. However, I'm not convinced that the flower will be very durable due to how similar it is to a real daffodil.
Pastel Canary 160GSM: This is our mid ground, and this paper isn't nearly as malleable as the Giallo. This means the petals stand up and away from the stigma better, but they don't replicate the motion of petals as well.
Mango Yellow 170GSM: This is the heaviest paper I used and once moulded it will keep it's shape perfectly. Unsurprisingly this paper also feels the most durable of the 3, which is something to consider if you were making flowers for an event and needed them to be able to travel.
Woodstock Arancio 110GSM: I used this paper for the Stigma (Inside bit) and although it rolled beautifully when applying the petals I could have done with more support from it.
Intensive Orange 160GSM: I preferred using this paper when creating the stigma as it gave more support when adding the petals
Intensive Yellow 160GSM: Very similar to the Intensive Orange due to them having the same GSM but stylistically I prefer the contrast of the orange card rather than a subtle change between yellows.
[Stigma = Inside of your daffodil]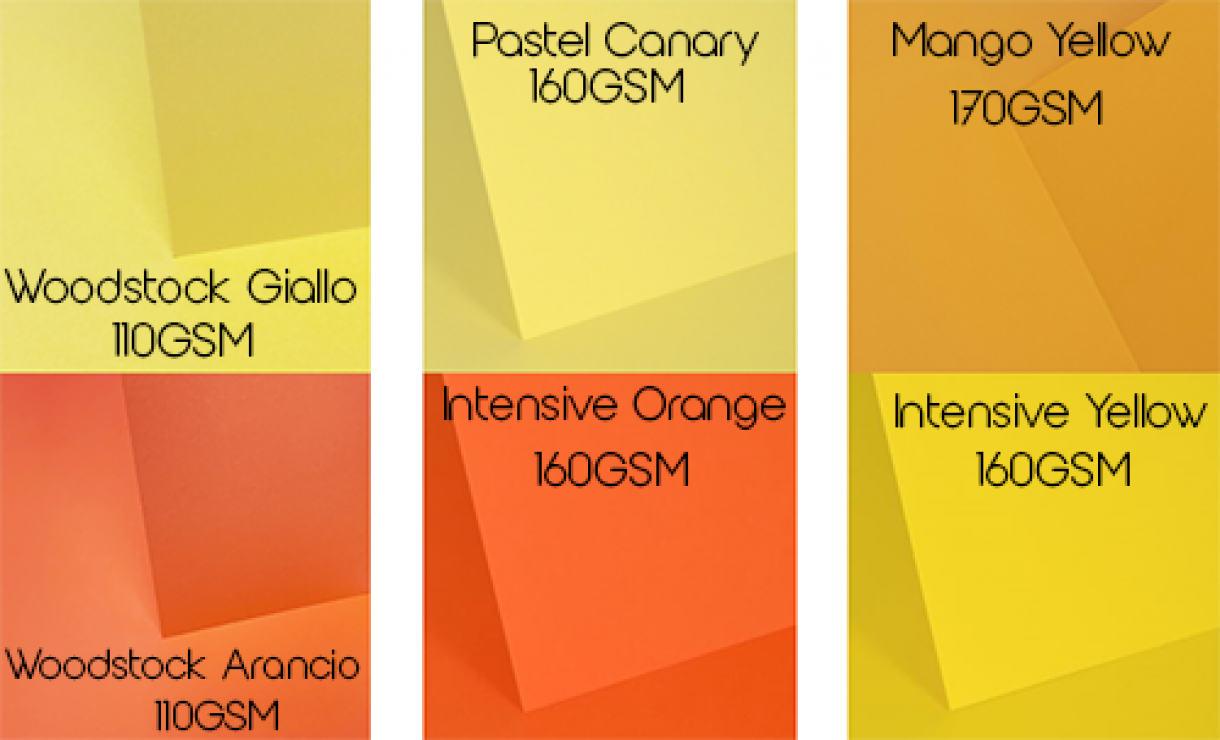 Now we've picked our favourite paper for the daffodil heads you will need:
Thick Green Card for the Stems
We used Shamrock Green 290GSM but you could use a 240GSM card if you prefer.
Scissors for chopping
Double Sided Tape
Cutting Machine or Cricut
If you don't have a cutting machine then scroll to the bottom of this page and there is a template for cutting out the petals that you can print out.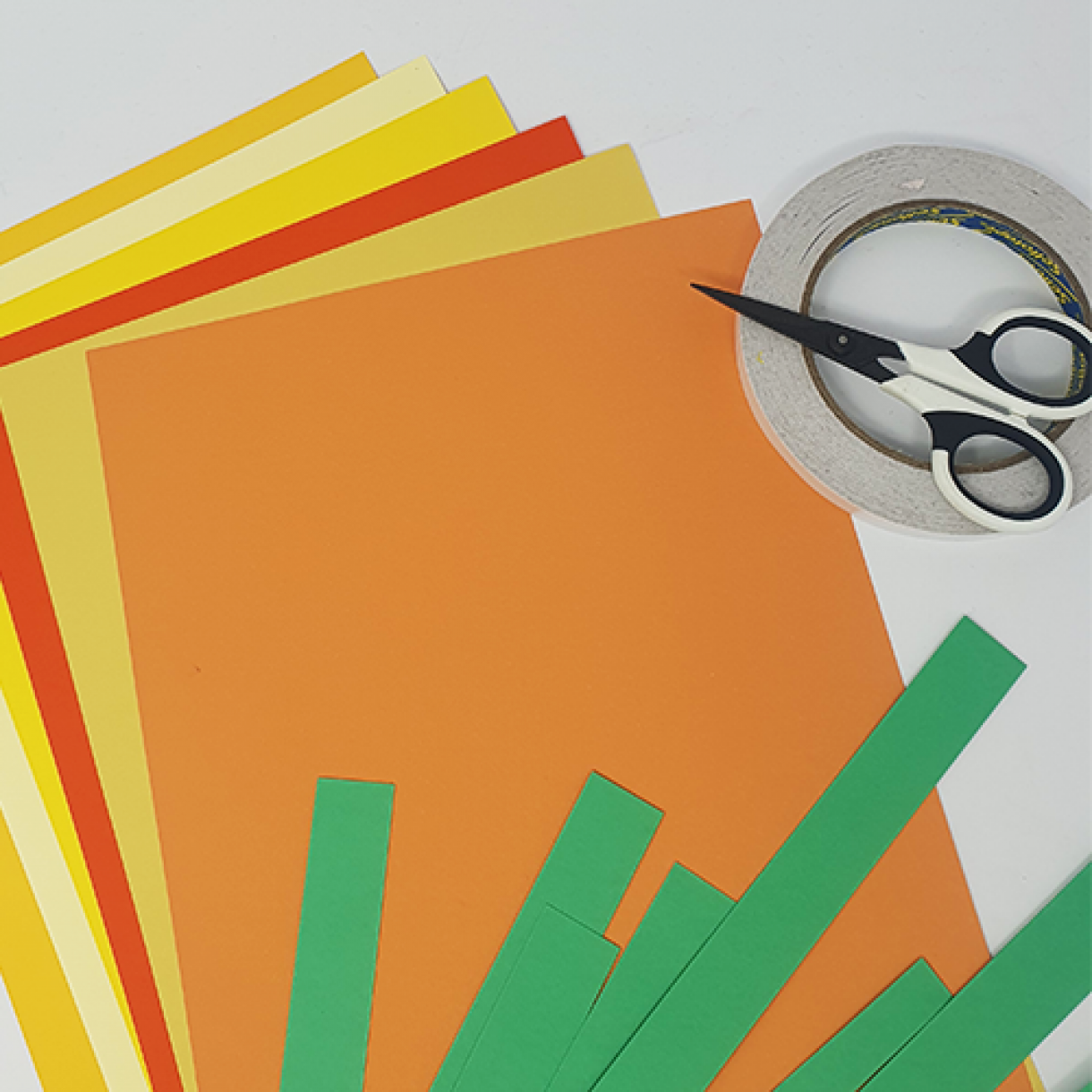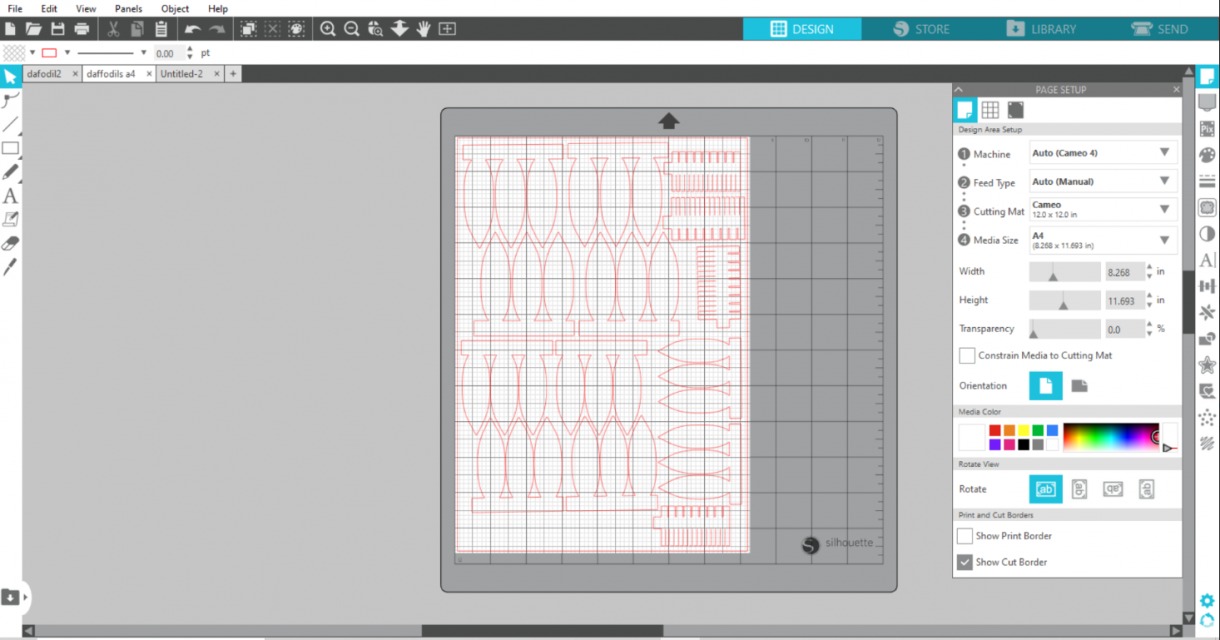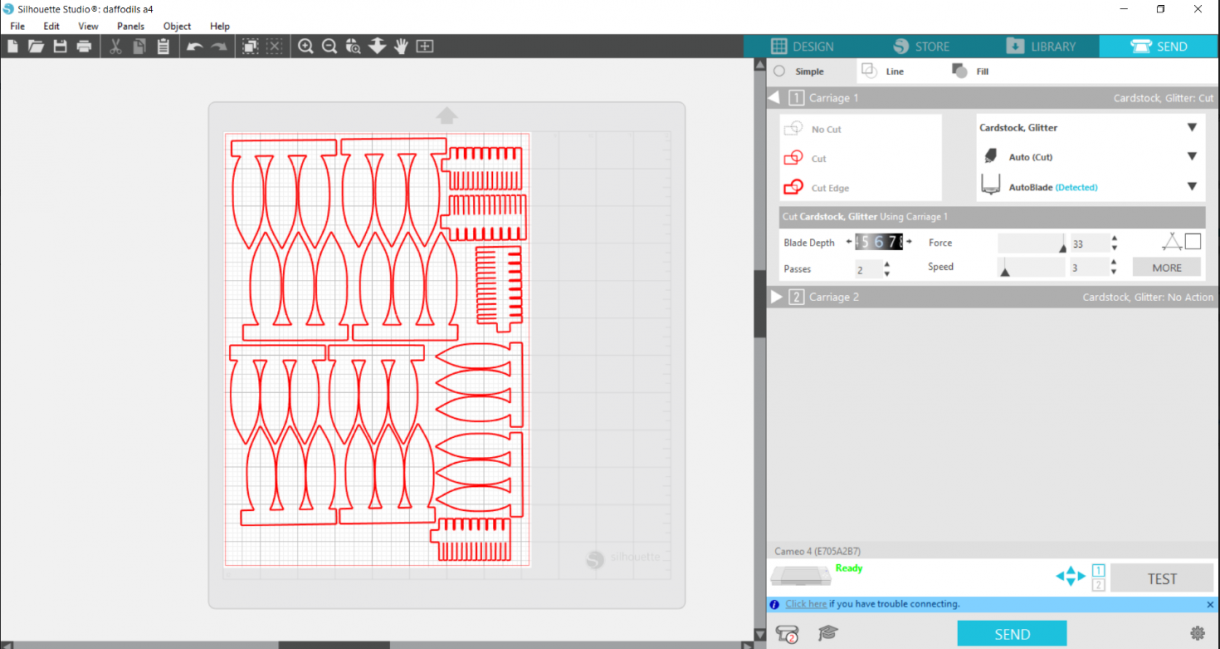 So I used my Silhouette Cameo to cut out the petals I'd created after having a look at a few different tutorials online. I choose a three petal design with the intention of chopping the up if I wanted to be precise with my petal placement.

I created two files to cut out. The first cutting out from an A4 sheet of card and the second to use up some A6 pieces. I varied the sizes of my petals and stems so that I would have a nice range to work with and some irregularities in my daffodils to make the bouquet feel more realistic.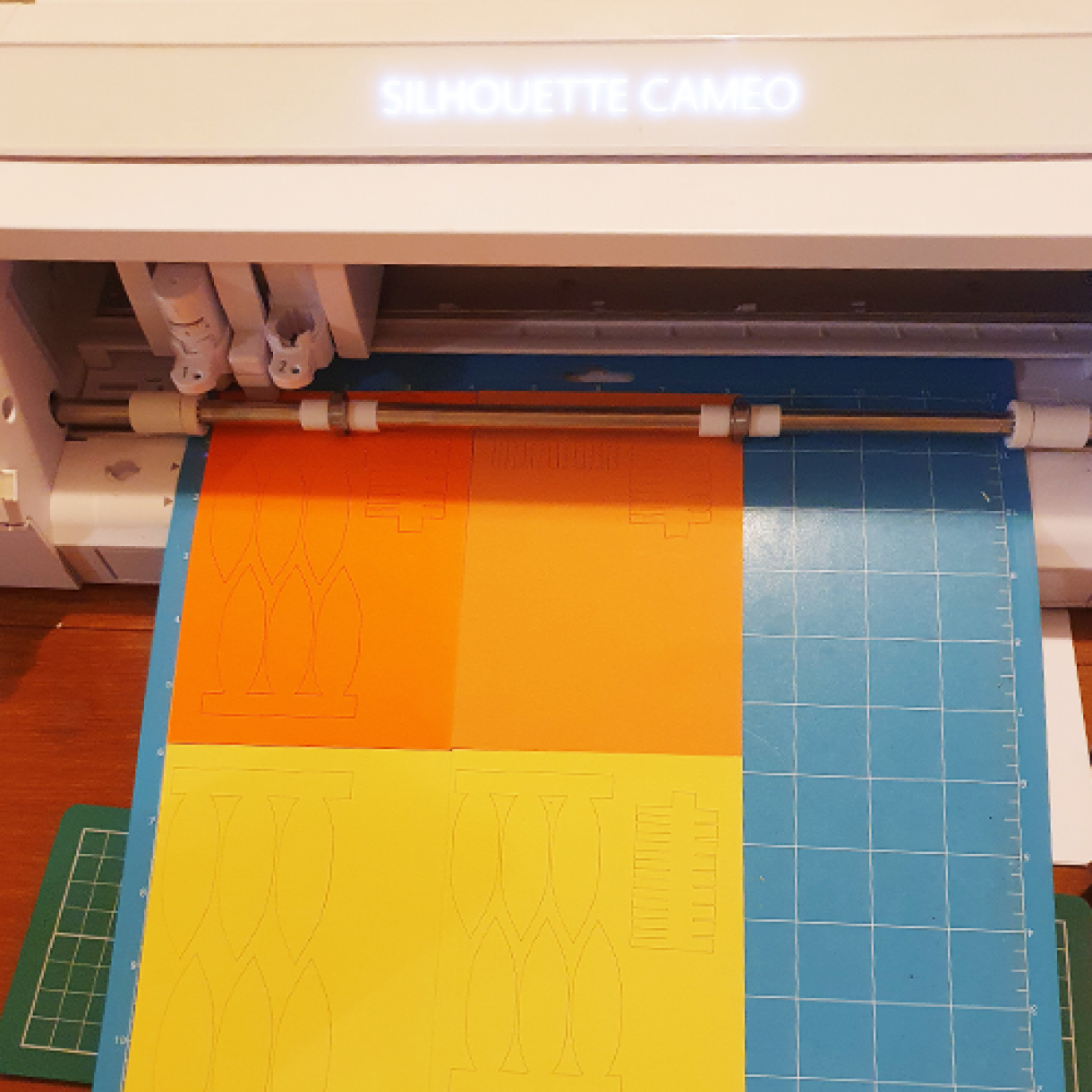 Anyone else with a cutting machine know that feeling of when it shoots out and you cross your fingers that it's all cut properly? I was holding my breath at this point!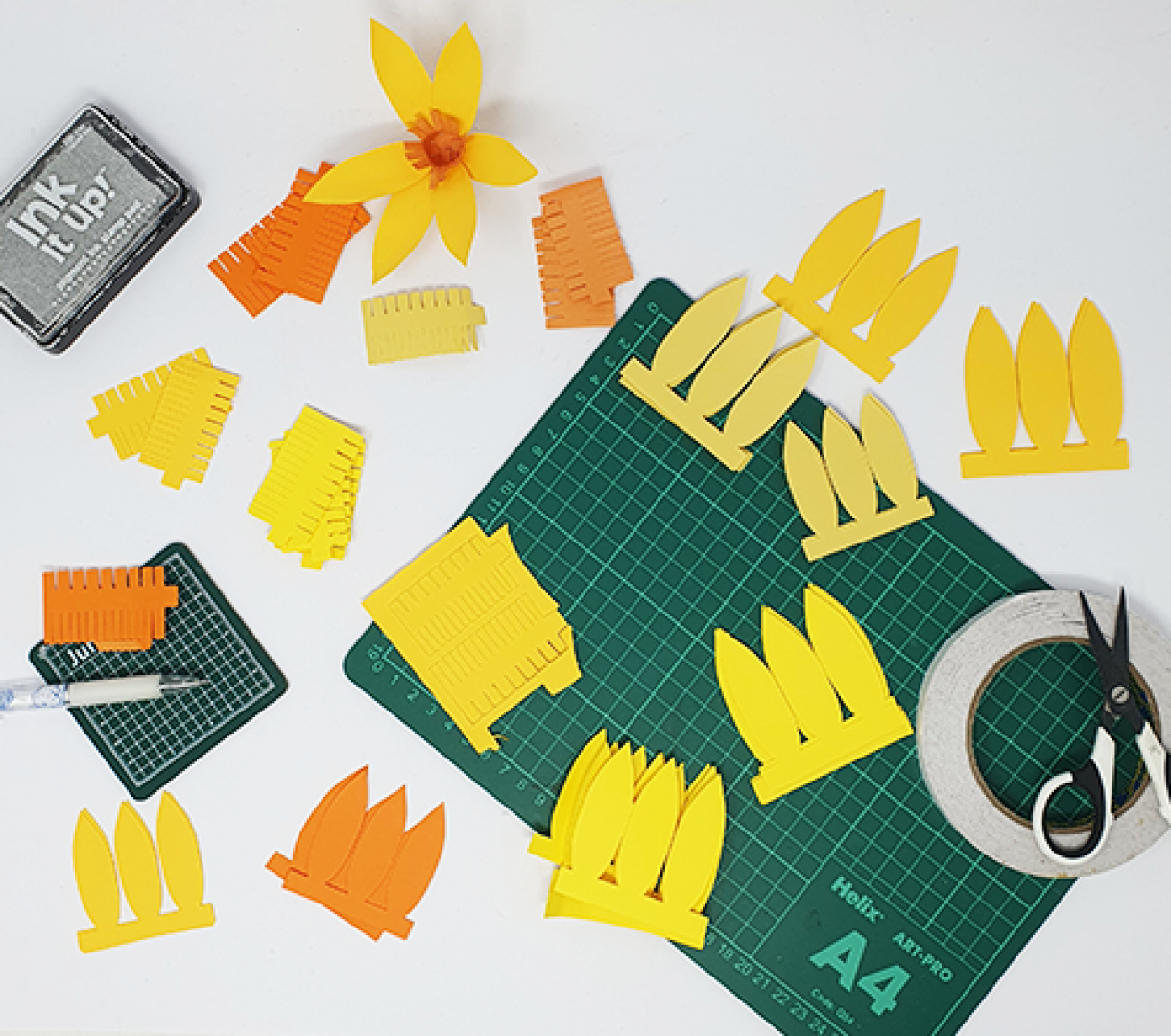 Once all my petals and inner stems were cut out and I had tidied up any pieces that hadn't fully cut through, I was ready to get going again.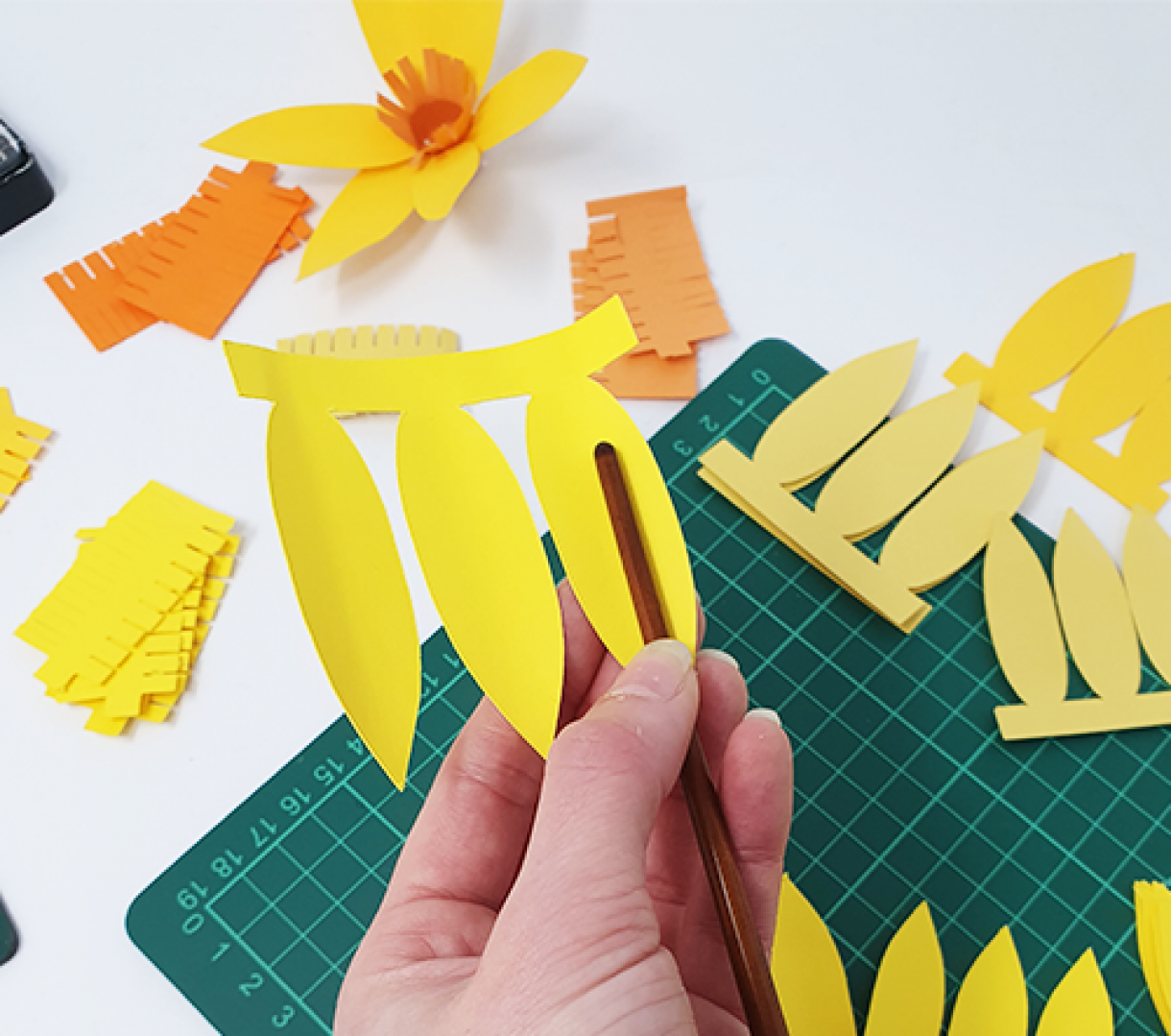 First, I add a slight curl to each of my petals. It's easier to add this curl now rather than adding it once the petals have all been connected.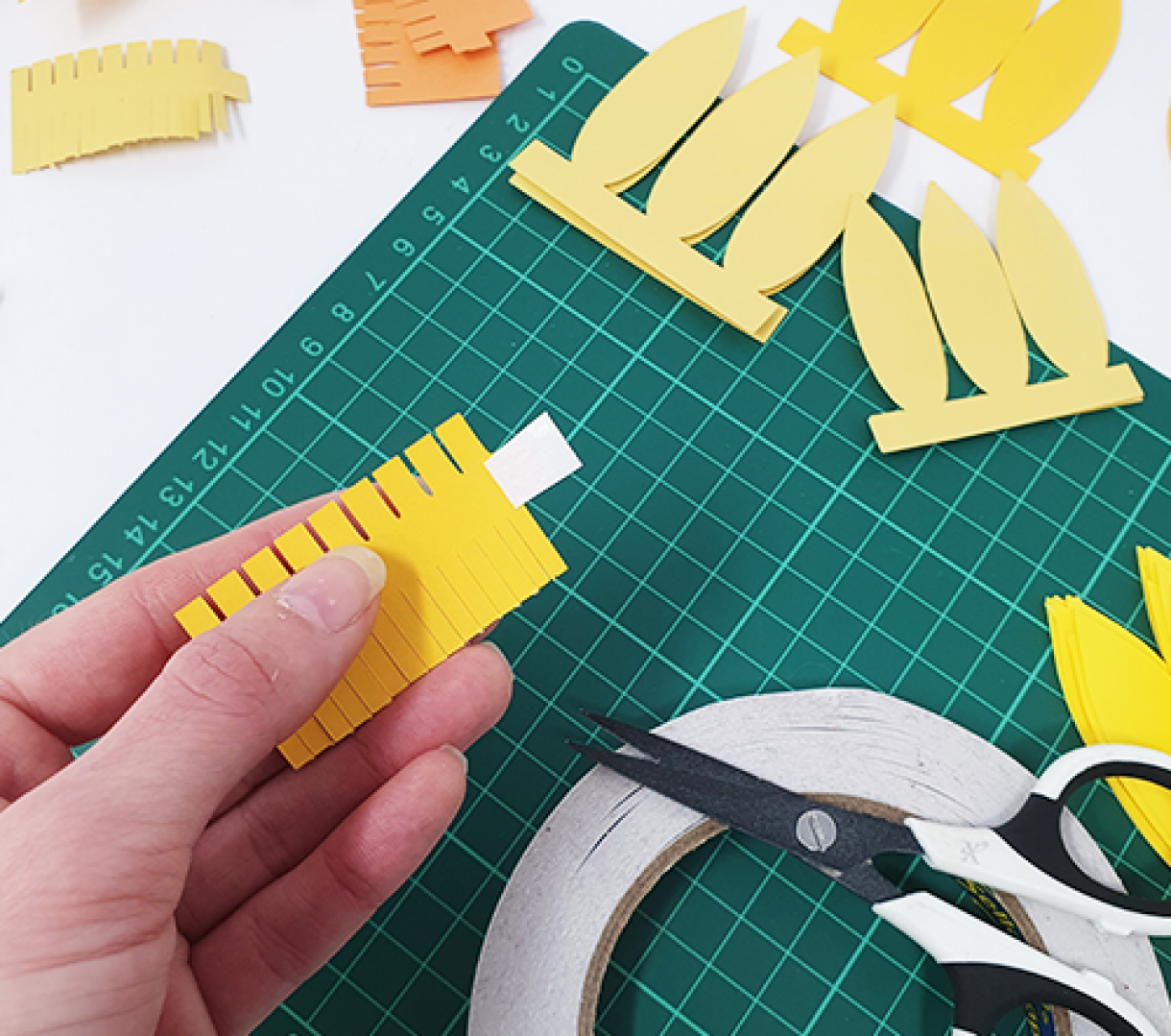 I added some doubled sided sticky tape to the end tab of the stigma then rolled it and stuck the two sides together. Then you'll need to fold down 2/3rds of the thicker tabs on your stigma ( see below)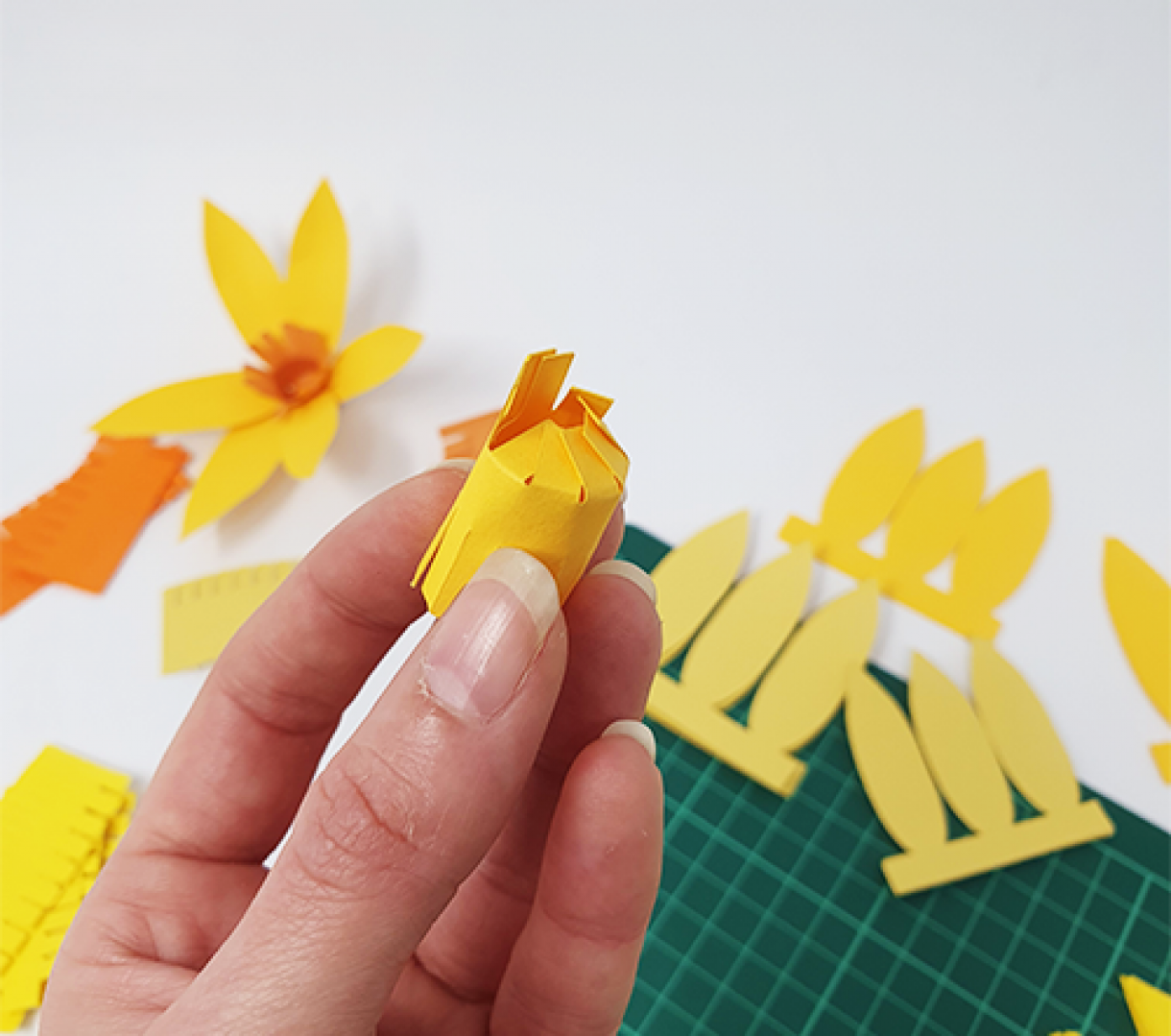 Add a line of sticky tape to one your petal sets and roll it around your stigma.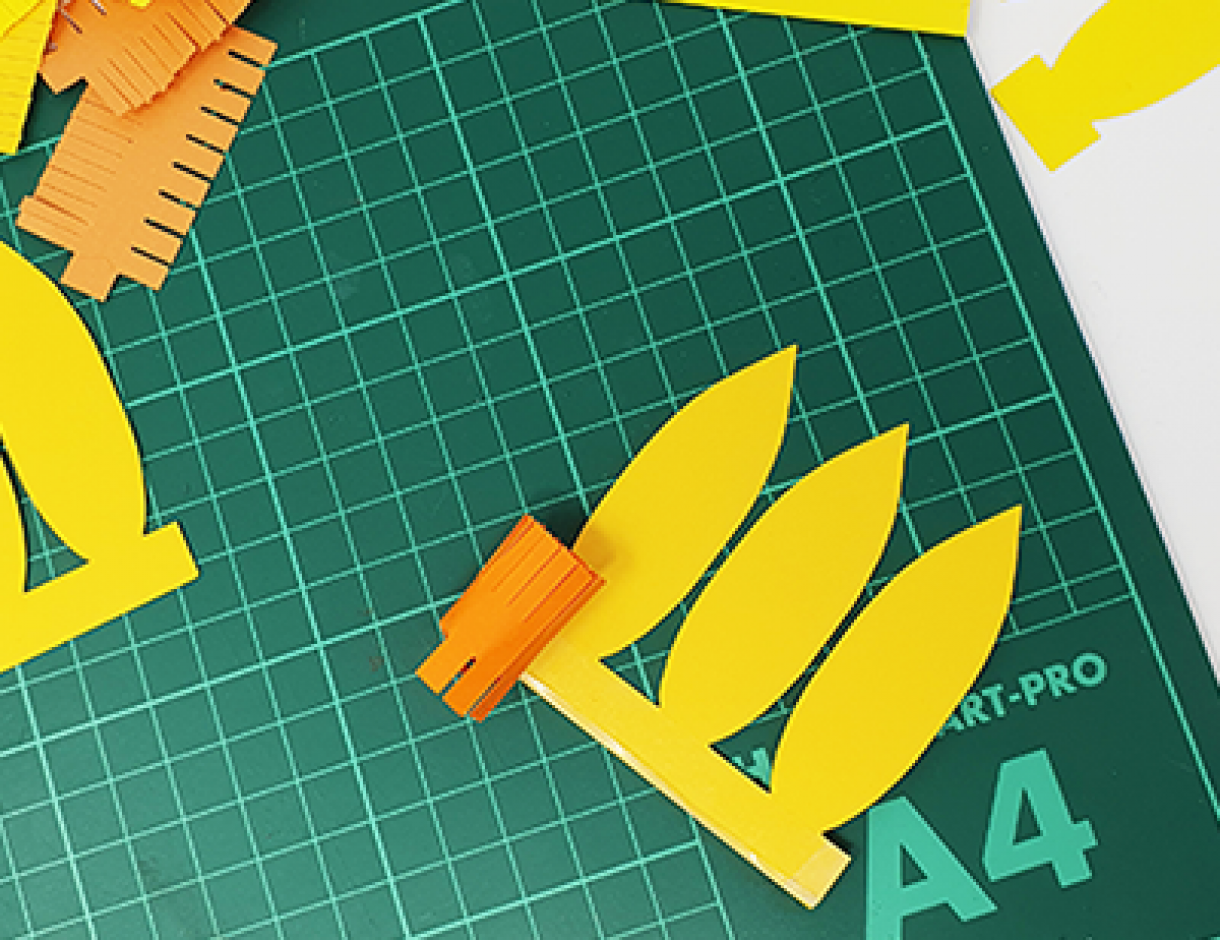 Then it's your choice how you add the second set of petals. You can add them the way you did with the first set or if you prefer to have more control as to where the petals are placed then you could cut the petals and add each individually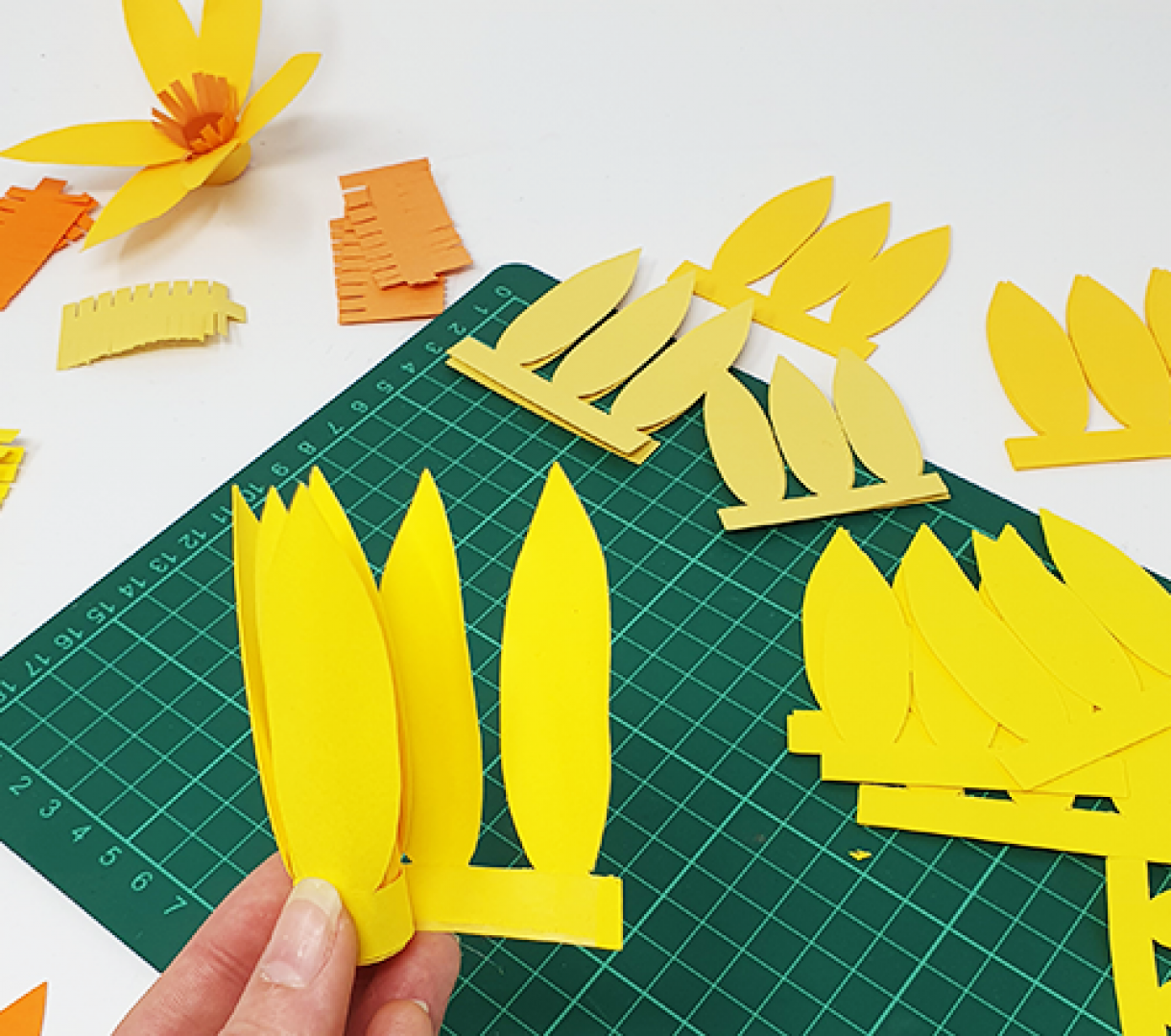 Looks like we've got a daffodil head! Now to get started on the stem. You'll want your thick green card for this.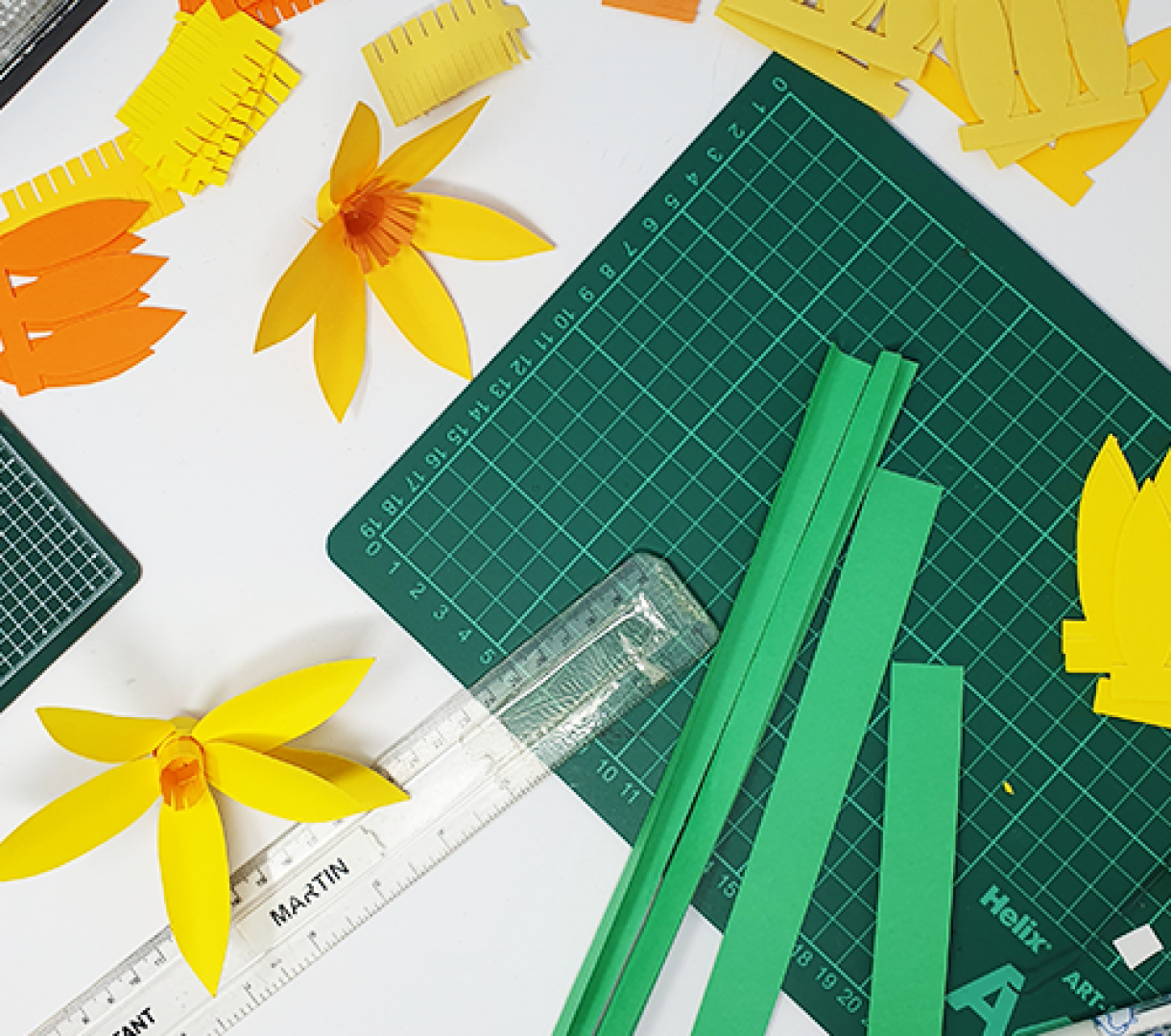 I measured my pieces free hand because I'm a rebel without a cause. I then added some double sided tape to one side the folded it onto itself so it would be durable enough to hold the daffodil head.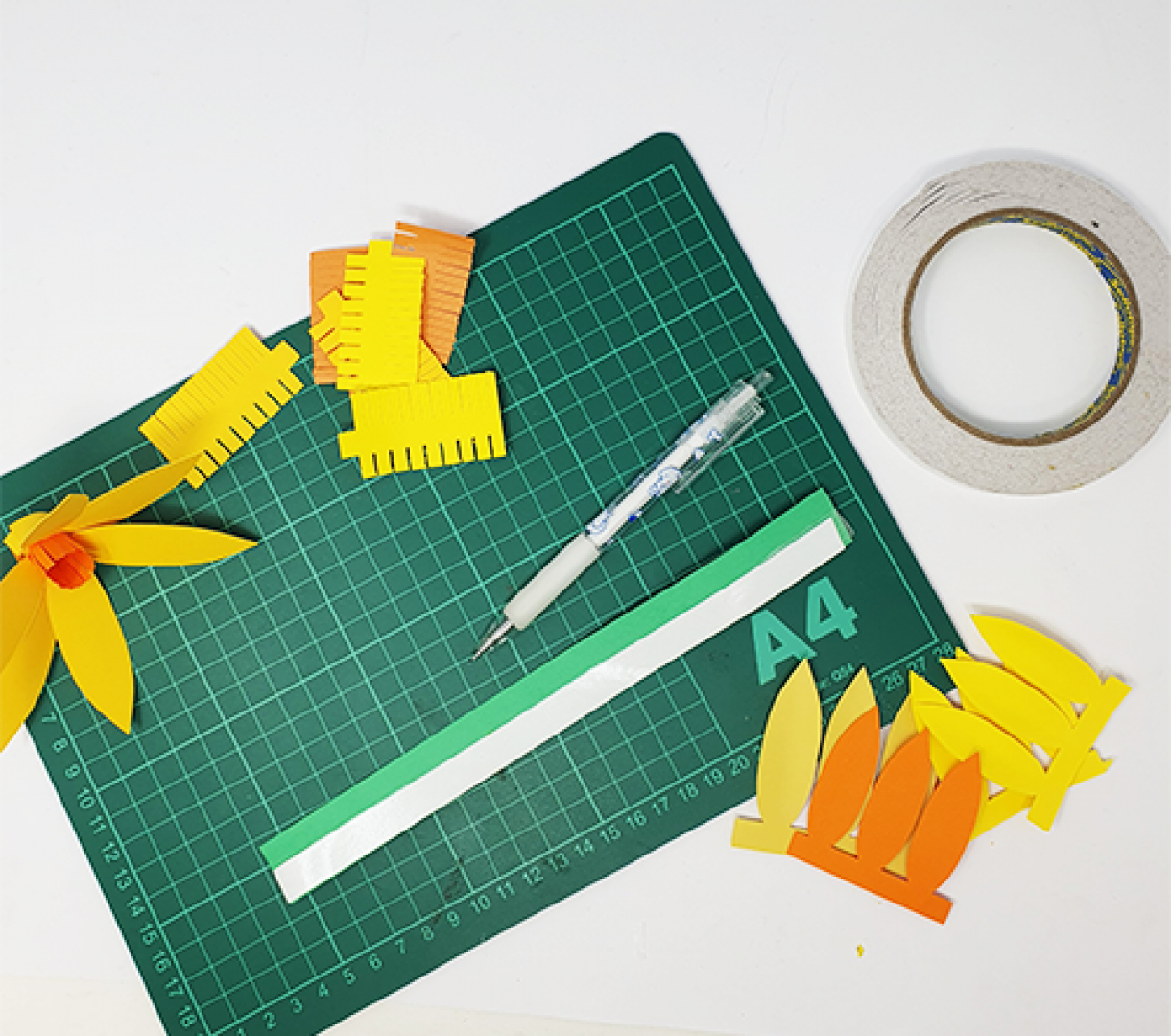 I then wrapped some double sided tape around the end of the stem and attached it to the daffodil head. I the folded down the last 1/3rd of the thicker taps over the stem and trimmed the stem down the side.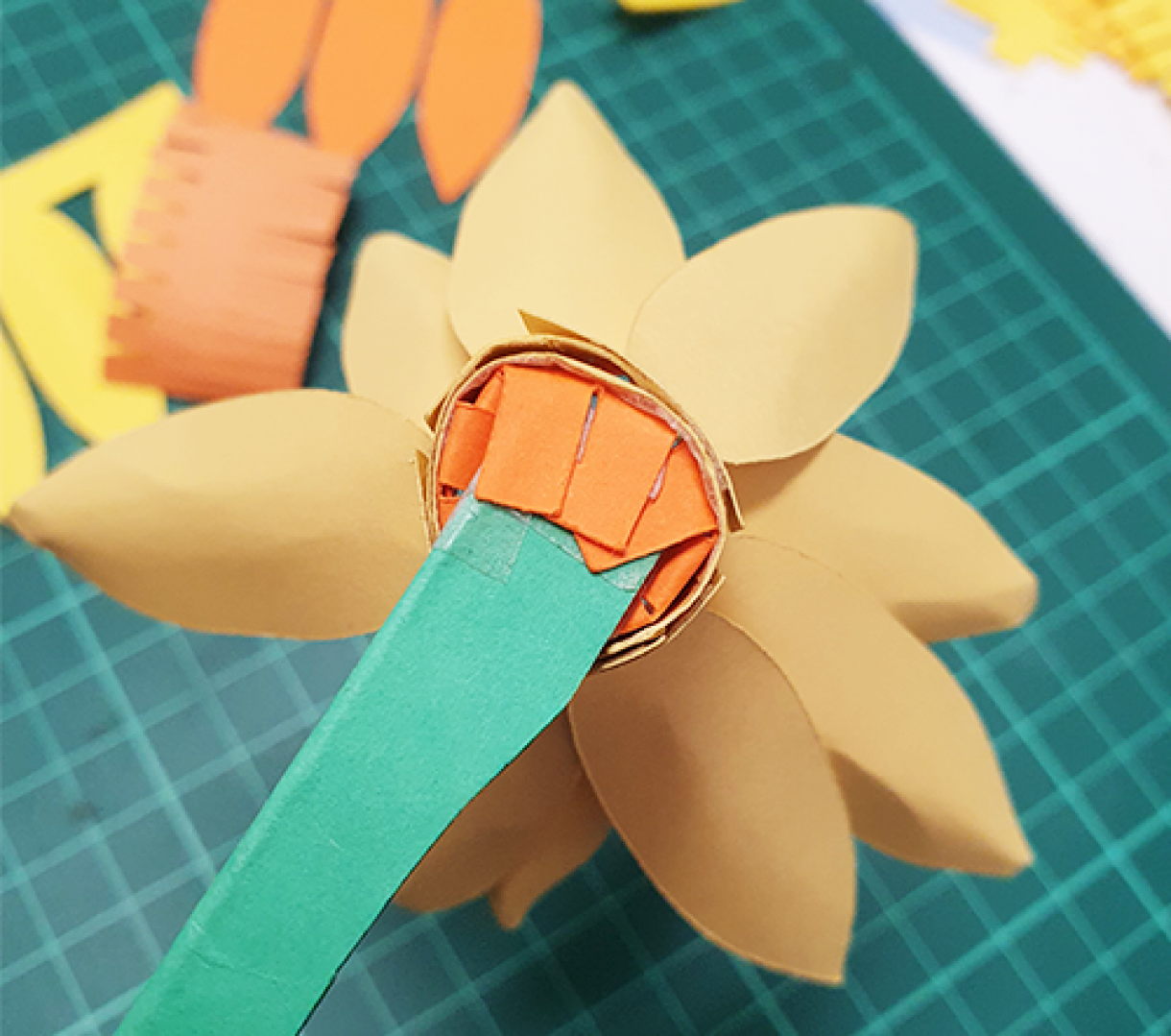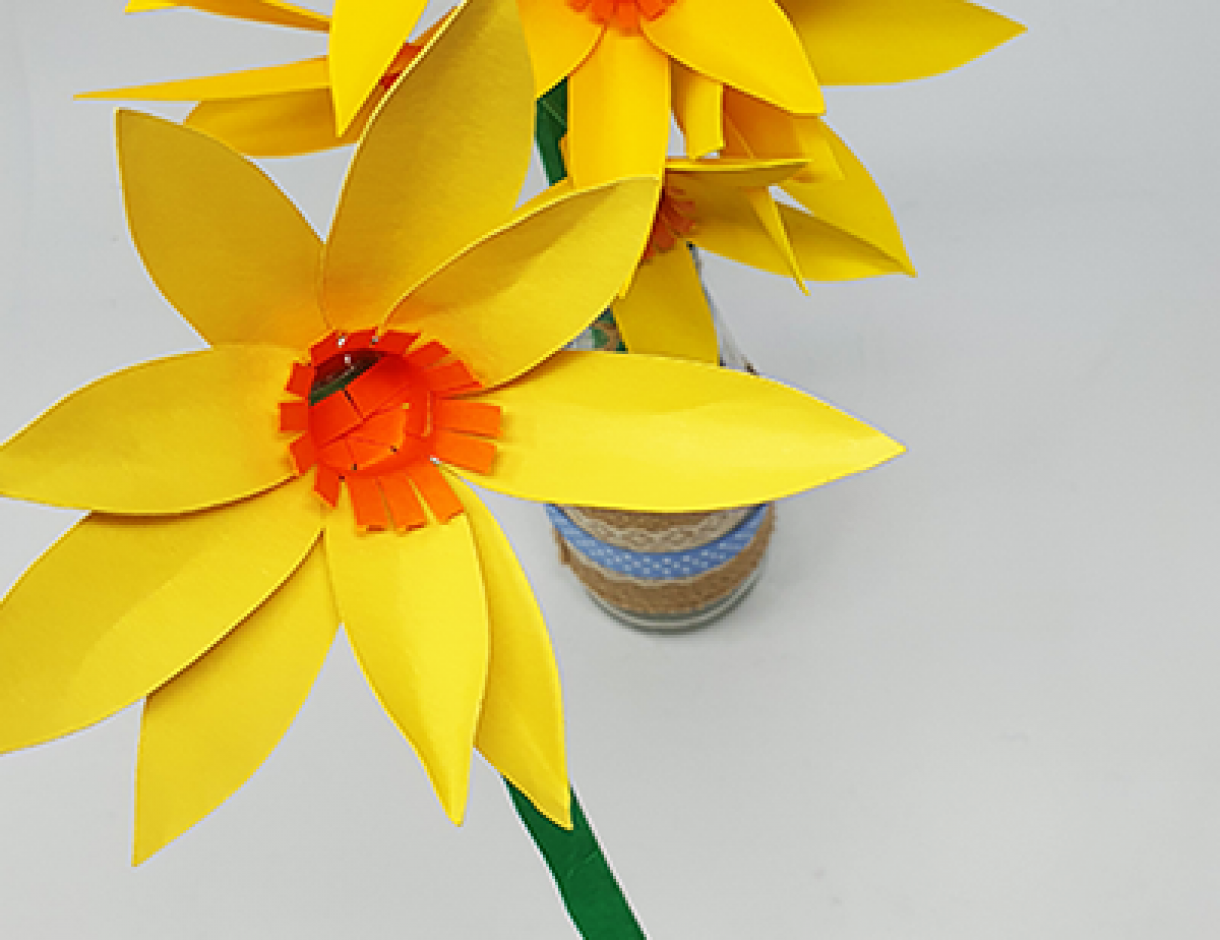 Now that's one done! Time to make a few more...