Papercraft Tutorial - How to Make a Clean and Simple (CAS) Card for a Child
0
Posted on 16th June 2014 by Lisa Sumpter
Filed under All Papercraft Tutorials
Hi everyone, it's Lisa here and I have a tutorial showing you how to make this clean and simple card for a child using an adorable space themed digital stamp set from Jellypark I am a clean and simple papercrafter at heart and one of the things I love most about Papermill Card is that it is of such good quality that I don't feel like I need to cover it up with patterned paper – which is saying a lot for me since I used to hoard the stuff! I have used white linen (card base) and plain white (sentiment area and rocket) for this card. (www.papermilldirect.co.uk)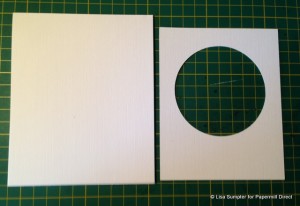 Make a tent fold card base (with the score line at the top of the card, rather than at the side) measuring 4.5 inches (W) x 5.5 inches (H) and a card front measuring 4 inches (W) x 5 inches (H) from white linen card. Using a 3 inch circle punch, circle die, circle cutting tool or electronic die cutting machine, cut a hole in your card front as shown.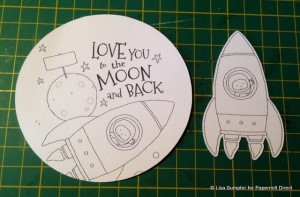 Print out the digital stamps onto plain white card and trim out the rocket. Using a 3.25 inch punch (or other alternatives mentioned above), punch out the sentiment panel. Print the sentiment twice so that you can trim out the moon to make the next step easier.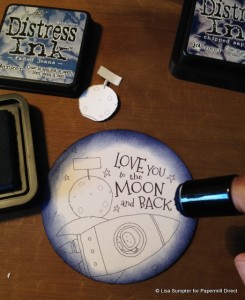 Using distress inks (chipped sapphire, faded jeans and tumbled glass used in that order), ink up your sentiment panel. Don't worry if it looks dark, it will dry a bit lighter.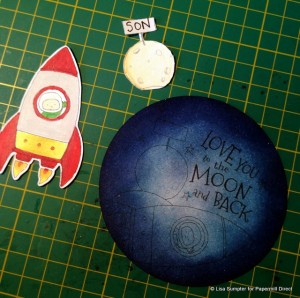 Colour the moon and rocket (I used Derwent Coloursoft pencils) and write "Son" on the sign above the moon.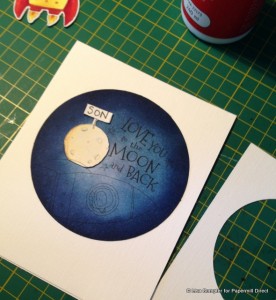 Adhere the sentiment panel to the card base and stick the moon to the sentiment panel using the printed lines for positioning. I use liquid glue so that I can move things around before they're stuck fast.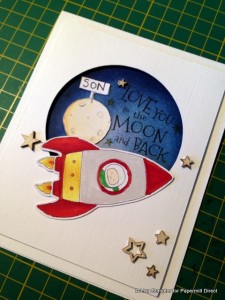 Using adhesive foam pads/tape, adhere the card front to the card base. Add the rocket and embellish with wood veneer stars from Studio Calico.
  And that's the card done!