A Quick And Easy Gift Bag For Those Last Minute Special Gifts
0
Posted on 18th December 2013 by Sylvia Ames
Filed under All Papercraft Tutorials, Seasonal Crafts, Christmas Craft Ideas, Design Team
Hi everyone, Sylvia here with a very quick make for those last minute special presents, a gift bag using 12" x 12" paper or card. I came across the instructions for this bag a few years ago in Papercraft Inspirations Magazine in an article by Enfys Cashmore. These little bags are ideal for holding jewelery, makeup, toiletries or sweets, just fill them with fun things to make someone smile. This is such a quick make you can use Papermill 12" x 12" plain card and colour and stamp it with your own design or a piece of double sided scrapbook paper, only 4 steps and you have your basic bag ready to embellish and fill with goodies. Here is how to make the bag:
Step 1
Take your piece of double sided paper and fold it in half diagonally, press the crease firmly. Your paper can be any size as long as it is square but I am using 12" x 12" to give a reasonable sized bag.
Step 2
Keep the folded edge to the bottom and fold the right corner up to meet the left edge. Fasten the triangular section in place with double sided tape.
Step 3
Fold the left corner over to meet the right edge and again secure with double sided tape.
Step 4
Fold down the front flap to reveal your pocket. Decorate your bag with embellishments and tags, fill with tissue and your special gift.
Here is a much smaller bag I made to use as a place setting for the table on Christmas Day, my little pocket bag is just the right size for an after dinner treat. A square of Papermill white linen paper was printed on each side with a digital paper from Pink Petticoat, folded as above and decorated with a snowflake and a tag.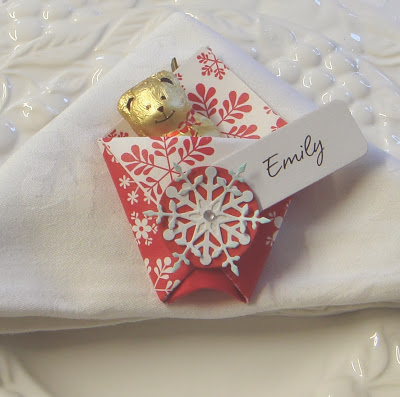 Wishing you all a wonderful New Year
Best Wishes Sylv xx