11 DIY Advent Calendar Ideas
0
Posted on 26th October 2018 by Emily
Filed under Seasonal Crafts, Christmas Craft Ideas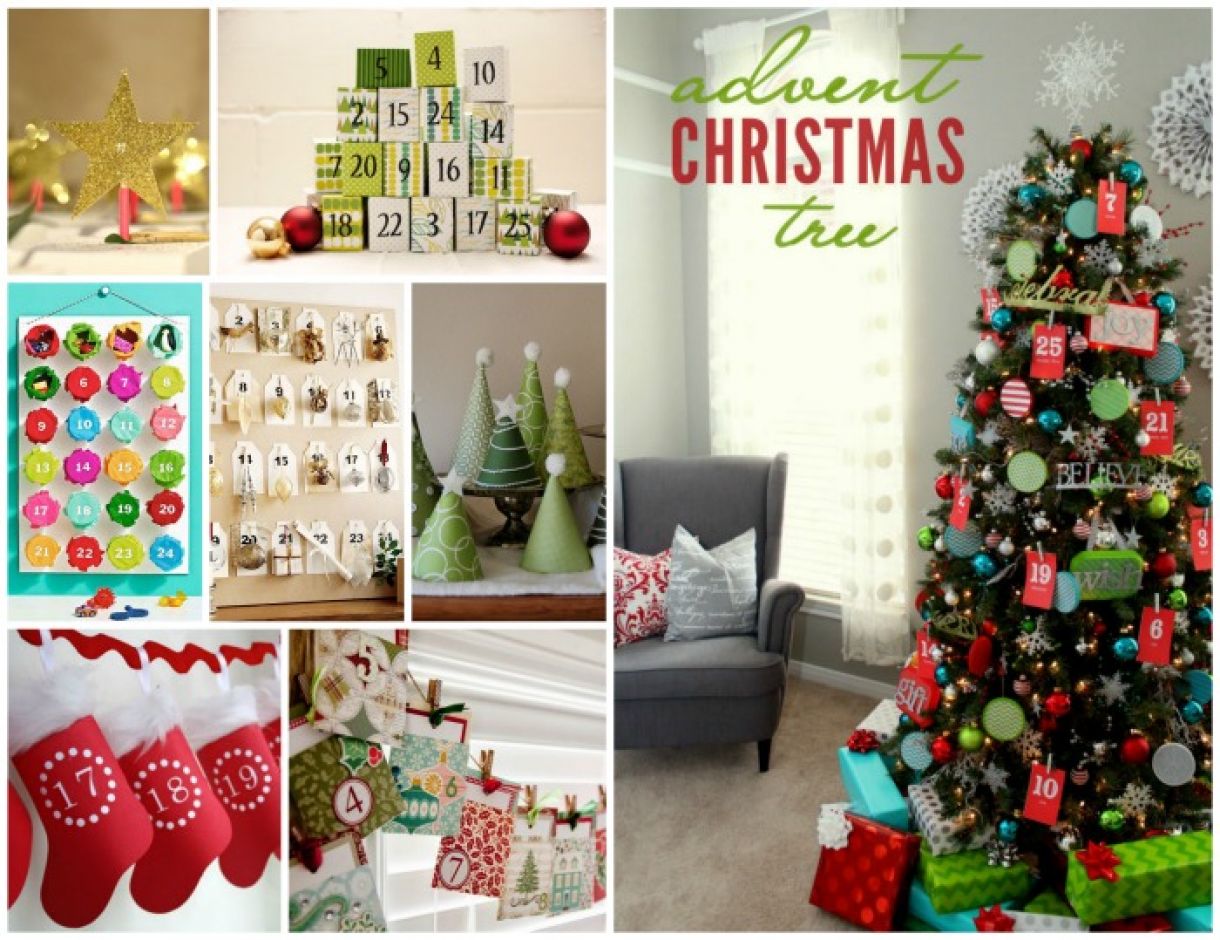 Marking the countdown to Christmas day with an Advent calendar is a tradition that so many of us look forward to as we approach December the first. 24 doors (or more often 25 these days!) giving a little taste of the excitement of opening presents and counting the days until we are celebrating Christmas day with friends and family. We love to see the amazing calendars that our customers create using paper and card each year, in this post we thought we'd share a few ideas we have found, these festive ideas will get you well and truly into the Christmas crafty spirit. Is there any better time of year for making?
We asked our design team to focus on making up fun festive gift ideas with our card and paper, we have so many to share with you as we approach Christmas. We were delighted with this creation of an Advent Calendar from Sylvia, it would make a lovely gift to post out to loved ones in advance of the 1st of December.
Rather than putting a chocolate or treat beneath each door, how about filling each day with a picture of the family, pets and special places you have shared with a friend or relative, a real treat to make them smile especially if they are far away from you. Your calendar could become a scrapbook of favourite moments from the year that your family can enjoy each day as you get prepared for the festivities!
Traditional 'door flap' Advent Calendars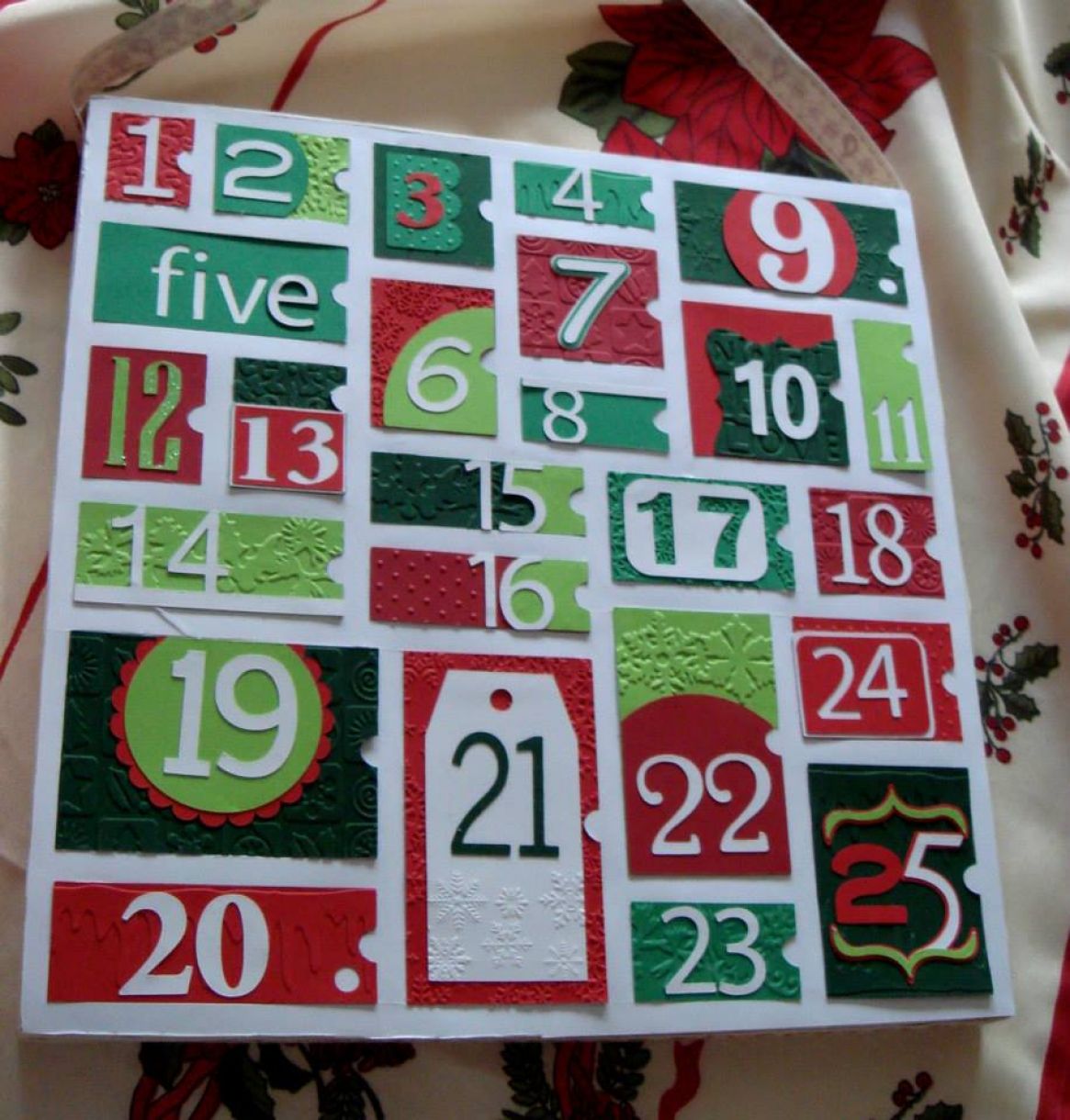 Sylvia from our Design Team has created this beautiful advent calendar using our smooth white, forest green, apple green, baize green, postbox red and Christmas red card. She used a cutting file from SVG Cuts and assorted embossing folders to create the beautiful, textured flaps.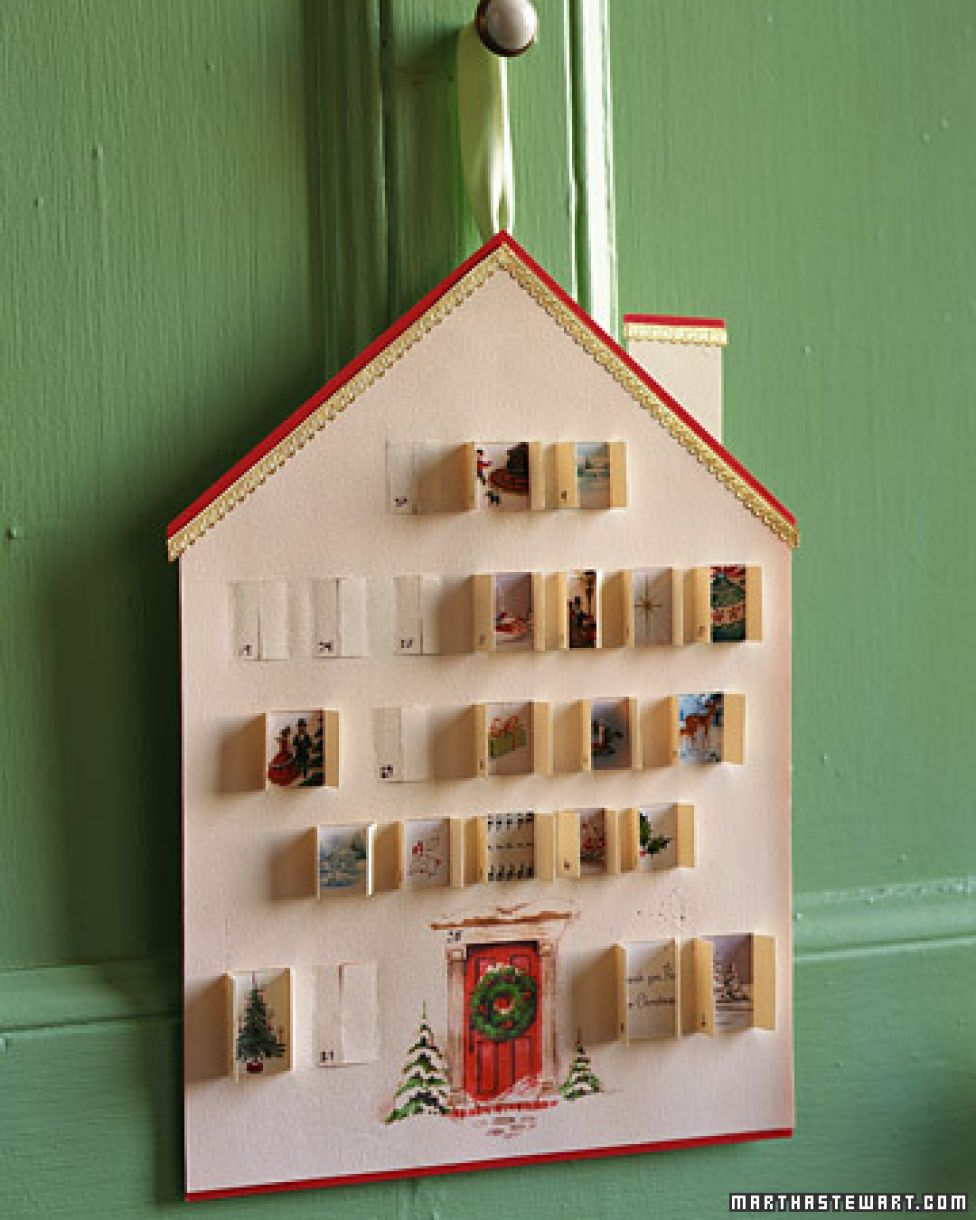 This traditional Advent Calendar make is over on Martha Stewart's website (such an inspiring website!) Using cards from last Christmas as the little images behind each door is a lovely idea and the house design is very traditional and easy to make. You can be as creative as you like when designing your Advent House.
Toilet Roll Advent Calendars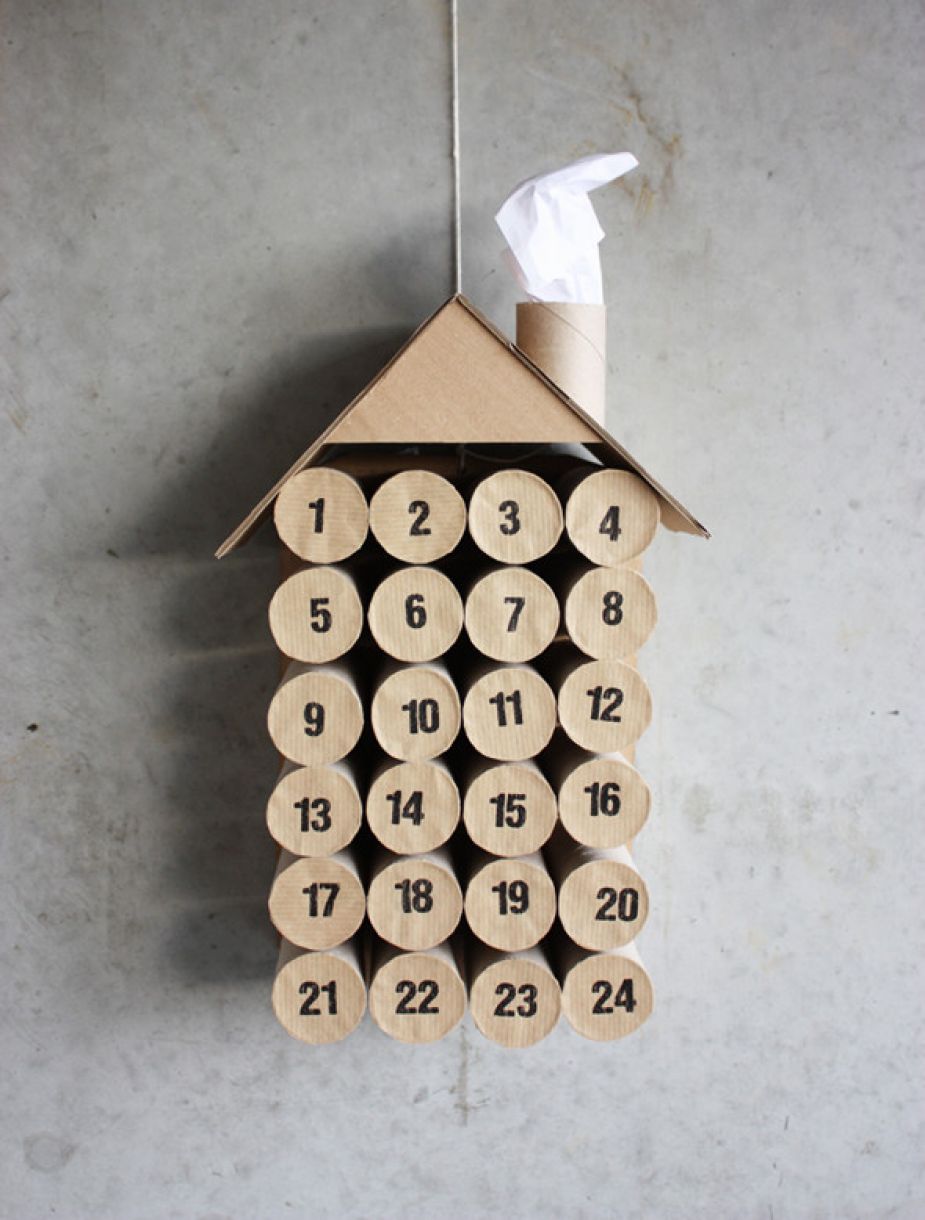 We love this fun idea - there's a tutorial for making it over on Morning Creativity - this looks like a great advent calendar to make with kids, they can have fun stuffing the loo rolls with sweets and little toys!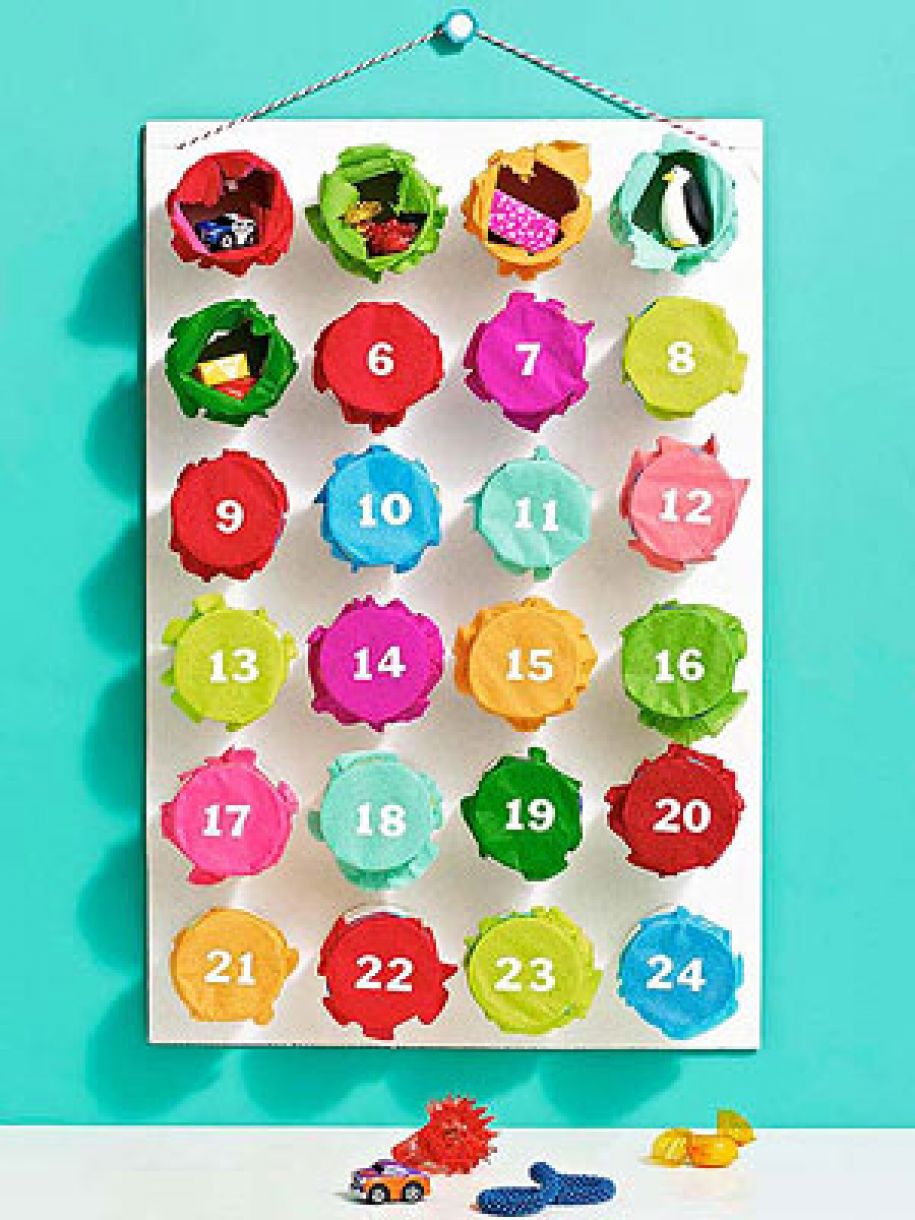 Or perhaps you could use the loo rolls to make something far more colourful with crepe paper covers to break through - tutorial here on Parents.com
Gift Box Advent Calendars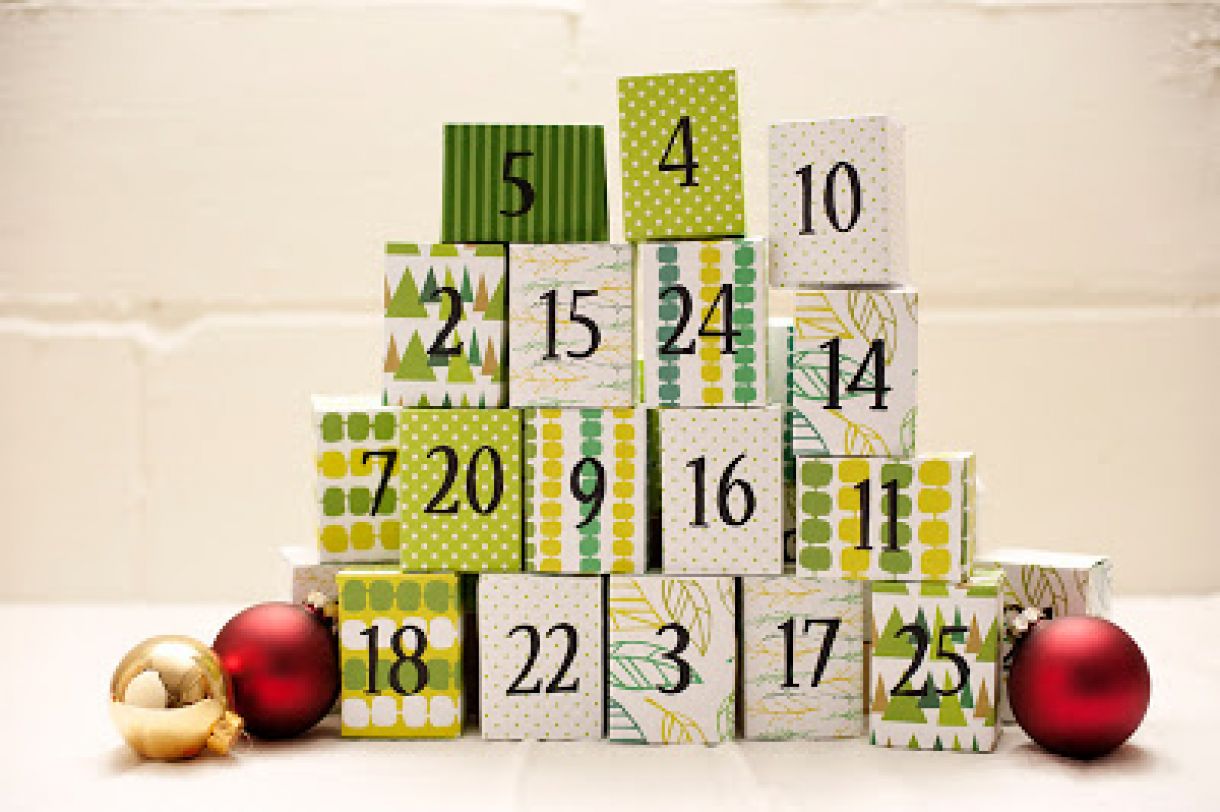 Little numbered gift boxes all stacked up remind us of Christmas gifts - a little treat inside each, you can decorate them however you please! How about using all diffent colours of card and then tying a ribbon around each one? The tutorial is over on Rust & Sunshine.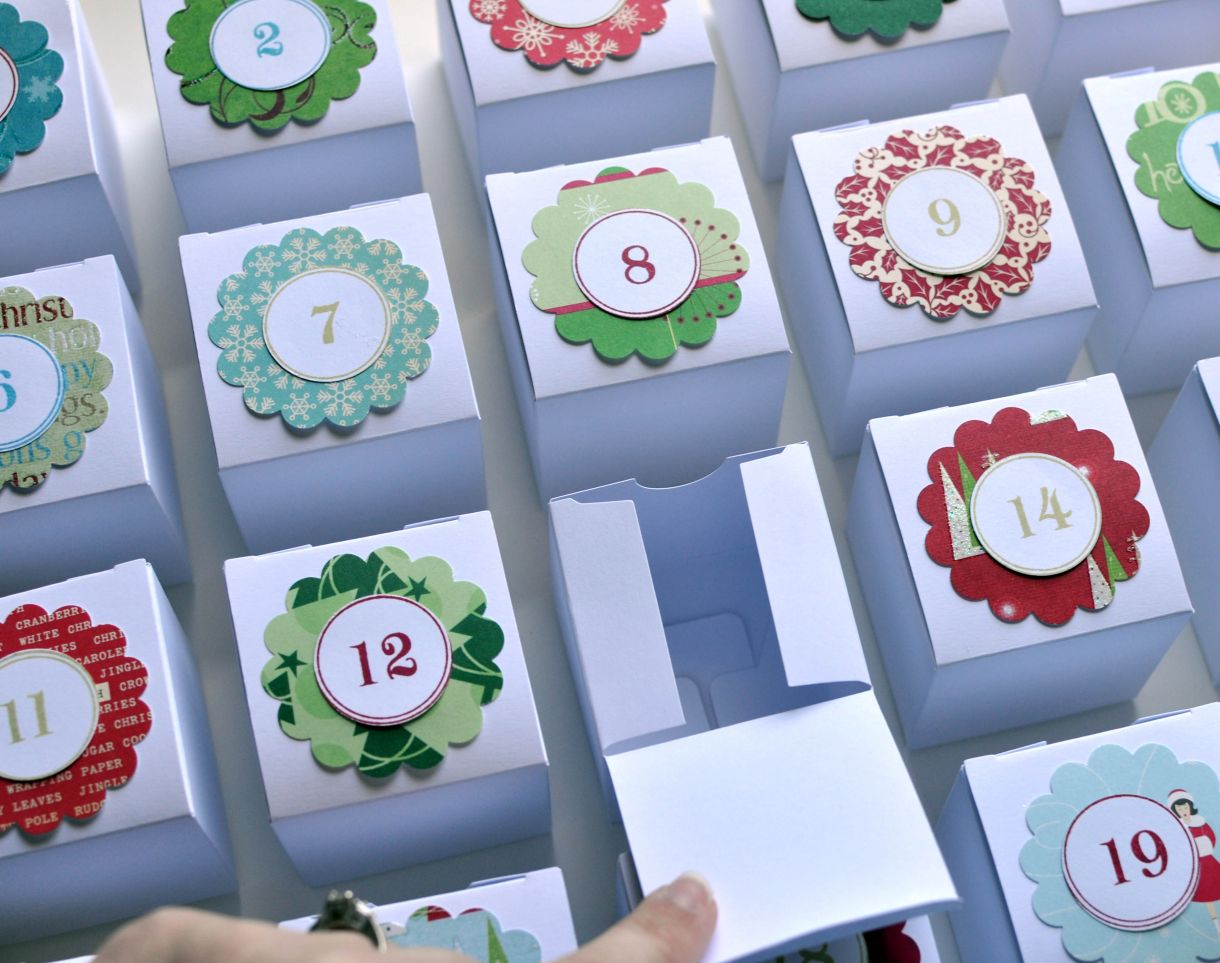 In this diy advent calendar, Monica of Scrap Inspired has purchased a set of plain white little boxes, we love how she has decorated them - but making them is also an option, there are lots of great tutorial for gift boxes on our Pinterest board 'DIY Gift Boxes and bags'. Really you could make 24 of any little boxes or gift bags, number them and voila you have a unique advent calendar. Monica had an amazing idea though, she took a lego kit and split it into 24 so that her kids could make up a little bit per day and on Christmas day they would have a finished toy - genius!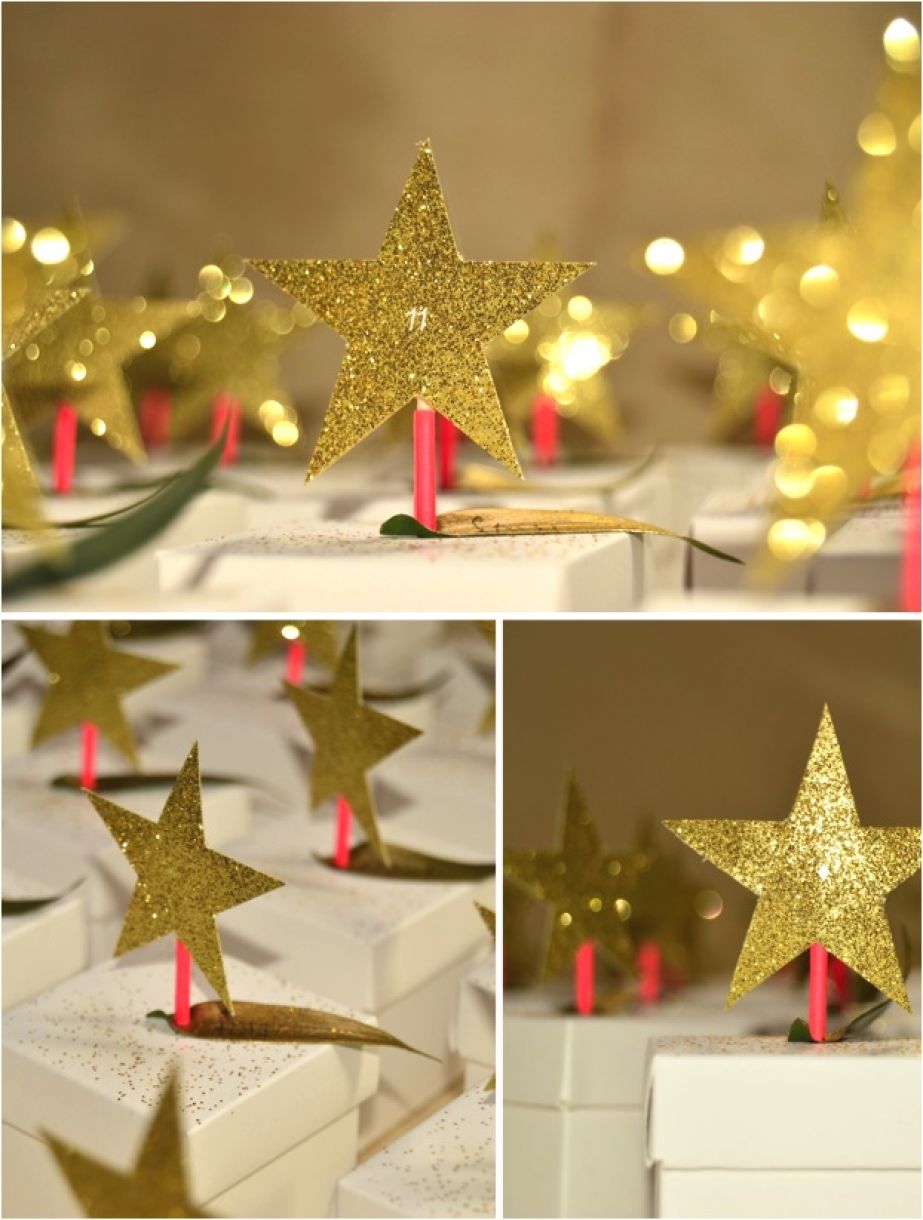 Nomita decorated her Advent Calendar Boxes with pretty gold glittery stars! - Read her post about it on Ebabee here
Garland Style Advent Calendars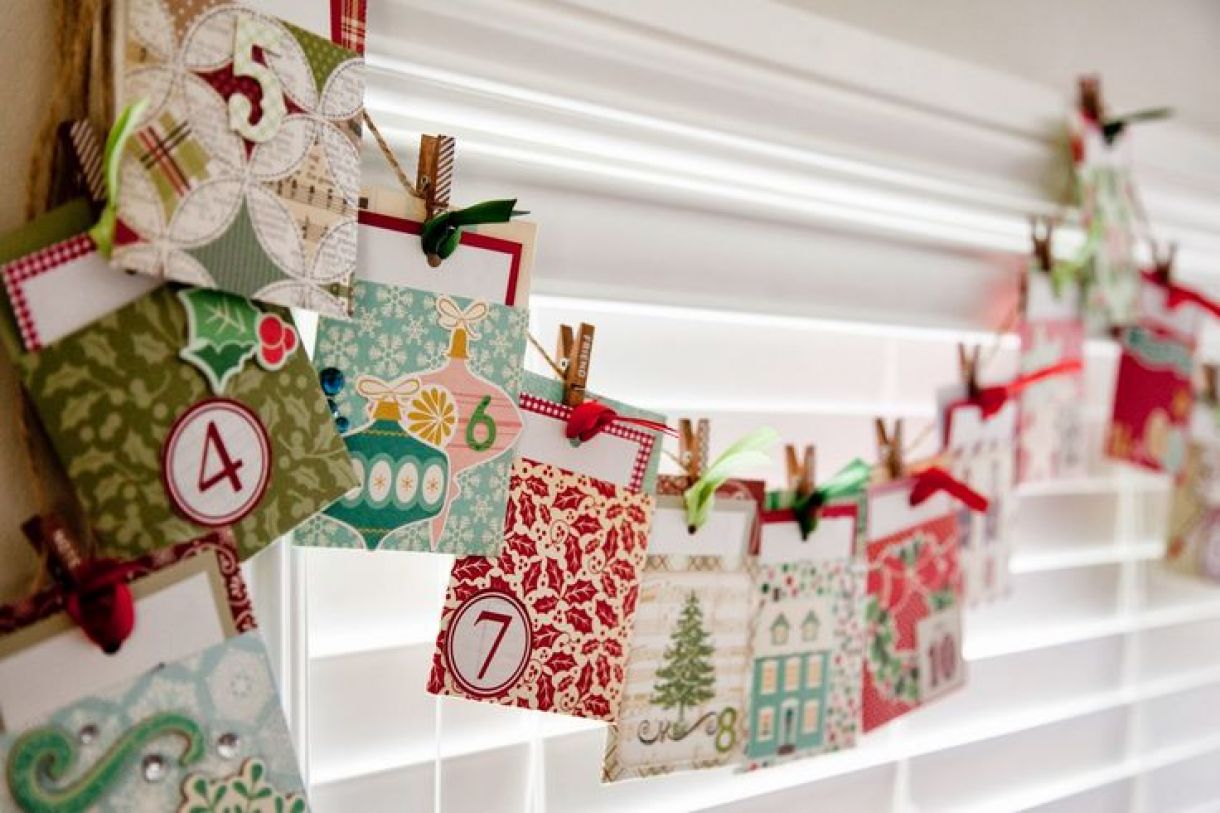 This garland Advent Calendar will really appeal to all the scrapbookers amongst you, a great way to use your paper scrap stash and embellishments! We love the little clothes pegs that attach each little envelope! Find the tutorial over on The House of Nash You could add a lovely sentiment into each, great for adults - or perhaps a little promise of a treat for kids, such as Bake Cakes today or Trip to the park after school, would make a change from chocolates and sweets!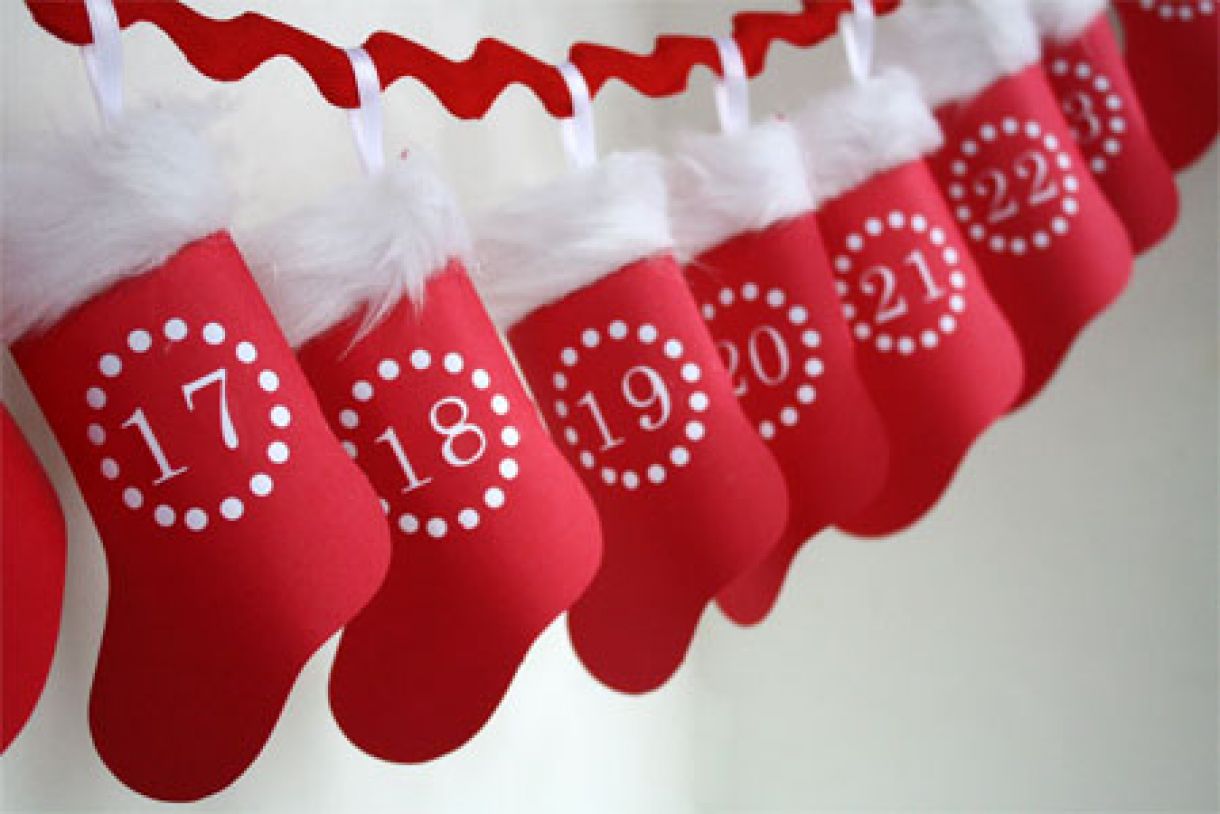 This is a fun idea and you can download the template for free here on Skip to My Lou - fun little stockings which you can cut from card by hand (or use the Silhouette file) and decorate in whatever way you please - we love the addition of the faux fur, but white card or felt would work just as well. We'd also love to see a multicolour version, although the traditional red and white does look pretty. The stockings are actually little pillow boxes so perfect for a little treat to be slipped in each one.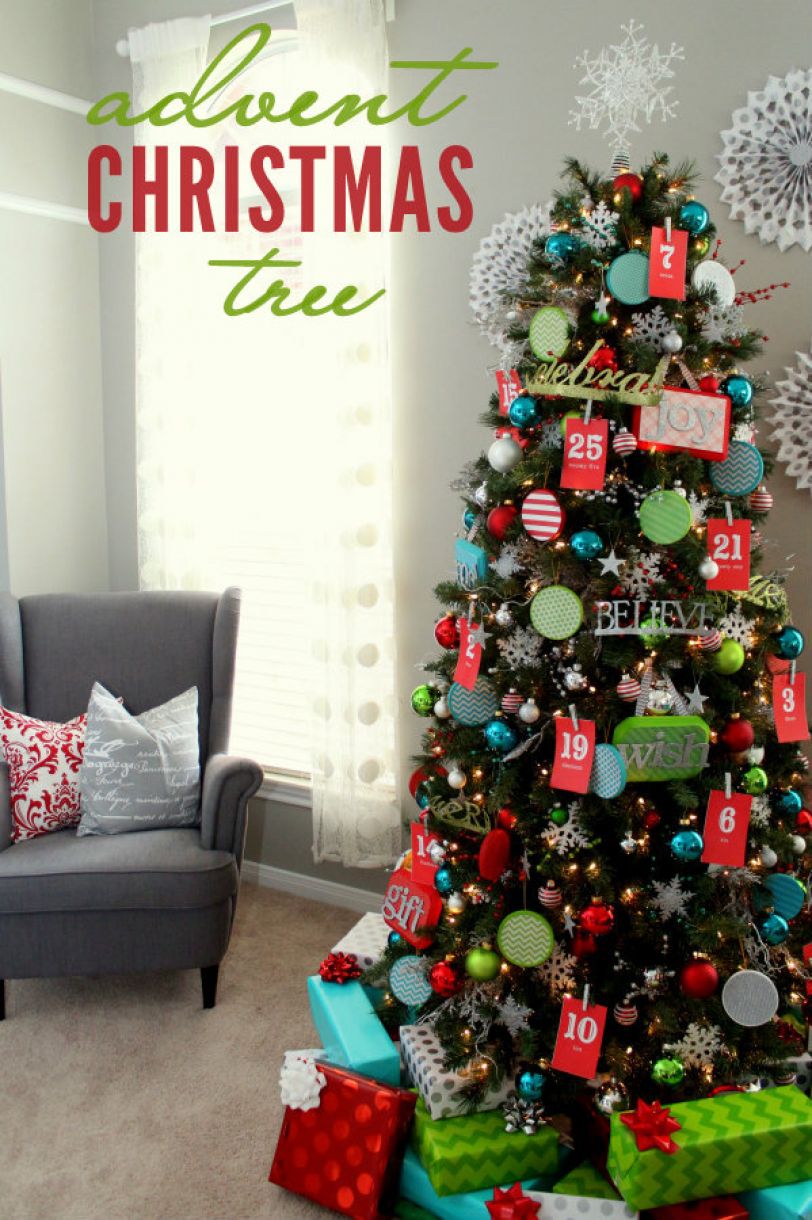 This advent tree idea from Lil Luna is just EPIC! She has created a post showing how she has handmade all the fun decorations on this Advent Christmas tree including all the big bold numbers that kids can take off each day to really ramp up the excitement - how amazing do all those gifts look under the tree. You could adapt this idea in any way your creativity allows, making it more traditional with little rustic numbered decorations or keep it bright and bold like Krystin has. If you know how to make handmade crackers you could also use these with numbers on (can you tell how excited we are about this amazing project and the huge pop of inspiration it has given us!)
Christmas Tree Decoration Advent Calendar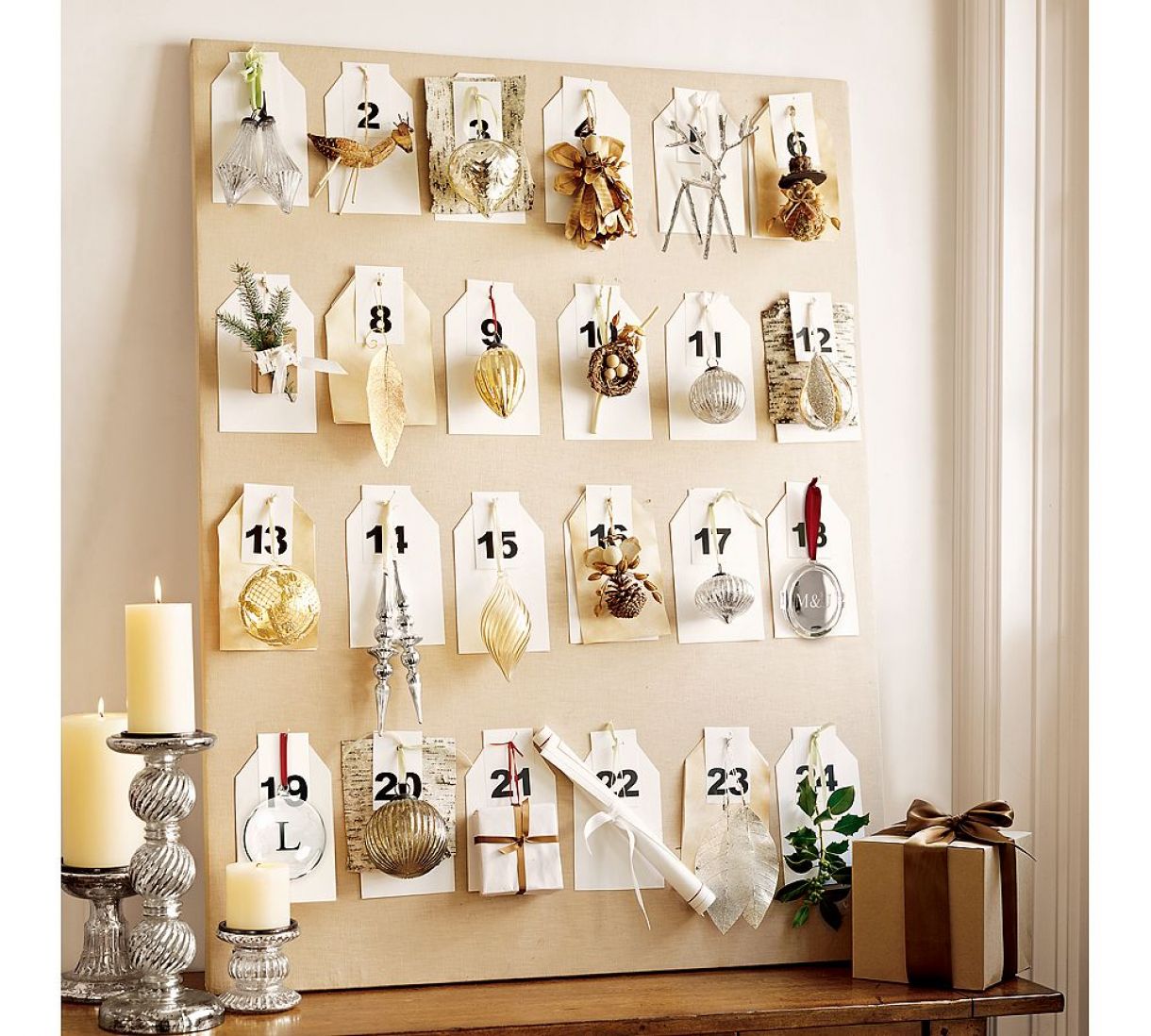 We spotted this Advent Calendar idea on this blog post - there isn't a tutorial it's actually an image from a Pottery Barn catalogue, but it made us think WOW what an amazing idea, almost opposite to Lil Luna's Advent tree. Each day you take an ornament from the claendar (which is made with simple envelopes printed with numbers with a little hook for the ornaments) and then take great pleasure in placing it on your Christmas Tree - so day by day your Christmas tree is decorated, you could also add a sentiment or a little treat to the envelopes! If you were feeling particularly crafty why not make your own Christmas Tree Ornaments from card or paper - that would be an amazing project!
We hope this selection has inspired you - if you need any supplies of card and paper you know where we are! All our paper and card is made sustainably in the Lake District (kendal) in our old Paper Mill which has been in the same family now for 8 generations! Call or email or contact us through Facebook if you'd like some samples.
See more ideas on our Pinterest Board - DIY Christmas Advent Calendars
Follow papermilldirect's board DIY Paper Craft Advent Calendars on Pinterest.